August 15, 2018
The UK toy industry generates approximately £2 billion in revenue annually (Source: IBIS World). There are currently 1,079 toy stores in operation across the country, many of which I'm sure have seen a recent surge in sales as parents look to buy items to keep children entertained for the long stretch of the summer holidays. There are currently four main players in this market, these being The Entertainer, The Early Learning Centre, Toymaster and Smyths. Of the 1,079, these top four make up 433 of the total (40%) and then another 42% are independent shops. Openings and closures across these four companies have been relatively stable in the past 12 months, with any closures representing less than 5%.
Other indirect competitors include John Lewis and Mothercare, as well as many large supermarkets such as Tesco and Sainsbury's. Additionally, Hamleys of London is a key player with regards to sales despite the low presence of stores (17 in GB). This is also another industry that is increasingly moving online, with companies such as Amazon providing even more competition. Another key player in this market which has experienced a very recent and very public downfall is Toys R Us who this year announced that they had fallen into administration after 70 years of trading. But what impact will these closures have on the toy market and will this provide opportunity for the remaining key players?
Figure 1: Growth of GB toy stores by company - July 2017-July 2018 (Source: LDC)
When considering the top four companies over the previous three years to July 2015, those showing consistent growth are Smyths and The Entertainer, whilst Toymaster and the Early Learning Centre stores are declining in numbers. This correlates with the trend seen in the last 12 months (see figure 1), suggesting these are likely to continue to decline unless they can use the Toys R Us closures to their advantage.
Independent players
Independent companies make up a significant proportion of the toy industry, consisting of 450 stores (42%). Overall, independents have seen a decline in number of stores compared to the previous 12 months, closing 28 (5.9%). However, the openings and closures of independents varied greatly across different areas of Great Britain, as seen in figure 2 below:
Figure 2: Net Change in number of independent stores by GB region - July 2017-July 2018 (Source: LDC)
This highlights the North East and South East as areas where independents are growing and the East of England and South West showing the most prominent decline, although the majority are showing some level of closures. Additionally, 27 independent store closures (90%) were on the high street. The only location type that saw growth was shopping centres, however this was a marginal increase of just one store.
Toys R Us Closures
Over the 12 months to July 2018, numbers of toy shops declined by 11.9%, however, Toys R Us closures accounted for just under 75% of this decline, suggesting it had a large impact on this figure. If we break this down by region, we can see varying levels of growth or decline across GB, as shown in figure 3.
Figure 3: Net change percentage in number of toy stores by region - July 2017-July 2018 (Source: LDC)
Increased openings in the North East managed to offset the Toys R Us closures, instead enjoying significant growth across the region. On the other hand, Scotland, the East Midlands and Greater London had the highest rates of decline over the last 12 months. Across these three regions, Toys R Us made up 9.8% of the total toy shops, leading to the heightened levels of decline. Of the three, the East Midlands was impacted the most, as Toys R Us made up 17.5% of its total toy shops, which resulted in the region losing 11 of 63 stores.
With regards to location type, retail parks were impacted the most, losing 30% of total toy stores over the 12-month period from July 17–July 18, for which Toys R Us was responsible for the majority at 82%. When considering the location strategies among the four largest competitors, only Smyths has displayed consistent retail park growth and so may be willing to occupy these ideally located and recently available premises that Toys R Us has now vacated.
The next highest impacted location type is out-of-town, including stand-alone stores and transport hubs such as trains stations and airports. None of the top four companies show a preference towards this location type, and are either not used at all, or represent a very small percentage of their estate.
Toys R Us
When reviewing trends for Toys R Us over the three years prior to 2018, there were no closures with the exception of two in 2017, both within shopping centres (which made up a very small portion of their total stores). This suggests that all store closures were a result of their bankruptcy/CVA in 2018, as they had been making no decision to close stores prior to this. When Toys R Us began to close their stores in 2018, there didn't appear to be any patterns in regard to location type or region when deciding which stores to close first. Therefore, choice of store closures may have been determined through alternative factors, such as when lease agreements were ending.
Toys R Us store before it closed down in 2018. (Source: LDC)
Which brands may take vacant Toys R Us sites?
Six of the towns that saw Toys R Us closures had no presence of the top four toy store companies (Smyths, The Entertainer, The Early Learning Centre and Toymaster), these were Chatham, Chesterfield, Enfield, Ilford, Portsmouth and Stirling. We have analysed these towns to determine the attractiveness for the other main brands to acquire the vacant space left by toy store stalwart, Toys R Us.
Chatham and Portsmouth were not considered, as they have alternative independent toy shops; similarly, Enfield was not considered as there are both independents and multiples within a 30-minute drive time. Additionally, Chesterfield and Ilford were not considered due to Toys R Us vacating an out-of-town unit, which is the least popular location type for all of our top four companies. This leaves Stirling as a potential location for toy store operators to acquire.
Case Study: Stirling
Stirling was considered due to lack of competitors in the immediate town and the vacant premises from Toys R Us being located within a shopping centre, a popular location type for toy shops. When viewing the surrounding towns/areas for competitors, such as Glasgow and Edinburgh, no other toy shops were in close enough proximity for customers to drive specifically to visit a toy shop. As for the smaller towns close by, whilst they do have toy shops, are not in a convenient enough location to challenge competitors looking to open a store within Stirling. Let's look closer at Stirling as a potential spot for a new toy store.
Figure 4: Classification mix of Stirling Thistle Marches Shopping Centre as of July 2018 (Source: LDC)
Before the closures, Toys R Us used to occupy a unit within The Thistle Marches shopping centre which is located in the centre of Stirling, by the train station. This shopping centre was built in 1977 and has since had two subsequent developments to expand the scheme to increase car parking and bus station capacity. LDC analysis now identifies toy shops as one of the centre's top 10 retail categories that are undersupplied. The LDC Health Index of the centre has declined considerable when compared to three years before. This is likely due to the vacancy rate of the centre, however this may have the benefit of more units to choose from, as well as potentially better rates for new entrants. The retail mix of this centre as it stands today, can be seen in figure 4 above.
Of the top four companies, The Entertainer has the highest shopping centre presence and with the majority of its stores of this location type, therefore, The Entertainer would be best placed to review whether this recently available shopping centre unit is a potential acquisition target for them. However, they do have six other stores close to Stirling, all of which are located within shopping centres, which are displayed on the map in figure 6.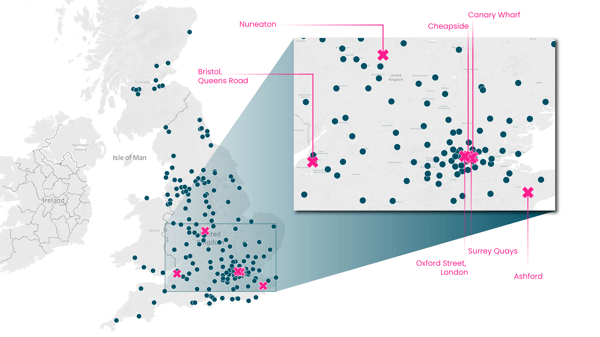 Figure 5: Map of The Entertainer stores located near Stirling as of July 2018 (Source: LDC)
As shown by the significant presence across this geographical area, The Entertainer clearly is experiencing success here. As they have little competition the Stirling location certainly has some opportunity value for the brand.
Kids and parents alike have had to say goodbye to Geoffrey the Giraffe for the last time, and this will be the first Christmas without the iconic Toys R Us. But this won't hold back the UK toy industry, which in 2017 reached record growth and was the largest toy market in Europe and 4th largest in the world (Source: NPD Group). Changes have been increasingly occurring in the toy shop industry, with the rise of online competitors as well as supermarkets and department stores selling toys and games. It will be interesting to see if the closure of Toys R Us stores across the country will be the beginning of a more permanent shift for these retailers, or whether it provides them with an ideal opportunity to gain back market share and physical presence nationwide.
For more information on LDC's data on toy stores, or any of the 400 distinct retail categories that LDC track and analyse, please get in touch with the team via sales@localdatacompany.com, or call the office on 0203 111 4393.