As its businesses, people and capabilities grow, the Local Data Company Group continues to evolve at pace. Today, the group brings together industry-leading data and insights across three main pillars of expertise
Places ●
Prices ●

POPULATION
We continue our search for businesses to add complementary capabilities to our armory, enhancing our ability to provide actionable insights for business leaders.
2003
The Local Data Company is founded by brothers Alex and Barnaby Oswald
2008
The company evolves from a data directory to an insights and consultancy business
2012
The field research team expands coverage to every high street, retail park and shopping centre in Britain
2019
LDC makes its first acquisition – Retail Locations, and with it integrates another layer of insight into its database of 700k units
2021
The On Site Research business is acquired which increases the size of the field team to over 250 and introduces new capabilities for in-store data collection into the business.
2022
Edge Analytics is the third acquisition to be made, which enables the business to build out demographic profiling and forecasting capabilities
Today
Edge Analytics is the third acquisition to be made, which enables the business to build out demographic profiling and forecasting capabilities
Click the logos to find out more
Local Data Company
Places.
The Local Data Company is the UK's most accurate provider of retail and leisure location data. Our team of field researchers physically survey over 700k units each year to collect vital information on how the UK's store network is evolving. This proprietary database is updated every day, so we can be confident that our insights are the most accurate and up to date on the market. Insights are delivered via a range of products and services, from our online insights platform to raw data exports and strategic consultancy.
On Site Research
Prices.
On-Site Research is LDC's in-store insights proposition. Each day, our team of 200 field researchers collect in-store data on pricing, promotions and availability of products as well as qualitative data for bespoke projects. As part of the On-Site Research proposition, we collect thousands of price points each week, all verified with the same diligence of our core store location datasets.
Edge Analytics
Population.
Edge Analytics is a demographic profiling and forecasting business which uses complex data modelling and propriety tools to provide evidence for strategic planning teams. Our team of sector experts provide robust forecasts of population numbers and characteristics on a macro and micro scale across a range of sectors. Edge services range from pupil number forecasting, used by local planning teams; to housing plan data used by a wide range of businesses to estimate how demand is likely to increase for things like retail provision and utilities.
A message from LDC Group CEO Barnaby Oswald.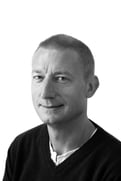 2022 marked another year of solid progress for the business, with growth across both the Local Data Company and On-Site Research business units; as well as our third acquisition (Edge Analytics) since 2018.

The LDC business has always been focused on delivering accurate, granular data and insights on the supply side of retail – the addition of Edge Analytics means we can now also give our clients insights on the demand side, including demographics and housing-led population forecasts.
There will clearly be headwinds in 2023 as the economy stagnates, the energy crisis continues and inflation remains high – but I believe we have built a resilient business. History has taught us that we perform best in a fast-changing world where our clients seek to understand a rapidly-changing market.
And we remain acquisitive – we are constantly on the search for businesses which add to our proposition around the three pillars of places, pricing and populations.
Finally, the summer of 2023 will mark our 20th anniversary as a business – a milestone we will most definitely be marking with a celebration!