December 2, 2020
On the 30th November, Arcadia Group fell into administration as another high-profile retail victim whose demise was unfortunately accelerated by the COVID-19 pandemic. Arcadia Group has struggled for a few years as a result of overexposure to bricks and mortar stores and a failure to adapt quickly enough to the shift online. More agile retailers such as Next and value-focused brands such as H&M and Primark have, over time, eroded Arcadia's market share.
This latest development is crushing news for the high street and for the 13,000 people employed by the group, who now face an anxious wait to hear what the future of the business might be. Combined, the portfolio sits at 424 stores across GB (excludes Northern Ireland), so the potential impact is significant, especially in locations such as Nottingham, Swansea and Stoke-on-Trent, which have the largest concentration of Arcadia brands within their town/city.
The trouble started in 2019 when fierce competition from online pure players such as ASOS and Boohoo resulted in the group launching a CVA and the closure of 81 stores, the majority of which were located on high streets (36) and in shopping centres (35). It was hoped that this would be enough to save the business, but the devastating impact of the COVID-19 pandemic proved to be the final straw.


Portfolio overview


To understand what the impact could be of changes across the Arcadia Group estate, we delve into the data to understand which locations may be more at risk.



Figure 1: Arcadia Group portfolio split by brand. (Source: Local Data Company)

Over half of the Arcadia portfolio (52%) currently operates within a shopping centre. This is another blow to the shopping centre market, which had the highest vacancy rate of all location types (high streets, retail parks and shopping centres) at 15.6% at the end of H1 2020. With the number of acquisitive brands decreasing, space within shopping centres is becoming increasingly difficult to re-let for landlords and many are having to be creative with their property strategy, such as splitting units to accommodate smaller, independent businesses or reworking space for use as a shared office for flexible working.



Figure 2: Arcadia Group portfolio split by location type. (Source: Local Data Company).
Shopping centres traditionally depend on big fashion multiples and department stores as an anchor to drive footfall and both these categories have faced some of the strongest headwinds in recent years, increasing in severity since the start of the pandemic.
Recent Local Data Company analysis revealed that the multiple market had been hit especially hard by the repeated lockdowns, with this corner of the market shrinking by 2.8% compared to just 0.5% for independents in H1 2020. Deemed non-essential, more consumers were forced to shop online as over 24,000 fashion and clothing stores across GB closed for weeks on end. This has resulted in a loss of -1,821 stores in this store category so far this year.
The largest percentage of Arcadia stores are located in the South East of England at 13% and Wales the least at just 4%. In the first half of this year, the South East saw a higher than average increase in vacancy of 1.1%, compared to the GB average of 0.9%. With more Arcadia stores located in this region, we could see a further increase in vacancy if a buyer is not found for some or all of the brands. The South East is also one of the top two regions for exposure to Debenhams stores, with the brand going into liquidation, it's likely these stores will close, causing a further increase in vacancy. The 120 large-format Debenhams stores are now at risk of closure and are notoriously difficult to relet, demonstrated by the fact that 4 years on from the collapse of the business, 26% of former BHS stores still lie vacant.
For more information on H1 2020 retail and leisure trends, download our recent report here.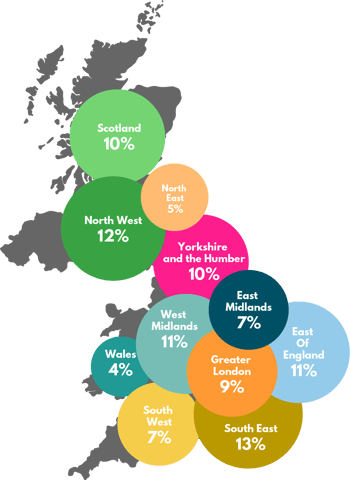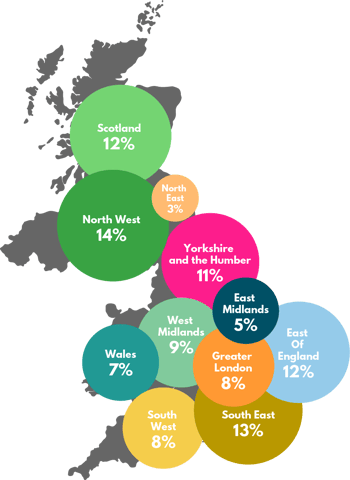 Figure 3: Arcadia (left) and Debenhams (right) portfolios, split by region. (Source: Local Data Company)
Back in 2017, the group made the strategic decision to reduce footprint by housing multiple brands in one unit, leading to the closure of standalone stores. This has become a popular strategy for categories which have been impacted by the growth in online, with Argos stores moving into Sainsbury's and Dixons, Currys and Carphone Warehouse also combining into one store.
Arcadia has partnered with other chains operating large stores, opening concessions in brands such as Debenhams and Tesco Extra. This strategy is one of the factors which saw JD Sports pull away from talks about purchasing Debenhams as reports reveal that Arcadia concessions in Debenhams contributed £75 million in sales in 2019 (Source: The Sunday Times).
In terms of likely buyers, there may be a few considering an acquisition, to mention a few; Frasers Group led by Mike Ashley, Marks & Spencer and Next. Another potential buyer could be Boohoo, who have acquired previous retail casualties such as Karen Millen, Coast, Oasis and Warehouse, transforming the brands into mostly online businesses.
These recent developments coupled with the long-term impact of the pandemic will have a significant impact on the retail health of many locations. Towns with Arcadia stores and a Debenhams could be at risk of more closures causing an increase in the number of vacant units, some of which will be difficult to fill in the current climate.
Get in touch with us at team@localdatacompany.com or complete a contact form to discuss how we can quantify the impact of the Arcadia and Debenhams closures on your portfolio/town centre.