April 12, 2021
Today the non-essential retail market reopens in England after about 100 days of enforced closure following weeks of falling COVID-19 infections and hospitalisations. This is the second part in the reopening roadmap, announced by the PM earlier this month, the aim of which is to see the UK return to 'as close to normality as possible' by June 21st – a key date in everyone's calendars. The successful vaccine rollout coupled with the effects of a third national lockdown has seen COVID-19 cases dive, meeting the government's conditions.
Today, 41% of units across the country will be eligible to reopen their doors, providing a much-needed boost across high streets and shopping centres in particular.


UNITS ABLE TO TRADE AT EACH STAGE OF ENGLAND'S REOPENINGS ROADMAP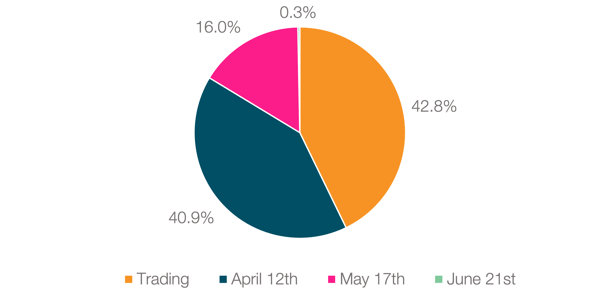 Figure 1: Reopening roadmap breakdown by units for England (Source: Local Data Company)
28.6% of units to open today fall within the Hairdressing, Health and Beauty category as consumers are desperate to get their hair cut, nails manicured, and beards trimmed after a long lockdown.
However, 16.3% of units will still face restrictions on how they operate, as the hospitality sector can only serve customers in outside settings. Many businesses have made large investments to create outdoor spaces that will be comfortable for guests in the unpredictable April weather. This will be lifted on May 17th when indoor hospitality will be allowed once more (dependent on covid metrics being met). Following this date in May, just 0.3% of the market will still be unable to open, mainly businesses in the night-time economy, many of which have not been able to trade for over a year.
There is much discussion about how night clubs will reopen, with the use of 'covid passports' a possibility where a consumer will have to be certified as either having been vaccinated or having recently taken a negative test. The night-time economy has spoken out against the use of covid passports, with a recent survey by the Night Time Industries Association revealing 69% of the pubs, bars, night clubs and other venues surveyed believed that they were not necessary and would impact trade.


SHOPPING centre RELIEF
Of all of the location types that we track at Local Data Company, shopping centres have arguably been the most impacted by the COVID-19 pandemic with occupied units within shopping centres falling by 5.4% in 2020, significantly higher than on high streets or retail parks. This activity resulted in the average shopping centre vacancy rate hitting 17.1% at the end of the year. This type of asset typically houses lower percentages of essential retailers, with just 15.4% of shopping centre units sitting in this category, compared to an average of 28.7% of units on retail parks. 92% of units able to reopen today are located in shopping centres, a figure driven by the large presence of fashion and clothing units within these assets.
percentage of stores eligible to reopen across location types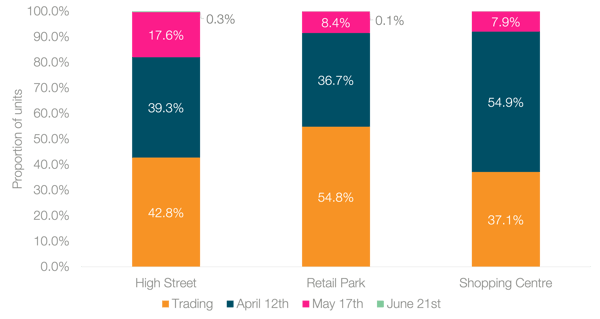 Figure 2: Percentage of units across different location types eligible to reopen at roadmap dates. (Source: Local Data Company)
High streets face a slight delay in returning to normal, as 18% of units will still be subject to some restrictions until the May and June roadmap dates.
HOW quickly will the market bounce back?


Following the first lockdown, some units took months to reopen, with a much-needed nudge August thanks to the 'Eat Out to Help Out' scheme and the government encouraging workers back to the office in September. Following last year's reopening date of the 15th June, by the end of the month, just 33% of the market that was eligible to trade again was doing so.
percentage of the non-essential market that had reopened at month of LDC visit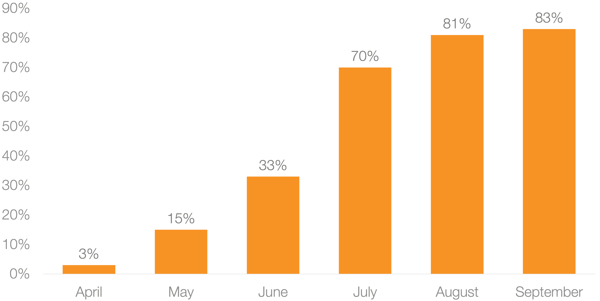 Figure 3: Percentage of non-essential units across England that had reopened in the month of LDC field research visit. (Source: Local Data Company)

However, over a year on from the initiation of the first lockdown, occupiers have learnt and adapted their operations in order to trade as safely and efficiently as possible during the pandemic. Our prediction is that occupiers will bounce back quicker this time around and by the end of this month, a much higher proportion of occupiers will have reopened their doors in a bid to take advantage of the pent-up demand.
We'll be closely tracking how the market reopens and reacts to the constantly changing trading environment as there are a myriad of factors that will influence how quickly the market will bounce back. This includes how fast workers return to offices, how quickly the vaccine is rolled out and the prevalence and spread of new variants of COVID in the UK.
For support in understanding how the strengths and weaknesses of your portfolio of stores, assets or town have shifted as a result of the COVID-19 pandemic, please get in touch with us via team@localdatacompany.com