February 19, 2020
On a cold, grey Thursday in January, the Local Data Company 'Walking Club' made the trek from our office in Farringdon to Coal Drops Yard (not really a trek per se, but some might say that walking for 20 minutes along Grays Inn Road is in fact a health hazard!). Having been to Coal Drops Yard a few times before I was eager to show my colleagues why I have been wanting to write a blog about this place since its opening in 2018.
Turning the corner of King's Cross station, we walked upwards towards Granary Square, passing looming construction sites. Will these concrete pillars house people or the next Silicon Roundabout (Silicon Yard?), we wondered. Over the bridge, Regent's canal and a couple of former gas works containing new apartment buildings.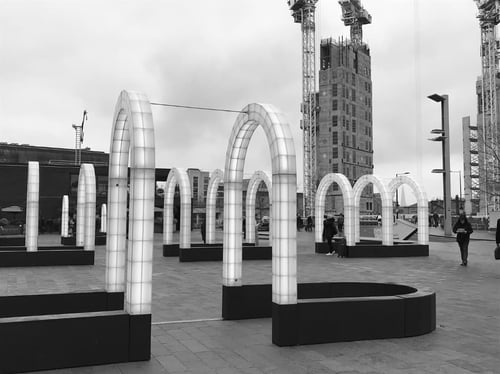 At the Local Data Company, we categorise Coal Drops Yard as a shopping centre, but it is far from a regular retail hub. It's bearing next to University of the Arts London is no coincidence, as it regularly showcases outside art installations and light displays. It's certainly 'instagrammable'.
What you'll find here is something different. Something that feels artisanal and experimental, with no fast fashion in sight. The multiple chains are new, exciting and European, such as French designers Caravane and ba&sh and Danish outdoor brand Rains, who specialise in all-weather clothing (possibly doing a roaring trade thanks to Ciara and Dennis!). As well as brands such as Superga, Margaret Howell and Aesop that have previously been found in niche shopping districts like Covent Garden or Carnaby Street and have advanced northwards to attract a new audience.
These brands sit alongside traditional British designers such as Paul Smith and Joseph Cheney & Sons, and cult nineties retailer Diesel. (If there isn't a Stussy pop up store by the end of 2020 I'll eat my beanie hat). In fact, when cult style bible The Face re-launched last year they plastered an entire wall in previous copies of the magazine.
In comparison to a regular shopping centre, where mobile phone shops often operate within yards of each other, Samsung is the only electrical retailer. However Apple could not be more suited to this modernist location, so perhaps plans are being formed as I type…
Boutique by homeless charity Shelter is a charity shop, but not like one you may have visited before - bearing more of a relation to Mary Portas' Living & Giving chain, set up in partnership with Save The Children. Cubitts replace Specsavers or Optical Express, El Pastor gobble up a space that would have previously been taken by Wahaca and Redemption Roasters offer a worthy replacement for Starbucks.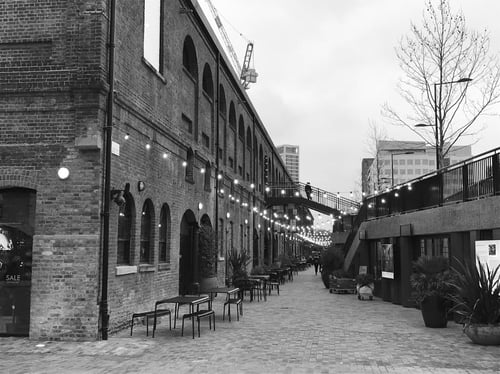 When compiling analysis on the current retail mix within Coal Drops Yard, what strikes me is the huge majority of units taken up with comparison retailers. A common theme in our bi-annual reporting is the decline of comparison traders, which have been seeing a steep decline in numbers consistently since 2012. In the year that Coal Drops Yard opened (2018), the comparison goods sector shrunk by 2,171 units. However, at Coal Drops Yard 68% of retailers fall within this category and just 6% fall under the service category, which is the one sector seeing growth across the rest of the country. Needless to say Coal Drops Yard seems to be somewhat against the grain - but how are they doing it?
A powerful attribute for Coal Drops Yard is its emphasis on enhancing the visitor experience, and not just in the traditional 'food court' space or main hall. Many restaurants and stores hold weekend workshops and speciality evenings, such as candle making at Store Store, film screenings at Vermuteria and shoe designing at Tracey Neuls. With the doom-mongers keen to announce the end of the high street, many locations have had to confront the change in how we shop and offer a unique experience for shoppers and the retailers within Coal Drops Yard do this beautifully.
Ultimately, Coal Drops Yard is a place for the discerning customer who is willing to pay more for luxurious goods that are well-made and likely to last. This causes me to wonder whether the recent concentrated focus on environmental issues has led to increased interest in provenance of products. We are now able to trace what we buy to ensure goods are fair trade, sustainably produced, kind, biodegradable. Premium brands such as Patagonia and Barbour repair items purchased as part of a lifetime guarantee. (Coincidentally both stores would sit comfortably in Coal Drops Yard).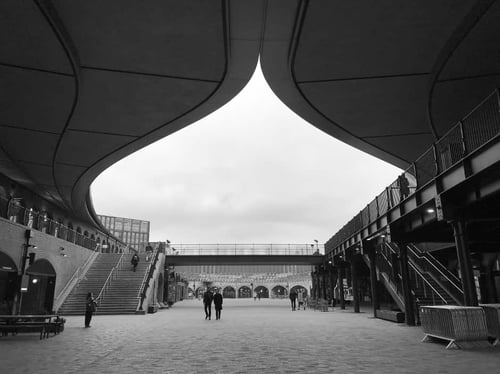 Not only does Coal Drops Yard offer an alternative to the regular shopping area, its location is also a major factor in determining its success. King's Cross may be a major transport hub for London leading to other UK locations, but it also links Britain with Europe through the Eurostar.
One question could be, 'who are its most frequent customers?' Are they regular Londoners, or mainly those who come by way of the station – whether from other parts of the UK or from Europe and are looking for a premium shopping experience?
The prominence of European brands and the excellent international travel links calls me to consider the impact on Coal Drops Yard post-Brexit and into 2021. Will it lead to an increase or decrease in international brands opening on our shores? The qualities that separate this shopping area from others are the brands that have chosen to trade here, existing harmoniously alongside their British counterparts. Perhaps next time the Local Data Company walking club visits this centre, it'll look much different.