February 19, 2021
Recent news of two of the biggest online players in the fashion sector, ASOS and boohoo acquiring the Debenhams and Arcadia brands out of administration should have been welcome news for the sector. However, deals made by these two businesses did not include any bricks and mortar stores, which caused a riptide of shock as the scale of the closures and associated job losses was realised.
The maps below indicate just how extensive the impact will be of these closures, not just on GB high streets, but within shopping centres which typically contain a strong fashion offer (often several Arcadia units within one scheme) and on retail parks, which house some of the bigger stores, including Arcadia's Outfit fascia.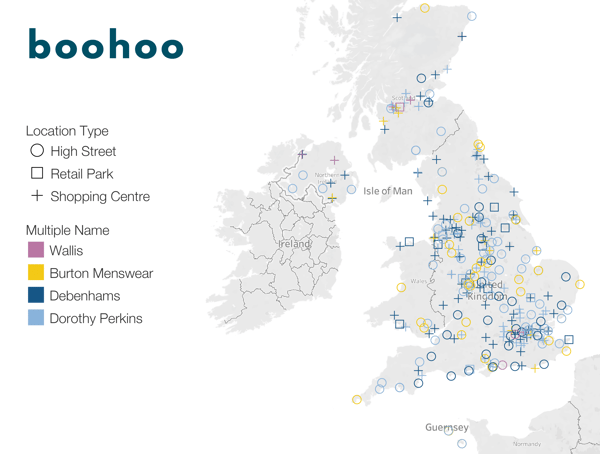 Map of stores for brands purchased by boohoo (Source: Local Data Company)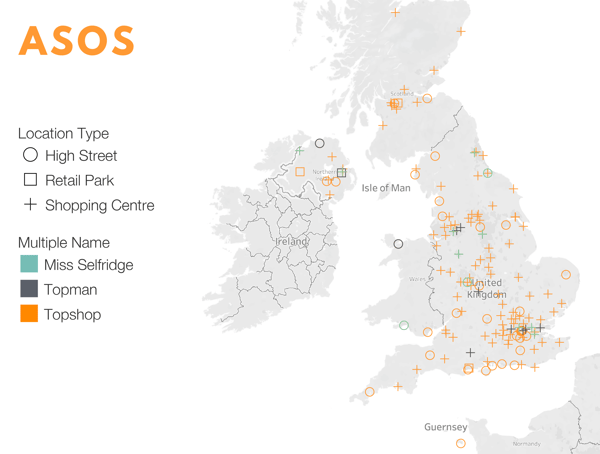 Map of stores for brands purchased by ASOS (Source: Local Data Company)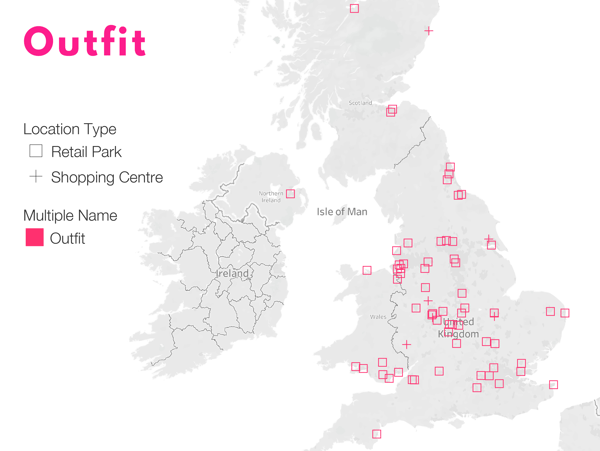 Map of Outfit stores to close. (Local Data Company)
Of the Arcadia stores set to close, 51% are in shopping centres, 30% are on a high street, 14% are located on retail parks and 5% are standalone locations. What is key to note here is that shopping centres have already been hit hard by the pandemic, with vacancy rising to 17.1% in Q4 2020 (Source: BRC/LDC Vacancy Rate Monitor) – a figure which does not consider the expected closures from the Debenhams and Arcadia deals.
77% of Arcadia stores are located in town or city centres, once more indicating that these closures will be felt in locations which are already facing some of the harshest challenges in the face of COVID-19.
boohoo has a history of acquiring fashion brands without stores, such as previous deals made to purchase Coast, Warehouse, Karen Millen and Oasis. Of the stores which were vacated by these brands, 50% were still vacant in January 2021, indicating that the demand for these units is low due to the huge uncertainty caused by the COVID-19 pandemic.


Status of units vacated by brands acquired by boohoo as of January 2021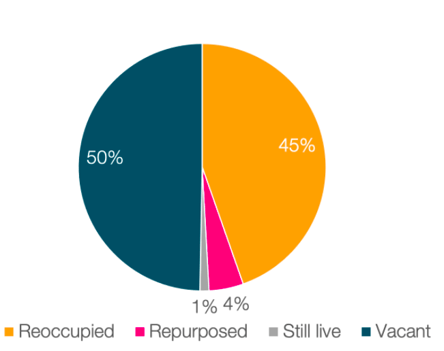 Status of stores vacated previously by brands acquired by boohoo of as January 2021 (Source: Local Data Company)
As these closures filter through to the market, they will have a significant impact on many retail destinations in regard to their retail offer, rate of vacant units and the vibrancy of the location. More than ever, redevelopment will be needed to ensure that any oversupply in available retail property is repurposed for other uses that will future-proof towns and safeguard UK retail locations from long-term vacant units.
To understand how the Arcadia/Debenhams closures will impact your town, portfolio of stores or assets, please get in touch with us by emailing us at team@localdatacompany.com.