Retail and Leisure Analysis - H1 2020
Download your copy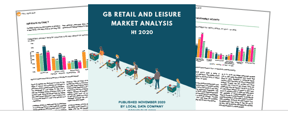 This analysis reviews the GB retail and leisure landscape across a very challenging H1 2020 period. This includes the start of the pandemic, the nationwide lockdown and the reopening of the non-essential retail market.
Includes data on:
Vacancy rates across high streets, retail parks and shopping centres
Vacancy rates change by region
Long-term vacancy trends
Net change in the number of occupied units across location types
Openings and closures trends
Reopening trends across corners of the market
The occupancy status of units vacated by brands during a CVA
Redevelopment of retail property
Brands which have seen growth in H1 2020

To download your copy of the report please complete the form on the right. You will receive an email with your report shortly.