March 9, 2020
Consumers are changing the way they shop in what has been coined the "Blue Planet Effect." YouGov (2019) unveiled research that 66% of UK adults think sustainable practices in retail will make a real difference to the environment.
So, how are retailers facilitating changing shopper habits?
For a number of years, we've seen the emergence of niche, sustainability-focused retailers coming to the market, including: As Nature Intended, Planet Organic and US supermarket chain Whole Foods Market.
Last month, amid ongoing challenges in retail, Planet Organic announced it is set to double its store estate over the next four years. The eight-store operator aims to extend its offering to a further ten sites by 2025.
expansion of smaller sustainability focused brands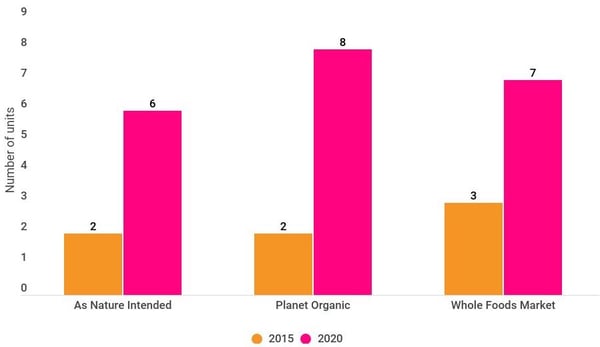 Figure 1 - Store expansion of As Nature Intended, Planet Organic and Whole Foods Market (2015 - 2020) (Source: Local Data Company)
All three brands are positioned at the premium end of the market, and solely London based (Fig 2). For shoppers on a budget or living outside the capital, the sustainable solutions offered by these brands are not so readily accessible.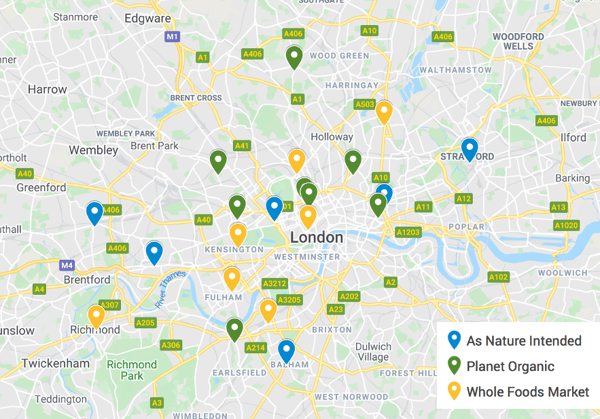 Figure 2 - Location of Whole Foods Market, Planet Organic and As Nature Intended stores in GB (Source: Local Data Company, Google Maps)
Targeting the everyday shopper
Waitrose launched Unpacked at its Oxford branch in June 2019. The offer encouraged shoppers to reuse and refill their plastic containers, with refill stations throughout the store. The concept has since been rolled out to sites in Cheltenham, Wallingford and Abingdon.
Marks & Spencer is transforming its existing estate with a renewed focus on sustainability. The first store to benefit is the Hempstead Valley branch with an emphasis on plastic free produce and responsible sourcing.
More recently, Asda announced plans to transform its Middleton branch in Leeds. In a similar move to Waitrose, the one store trial will include refill stations as well as a 'naked' florist, offering plastic-free flowers and in store reverse vending machines to incentivise recycling.
Last month, Sainsbury's pledged to become carbon-neutral by 2040, with a renewed focus on promoting health, sustainability and increased recycling.
Sustainability activation in other categories: Lush
For ethical beauty specialist Lush, recent trends towards environmental consciousness are well aligned with the brand's heritage. It has always focused on recycling, reusing and refilling and has been at the forefront of sustainable retailing.
Last year the retailer invested in its 'largest store in the world.' Stretching over three floors, the 14,854 sq. ft. branch in Liverpool, previously occupied by Dorothy Perkins and Burton Menswear, now includes a florist, a spa, a hair salon and an area dedicated to its range of 'naked' products.
Lush's interest in larger format stores is well timed. The decline in high street department stores such as House of Fraser and Debenhams, have provided an opportunity for Lush to re-occupy vacant space and rejuvenate the high street.
net change in number of Debenhams and house of fraser stores from 2017 - 2020

Figure 3 - Year-on-year net change (2017 – 2020) for units occupied by Debenhams and House of Fraser (Source: Local Data Company)
Figure 3 demonstrates the year-on-year decline for net change in units occupied by the two department stores; Debenhams and House of Fraser.
The rise of plant based living
In line with increasing environmental mindfulness, we are seeing more shoppers adopting plant based diets. UK based charity, Veganuary, which encourages consumers to go vegan for the month of January, claims that 12% of people who take on the challenge do so for environmental reasons. This year, according to Veganuary, a record 400,000 people worldwide pledged to take part, demonstrating our growing consciousness around the impact of diet on the environment.
This shift in consumer behaviour is affecting our retail landscape. We're seeing a growth in vegan restaurants across GB, and, whilst the net number of vegan restaurants is highest in London, the trend is by no means only seen in the capital. Figure 4 showcases the year-on-year growth seen across other regions.
Net change in Vegan restaurants across GB regions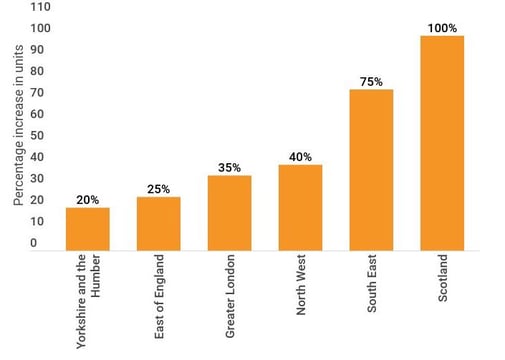 Figure 4 – The growth of Vegan restaurants in GB by region (last 12 months from February 2020) (Source: Local Data Company)
Larger multiples are also tailoring their offering to meet the needs of plant based consumers. We're seeing new brands coming to the market, for example Pret a Manger's Veggie Pret, launched in 2016 with subsequent plans to convert former EAT into new sites, as well as traditionally meat-based operators adapting their menus to meet changing demands.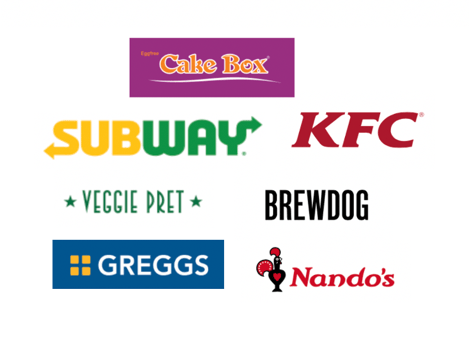 Figure 5 - F&B retailers expanding or tailoring their meal solutions to cater for plant-based consumers
Greggs made headlines in 2019 with the launch of its vegan sausage roll, and then once earlier this year with its vegan steak bake. Both launches were designed to cater for those taking part in Veganuary, demonstrating the influence of changing consumer attitudes towards plant-based diets.
what next?
With retailers having to work harder than ever to win a share of consumer spend, competition to stand out amid a range of sustainability pledges and commitments will continue apace.
Pressure on mainstream retailers to make sustainable forms of shopping more accessible, both in terms of convenience and price point will persist. This in turn will generate a new norm whereby accommodating for these changing attitudes becomes the expectation.
We'll be discussing this and other trends at our upcoming retail and leisure trends summit. To register your interest for this free event, click the image below.