February 27, 2019
As we are in the middle of the reporting season for the major shopping centre owners (REIT's), I wanted to shine a spotlight on the shopping centre market to understand the changes across the top 100 shopping centres by size over the past few years. I'm going to share the changes we have been tracking, and what I think the future might look like for these important retail schemes.
A life of leisure
If we look at the top 100 shopping centres by size, there has been a clear move towards an increased leisure offer since 2015 with several schemes expanding food courts to support the demand for casual dining operators such as Byron and Five Guys. However, this ground to a halt in 2018, with the percentage of the total retail stock occupied by leisure retailers remaining at 17.0%. This will come as no surprise to many readers, as the slowdown in leisure across the board impacted shopping centres as much as other retail location types. Challenges such as increased competition and rising operational costs caused a raft of CVAs last year whilst surviving brands consolidated their portfolios and became increasingly cautious with investment plans.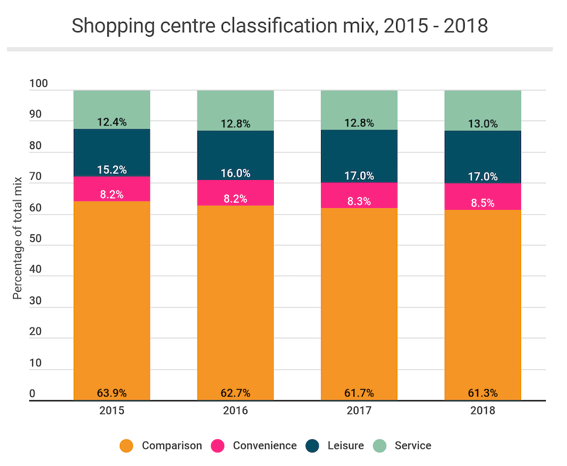 Figure 1: Percentage split of retail categories across the top 100 shopping centres, 2015 - 2018. (Source: LDC)
My predictions for the next three years
Once more consolidation has taken place in the casual dining sector, my prediction (and ultimately my hope) is that emerging sectors will be able to pick up and acquire space in some of the most attractive shopping centres. With the huge increase in interest in veganism in the past year, we have already seen a 55% increase in vegan restaurants. Alongside this, as consumers look for new, exciting cuisines, we predict that the range and diversity of casual dining offers in shopping centres will increase. We have also tracked increases in other leisure businesses opening in shopping centres, such as crazy golf (e.g. Junkyard gold in Westgate Oxford) escape rooms (e.g. the Maze Runner pop up escape room in the Cardiff Capitol shopping centre) and other temporary structures such as climbing walls and events spaces popping up. This will expand the remit for these centres, offering a fun, family day out with activities, restaurants and bars alongside the traditional retail provision.
Championing local heroes
The percentage of independent retailing across shopping centres has risen over the last three years by +0.6% to 25.7%. This is due to decreased demand for space from the national chains providing an opportunity for independents to acquire space. This has been more evident across the top 100 shopping centres, where a total of 2,755 independents now occupy space. Landlords also benefit from independent businesses as they offer diversity to their retail mix; support local business owners, bridging links to the local community and also fill space which may not be suitable for some of the national chains.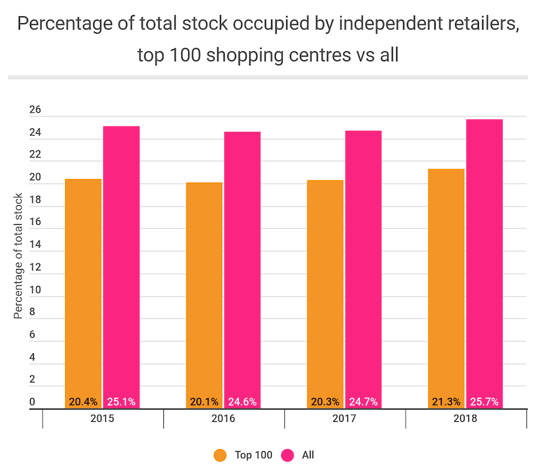 Figure 2: Percentage of independent retail across the top 100 and all shopping centres in GB (Source: LDC)
My predictions for the next three years
The fate of independents has been somewhat of a rollercoaster ride over the past few years. However, we remain convinced that independents are critical to the UK retail scene. My prediction is that the number of independent businesses will slowly grow, as rents become more affordable and more entrepreneurs open retail stores with less friction between business and consumers facilitated by technology. Shopping centre managers and consumers alike will increasingly value independent retailers, and the diversity that they bring to all retail locations (not just shopping centres). We will see increased innovation by landlords who will become more creative with space, splitting, merging and rethinking the format of their units to become suitable for a wide range of independent businesses. The challenge however is how to provide the best support to these fledgling businesses to nurture their growth.
Adapting the retail mix
The recent growth in health and beauty (+1.1% increase in units, equating to 403 new occupiers in shopping centres) is very much aligned with changing consumer habits around wellbeing and self-care. Traditional shopping centre occupiers such as fragrance shops and chemists have been joined by cosmetics and skin-care stores offering tutorials (Space NK Apothecary and Lush), nail bars (mainly independently run) and premium skin care (Molton Brown and Elemis). With health and beauty the fastest growing retail category type in the last three years, it has become a key offering for many centres due to the in-store expertise and experiential elements that can't be replicated online.
Fashion was the fastest declining retail category across all shopping centres in the three year period from 2015 to 2018. This category saw an overall decrease of -1.2%, but still remains the largest occupier of space in shopping centres.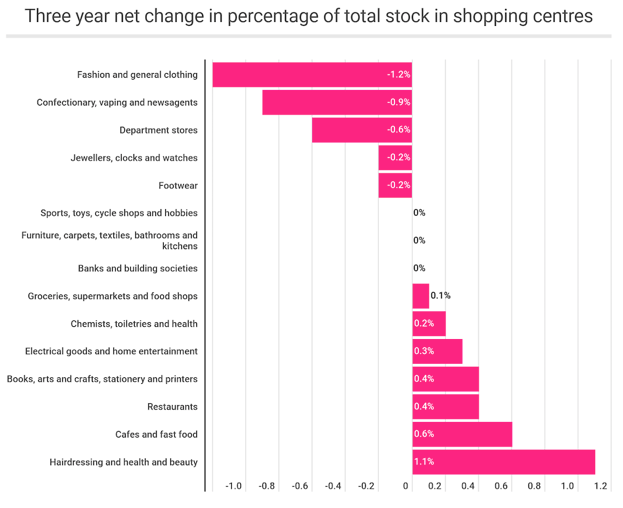 Figure 3: Three-year percentage change by category of total units across GB shopping centres, 2015 to 2018 (Source: LDC)
Department stores dropped out of the top 15 shopping centre occupiers ( seeing a 0.6% fall in the last three years), although they continue to be major anchor tenants for many large shopping centres. BHS and House of Fraser closures, the slowdown in John Lewis openings and the struggles faced by Debenhams and Marks & Spencer indicate that this is likely to continue.
However, it should be noted that the top five occupiers of units in shopping centres by category has remained consistent over the three-year period, with Fashion; Cafes and Fast Food, Hairdressing, Health and Beauty and Electrical Goods all remaining in the top five. The lack of significant change in the top five categories in shopping centres indicates that changes to retail stock have, so far, been fairly subtle.
My predictions for the next three years
My prediction is that shopping centres will continue to adapt their retail mix to meet the needs of consumers. However a greater diversification away from the traditional retail categories is unlikely as these remain fundamental to the customer journey and function of shopping centres. There will continue to be minor tweaks to the shopping centre offer, with brands and categories such as car dealerships and pubs/bars opening across a selection of schemes either as a trial or as a marketing channel. Overall, shopping centres will remain the focal point of many town centres, as evidenced by local councils starting to acquire them in order to lead the transformation of their town/city centres.
For more information on how we track openings and closures activity across shopping centres, high streets and retail parks, get in touch with the team at sales@localdatacompany.com.