November 14, 2018
Last week saw our 18th Retail and Leisure Trends Summit, held at the beautiful BCLP LLP offices at London Bridge. We had some fantastic speakers who joined us to discuss the theme of 'Driving Retail Intelligence with Big Data'. For those that missed the event, here is a short round-up of the day:
After a warm welcome and introduction from Claire Milton of BCLP, LDC's Lucy Stainton presented the findings from our latest research which focused on the first six months of 2018 [see report here]. The first point to note was that closures vastly overtook openings, as CVA and administration activity started to have an impact on the retail and leisure landscape across GB. Despite this, Lucy pointed out that the vacancy rate didn't rise from the 11.2% that it settled on in the second half of 2017. So, why was this? Looking at structural changes made to retail units, we found there had been a significant increase in both live and vacant units which have been merged, split or redeveloped for other uses such as residential, office or warehouse. It's important to note that, as of November, the vacancy rate has risen to 11.4% as the redevelopment activity fails to keep up with the pace of closures.
Lucy then broke the news that, for the first time since 2012, all retail classifications (Comparison, Leisure, Convenience and Service) went into decline in H1 2018. Most notable is Leisure (including food and beverage, entertainment and accommodation units), a classification which had consistently been in growth up until H2 2017, when it saw a marginal decline of 67 units. In the first six months of this year, this increased and over 1,000 occupied leisure units were lost. This figure was largely driven by pubs, which saw huge losses over the six-month period (-6.5% of the total number). Other categories that saw losses were estate agents, fashion shops and charity shops. Categories to see growth include barbers, beauty salons, vaping stores and gyms. We saw a huge amount of change in this six-month period, which, Lucy pointed out, indicates that 2018 is going to be a truly transformative year for retail.
Figure 1: Historical net change in units between 2014 and 2018 across GB by retail classification. (Source: LDC)
Richard Lim, CEO of retail economic consultancy Retail Economics joined us to share his expertise on AI in retail. Richard started by sharing the fact that 90% of the world's data was generated in the last 2 years – a staggering figure. This increasing volume of data is being used in impressive ways. Back in 1994 a computer beat the world chess champion, and over 20 years later, Google's AlphaZero took just four hours to teach itself chess before beating the world champion programme! The possibilities are really endless for this powerful technology. Richard went on to discuss the implications of machine learning in retail and the huge changes that data and technology has made to the customer journey since the 1970s. Richard claimed that, in the next few years, people will no longer find products, but products will find them. The shopping experience will be driven by AI, virtual reality and social shopping. This will allow businesses to increase efficiency, reduce costs, forge more meaningful relationships with customers and help to resolve pain points.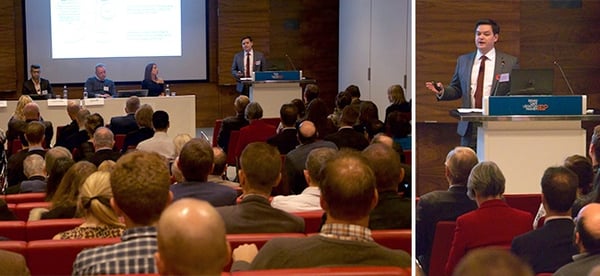 Julian Dailly, Product Leader at brand tracker BrandVue then took the stage to talk about the importance of utilising many data sources in order to understand external trends. For example, the recent interest in health and wellbeing; including decreased drinking, increased vegetarianism, veganism and flexitarianism (we're not 100% sure what that means either!) has contributed to some significant market changes (including the decrease in pubs and increase in gyms reported by LDC). Julian spoke about the three stages of strategy; 1- Innovation, 2- Extension (building on what you have already) and 3- Rapid reaction (responding to external trends). Through the work Julian does with BrandVue, he argues that data can inform all three of these stages. Where better to derive insight that will push your brand forwards, than from your customers? Data, Julian argued, can facilitate creativity, resilience and innovation, can help a brand to understand its core strengths and can help businesses to identify and act on external trends before the competition. A sentiment that we wholeheartedly agree with at LDC!
Finally, we welcomed Jon Lake from Asian quick service restaurant Chopstix. Jon provided some fantastic insight into the journey so far for the brand. He started off by discussing the Chopstix offering, which focuses on a few simple and effective product lines with a range of options for the calorie conscious. Chopstix, Jon explained, focuses on simplicity. Their dishes are created using simple recipes, which are easy to teach to kitchen staff. This helps them with staffing and training initiatives. A simplified operational model means that Chopstix can reduce risk and increase efficiencies across stores. Recent rebranding sees a new, modern look for the Chopstix fascia, but again, simplicity and efficiency is at the heart of everything that they do. In regard to growth, Chopstix is taking a very measured approach. They are identifying which sites are best for their brand using a data-driven method and use this strategy to take a measured approach to site selection.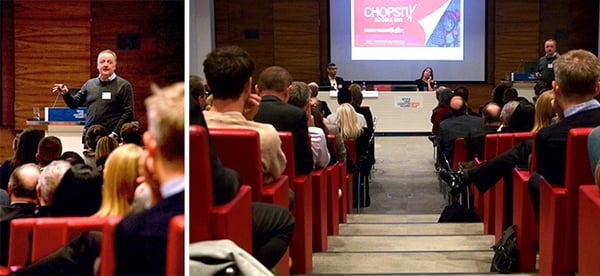 Finally, we opened the floor up to questions from our audience who discussed the low barriers to entry for barbers, social pressure to look good impacting which sectors are growing and whether there was a positive side to the closures - is this actually progress decreasing the amount of retail stock that is in use? Questions from the audience elicited discussions around the decrease in charity shops, the impact of Deliveroo on local towns and the innovation required in the market to make the best use of space.
For those that came along to the event, we hope that you left the day with some valuable insight and some fantastic new connections. For those that missed it, all the LDC data that was discussed (and much, much more) can be found in the accompanying report, which was released on Friday. Click the image below to download your copy of the report.
Finally, I would like to take the opportunity to thank all of our fantastic speakers; the Retail Trust, AzteQ and TruRating for joining us at the drinks reception and of course, the fantastic staff at BCLP LLP for hosting us in their lovely venue and affording us the opportunity to run this summit.
We hope to see as many of you as possible at next year's event!
Click here to download your copy.