February 13, 2019
2012 was a year of challenges for the retail sector. With the country back in a recession, things were not easy for retailers. Spending was reducing and consumers were extremely cautious as they struggled to pay their bills. The move to online shopping was really starting to take hold and retailers were increasingly investing in digital to cater for the new generation of consumer. This was especially true for fashion retailers, who, according to the British Retail Consortium,were enjoying growth in both online and offline at this point. This would come to a halt in 2016 as the scales tipped in favour of online (Source: FT.com).
Our changing high streets
As we get into the swing of 2019, we wanted to stop and quantify all the changes that have happened on our high streets over the past seven years. 2012, with all its challenges was the first year that we started publishing our 'all' vacancy rate figure (covering both retail and leisure units) – a metric for which we are now renowned. In 2012, the vacancy rate was at 14% - a figure which shocked the nation, with retailers going into administration or entering into CVAs including Comet, Peacocks, La Senza, Game, JJB Sports, Clinton Cards and others.
From this point the vacancy rate fell slowly until the end of 2017, when it started creeping back up, albeit very marginally. It now sits at 11.5%, having increased by 0.3% over the course of last year. This is unsurprising when we look at the headlines in 2018, with Toys R Us, Byron, Jamie's Italian, Carpetright, Homebase, House of Fraser, Poundworld and Maplin all entering into CVA or administration processes.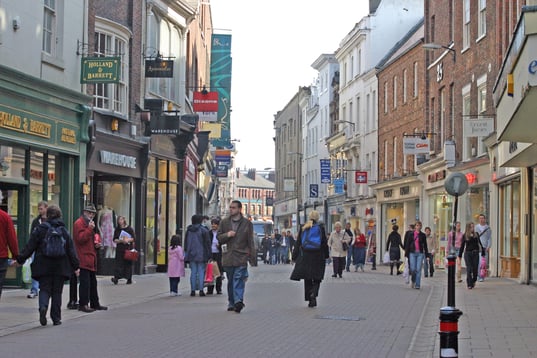 York high street. (Source: Shutterstock)
The makeup of our high streets
In 2012, 3.8% of all stores on the high street were occupied by independent coffee shops. With lots of focus recently on the growth in this sector, it's interesting to note that this has been the category with the greatest share of high street shops since 2012 (see Figure 1). However, with the continued growth in this sector we can see that the gap is widening between the percentage of total units occupied by coffee shops and the second largest category, which in 2018 was shared by three categories, two of which (estate agents and pubs) are in decline.
Other significant changes to the top 10 include the decrease in pubs and high street banks and the increase in barbers. In 2018 alone, 716 banks shut their doors for the last time and since 2012 this number has almost hit 2,000. This not only shows the huge volumes of banks that have shut but also reveals the increase in speed of this decline with over a third of the net loss taking place in the last year.
However, there are retailers who are snipping up this available space. For the past 18 months or so, we have tracked significant increases in barber shops on the high street as the popularity of men's personal grooming becomes increasingly widespread. Barbers enjoy few barriers to entry to the market with low set-up costs and limited certification required to open a store. This has resulted in an extra 2,267 units appearing on our high streets since 2012.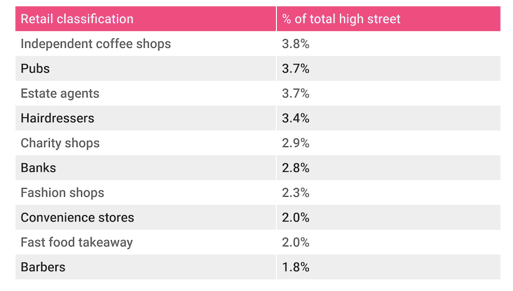 Figure 1: Top 10 high street retail categories 2012. (Source: LDC)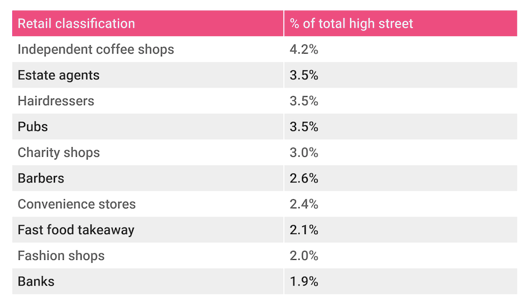 Figure 2: Top 10 high street retail categories 2018. (Source: LDC)
2018 also saw a higher percentage of independent retailers on our high streets, with 67.5% of all high street shops independently run, compared to 65.9% in 2012. This shows that whilst multiples are cautious with investment and have been consolidating store networks, there are still a host of entrepreneurial people who are opening new concepts, challenging the status quo and surviving.
What does this data actually mean?
One of the main things that struck me when comparing 2012 and 2018 in terms of retail mix, was that on the whole, not much has changed. Whilst the leading brands within these categories have changed and new concepts emerged, the top ten retail categories on our high streets have remained the same. This lack of change could go some way to explain why some high streets are struggling to attract the same levels of footfall as they once did as consumers increasingly look for new, interesting experiences.
To future-proof our high streets, we need to support innovation and think about how community spaces are used. There are a host of exciting businesses who are making huge inroads in this space, such as Near St who offer a real-time view of product inventory which now plugs into Google search to connect consumers with products in stores close by. InLinkUK is a project which is bringing digital services to high streets across the country, converting redundant telephone boxes into new digital kiosks which offer a host of connectivity services and dynamic advertising space for retailers. Appear Here is another business who is changing the way vacant space is seen by offering flexible spaces to retailers, ideal for pop-up stores and temporary concepts.
These businesses are supporting the best use of high street space and are bridging the gap between 'online' and 'offline' shopping. Bringing technology to our high streets will make them easier to use and more relevant to the current and next generation of consumer. Many retailers we speak with focus on innovation, differentiation and customer experience as a way to delight customers. As a retail community we can all work together to support these same values on our high streets.