September 7, 2021
The continued easing of lockdown raises questions around retail recovery, mainly 'how': how has the pandemic affected retail, and how can it recover?
In LDC's new 'bouncing back' series, we assess the impact of Covid on different retail sectors and explore how they might recover. This week, we look at shopping centres. You can read our previous articles on transport hubs, the hospitality sector and seaside towns on the LDC blog.
1964 saw the opening of the first US-style shopping complex in the UK, the Bullring in Birmingham. Shopping centres have come a long way since then, with some multi-storey indoor complexes welcoming millions of visitors a year. In recent years, they've faced challenges brought about by the economic downturn post-2008, the rise of online shopping and a host of CVAs and administrations for once-prominent anchor brands such as Debenhams, BHS and the Arcadia group.

As we collectively regain our footing in the wake of COVID-19, how have GB shopping centres been affected by the pandemic? Are there rays of hope for recovery, and what could a future-proof shopping centre look like?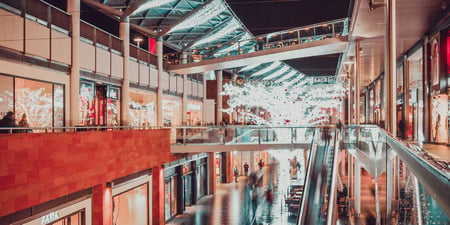 Photo by Carl Raw on Unsplash.
In the past 12 months, shopping centres have seen the biggest increase in vacancy of any location type, increasing by 5.1% year-on-year to 19.4% at the end of Q2 2021. This is partly due to closures for major anchor brands, but also the knock-on effect those closures have on surrounding stores. In the absence of these major brands, surrounding retailers have significantly diminished pulling power. In an interview with BBC News, retail analyst Nelson Blackley said: "If the major anchor store moves out, that has a halo effect on other stores in that centre. It's a downward spiral and you can't fill shopping centres with nail bars and vape shops."

Blackley's second point is equally important: not every retailer can justify the historically high rents associated with a shopping centre site. It follows that shopping centres host a high proportion of multiples compared to independents, with an average of 72% of shopping centre units in GB occupied by multiples. The pandemic accelerated an existing consumer shift towards shopping at independents as we entered an era increasingly concerned with sustainability, ethics and supporting local business. According to Westfield's 2020 How We Shop report, more than half of Brits (52%) are now shopping more locally compared to 2019, with 49% stating that they want to continue buying locally sourced products.

It is true that, during lockdowns, most people were confined to their local areas and therefore might have been surrounded by a greater proportion of independents, but there's more to this trend. Amid the financial hardship brought about by the pandemic, shopper behaviour reflected sympathy towards business owners relying on a single store for income. Increasing press exposure of multinational corporations' working practices and environmental impact may have also negatively impacted consumer sentiment towards the largest multiples.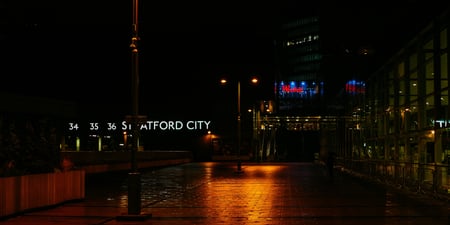 Photo by Samuel Regan-Asante on Unsplash.

It's also important to remember that shopping centres, being enclosed spaces intended to attract high visitor numbers, were probably the least Covid-friendly of any location type. Shoppers unnerved by the relative difficulty of social distancing at a shopping centre might instead look to a retail park. CVAs for major retail park occupiers Maplin, Toys 'R' Us and Carpetright brought about a 2.3% change in vacancy rate in H1 2019, but by the end of H1 2020 this change was 0.5%. With large car parks providing accessibility, larger units allowing easier social distancing and the prevalence of categories such as home improvement catering to pandemic-driven retail trends, retail parks fared relatively well. Even at the end of H1 2021, the 2.7% change in vacancy rate for retail parks was still 1.1% below that of shopping centres.

Brands with the highest number of closures since March 2020 tended to be the targets of high-profile administrations and CVAs, such as Debenhams (with a -87 net change in units) and the Arcadia brands, which have now been variously acquired by ASOS and Boohoo. Brands such as Paperchase and Pizza Express have been bought out of administration but have nevertheless shed some sites, with net change in units of -23 and -16 respectively. Many multiples are rethinking their location strategy to mirror pandemic-driven trends that they expect to continue, such as home working necessitating a refocus towards residential areas, or a shift to online shopping leading to a reduction in physical stores and greater investment in online channels.

Among brands opening new sites in shopping centres, Hays Travel has been rethinking their estate, closing and opening stores across GB with a net change in shopping centre units of 14, in anticipation of a strong return to travel. The travel agent took advantage of frustration amid cancelled summer holidays and travel restrictions, offering guarantees and insurance policies to provide customers with peace of mind and encourage them to make a booking.

As can be expected, any location with a high proportion of retailers that would be marked 'essential' during the pandemic tended to be more resilient, having a greater number of shops remaining open for trade throughout restrictions. Shopping centres tend to have fewer essential tenants in the mix, with an average of 15% of units taken up by essentials compared to the GB average of 17%. The 20 largest shopping centres are made up of only 12% essentials. Community shopping centres, which tend to have a supermarket as their main anchor and a greater presence of service and convenience operators, were slightly more resilient.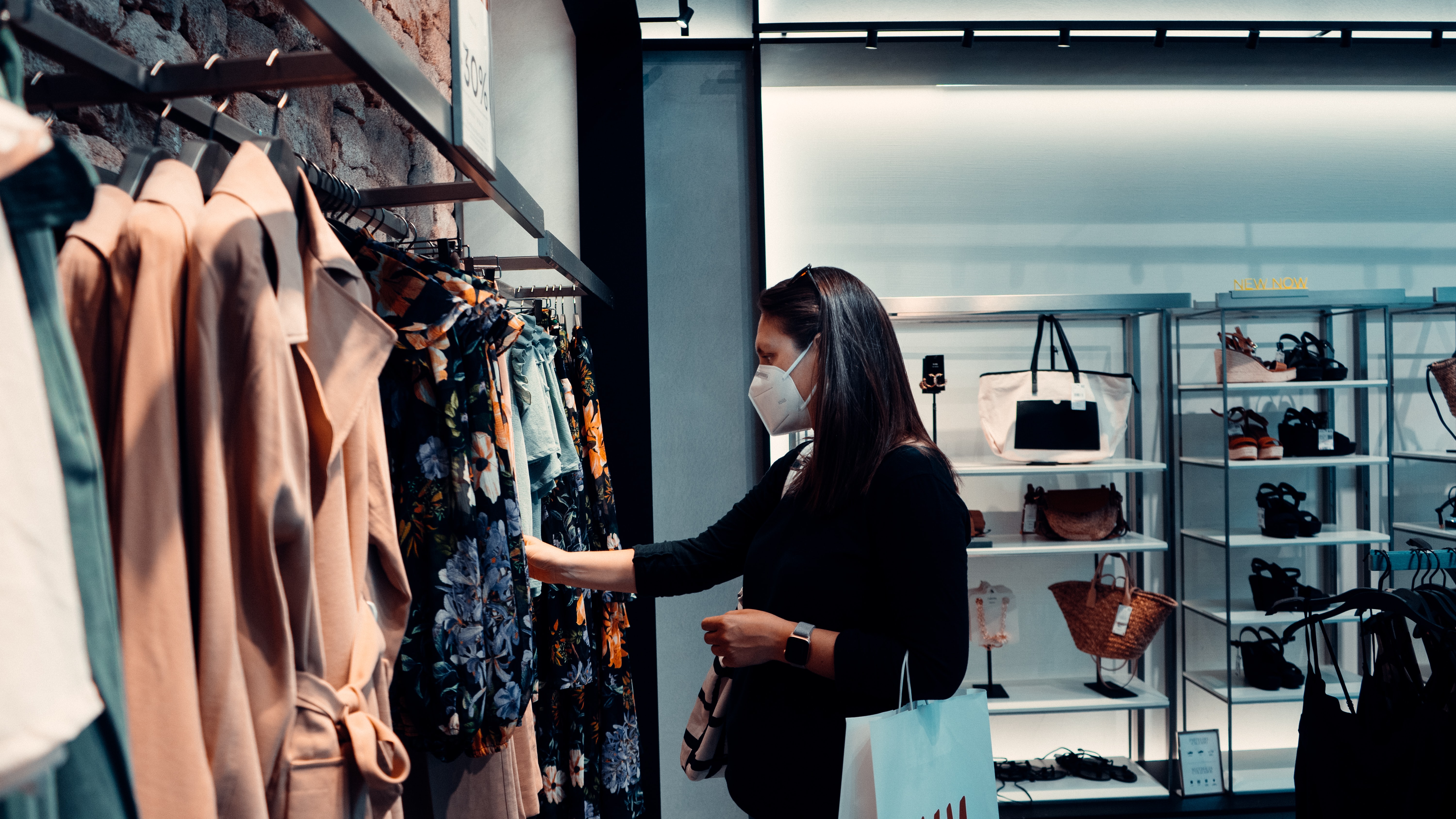 Photo by Arturo Rey on Unsplash.
Shopping centres were hit particularly hard by the pandemic, which coincided with administrations to not only create greater financial hardship but also significantly reduce their appeal for shoppers, retailers and investors. In fact, they lost the most occupied units of any location type in H1 2021. As well as units that have been recently vacated, they also have a high percentage of units that have been vacant for more than 3 years, 5.5%, which are likely to need costly renovations to make them fit for purpose or for other uses. While non-essential retail is now fully open, concerns about safety measures—and the costs and labour involved with maintaining them— remain. Sales and footfall must be strong enough to justify any investments made.

High, fully fixed-base rents at shopping centres would not have helped existing tenants perform well over the pandemic, nor would they have been attractive to new tenants. Turnover-based rents may become more appealing, as might shorter leases. In August 2020, Hammerson announced reforms to existing tenancy agreements, which indeed included moving many leases to a turnover basis. Offering shorter leases might attract, for example, a digital brand looking for a physical touchpoint with customers in the form of a pop-up. With more flexible schemes like this, we might expect to see a wider range of retailers not only willing but able to occupy retail space at shopping centres, creating a more diverse offer and more of a chance to appeal to current consumer trends.

Many GB shopping centres have seen acquisitions by private equity firms working in collaboration with property specialists, but this can be risky if investments don't pay off and banks are unwilling to extend loans. Some local authorities have bought centres from investors looking to offload them, but these still require private investment and public money. For shopping centres, especially local ones, to remain profitable, they have to cater to what people want. Involving local communities in redevelopment schemes will be vital to ensure return on investment, as will rethinking retail space and considering other uses such as office and residential. Daniel Mead, head of shopping centre asset management at APAM, said community facilities such as libraries, medical centres and even schools could all sit within retail complexes. "What people like about shopping centres is that they are centrally located with good transport links. The NHS has expressed interest in having a presence in some centres. With a chemist and other retailers already located there, it would be like a one-stop shop in the town centre," he said.

Nelson Blackley has said that the growth of online retail in the UK has been faster than in almost any other retail market in the world. How can a physical location compete? Many seem to think that the answer is in experiences. From an escape room at Liverpool ONE to golf at the Bullring, centres have begun to focus on strengthening their leisure offer. This also provides a way to fill larger spaces vacated by former anchors; at its centres, Landsec has repurposed former 80,000 to 100,000sq ft anchors into multipurpose leisure offerings, including trampoline parks and e-gaming stadiums. In order to get people shopping offline, they need to be offered experiences they couldn't possibly have online.

Having suffered so many knockbacks, shopping centres may have a long road to recovery ahead of them. That is not to say that recovery is impossible. With a greater focus on experiential retail and leisure, community-informed decision making and making rentals more appealing to retailers, shopping centres could grow in both relevance and resilience.