July 28, 2021
The continued easing of lockdown raises questions around retail recovery, mainly 'how': how has the pandemic affected retail, and how can it recover?
In LDC's new 'bouncing back' series, we assess the impact of Covid on different retail sectors and explore how they might recover. This week, we look at the hospitality sector. To read the previous article on transport hubs, click here.
Lockdown restrictions were tough on Britain's bars, pubs, restaurants, hotels, clubs and entertainment venues. Proximity underpins much of our playtime; socialising with friends (and sometimes strangers) is part and parcel of a visit to a pub, bowling alley or nightclub. Mostly marked as non-essential and Covid-unsafe by nature, most venues had to close from the beginning of the first lockdown.
As lockdowns and tier systems came and went, circumstances varied for businesses across the sector, even when hospitality was allowed to reopen. Some venues didn't have the space for the requisite distance between tables, while others couldn't justify reopening for a severely reduced number of covers. Pubs were particularly affected by restrictions on serving alcohol without food. Some venues remained closed even at the reopening of non-essential retail this April, unable to accommodate outdoor dining or table-service-only models allowed by restrictions.
Even though indoor dining opened the following month, reopening may not have been profitable for some. For others, it may not have been possible. Increasing shortages of hospitality workers and heavy reductions in tourist and commuter footfall to city centres have placed further strain on the sector.

As final restrictions lift, allowing a full reopening for the leisure sector in England, how has the pandemic affected hospitality? What could Britain's post-pandemic leisure landscape look like? We explored our data gathered between the onset of the first lockdown in March 2020 and the end of June 2021 for an early picture of how Covid has impacted the hospitality industry, and what we can expect to see in the coming months and years.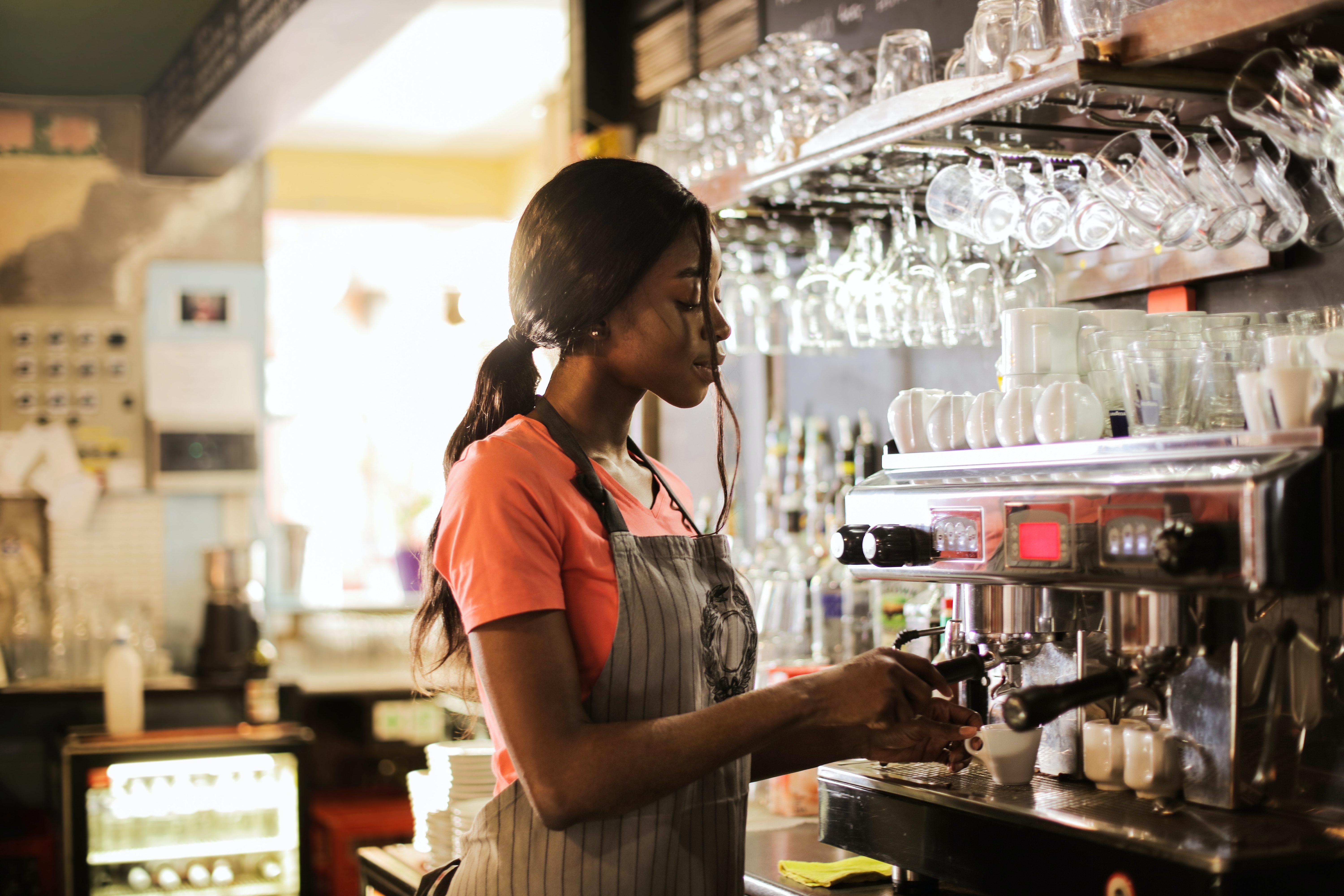 Photo by Andrea Piacquadio from Pexels
Despite long periods of closure, the leisure category was still relatively resilient, with a -1.5% net change in units, versus -5.4% for the comparison retail sector. There was an increase in the number of sites in the Cafés and Fast Food category, partially owing to brands like Domino's and Costa expanding their estate to capture greater residential catchments. Bars, pubs and clubs saw the greatest loss. Pubs lost 913 units, affected greatly by the 10pm curfew, the rule of six and restrictions on indoor dining and serving alcohol.
In terms of business type, multiples saw a decline in percentage of units, -5%, compared to a 0.1% change for independents. This trend is visible across all retail sectors, before and during the pandemic, due to an increasing desire among consumers to shop ethically and support local businesses. Shopping centres, which often host a high proportion of multiples, saw the greatest decline in leisure units of any location type. Shopping centres have generally seen increasing vacancy rates due to administrations for anchor store brands such as Topshop and Debenhams and the growing popularity of online shopping, but the virus also caused concern around busy enclosed areas with reduced opportunity for social distancing.

Like pubs, Italian restaurants have been significantly impacted, with a -462 net change in units. This loss reflects the challenges faced by brands such as Carluccio's, Pizza Express and Zizzi, who faced CVAs, administrations and mass closures in 2020. However, some brands considered to be 'at risk' have been opening new sites. Chains such as Pret have been adapting their strategy, closing some stores and opening others to reflect the reduction in city centre footfall they previously relied upon. Other brands responded to the increased demand for deliveries, adding cook-at-home meal kits to their offer and opening dark kitchens (locations intended solely for delivery fulfilment) to decrease delivery time and serve a larger catchment.

Fast Food Takeaway Shops, the most resilient subcategory within the sector, took advantage of opportunities for delivery. Brands such as McDonald's, KFC and Burger King easily replicated their offer on delivery aggregators such as Deliveroo and UberEats: this subcategory saw a +571 net change in units. It helps that many companies in this subcategory are global brands with an extremely delivery-friendly offer: quick, affordable and easily packaged, with safe, recognisable meals that cater to groups and families with a range of tastes.

City centres, formerly a prime location for many hospitality brands, saw increased vacancy rates due to workers staying at home, no longer looking for morning coffees, office lunches or post-work dinners in the city. Unsurprisingly, the most resilient leisure spots have not been city centres. More residential areas tended to fare better. For example, Shipston-on-Stour in the West Midlands saw a -28.6% change in vacancy rate. These locations often over-index on independents compared to the GB average of 65%, which again would have aided their resilience in the periods when hospitality reopened.
Photo by Fred Moon on Unsplash.
The final phase of lockdown easing is upon us, with nightclubs allowed to reopen and theatres and cinemas able to operate at capacity in England. Rules in Wales, Scotland and Northern Ireland differ, but all nations plan to reduce their social distancing requirements and allow increased capacity across leisure venues in the coming weeks.

It has been a turbulent time for hospitality in the UK; shifting dates for lifting restrictions and changes in advice have confused many and complicated reopening. Trade has been bolstered by sunny summer weather, with some pubs reporting record sales weeks when outdoor dining reopened, but bouts of rain kept diners away, even when indoor dining reopened soon after.

Government schemes such as the Restart Grant, the Coronavirus Job Retention Scheme and the extended rent moratorium for commercial tenants have supported many hospitality businesses suffering heavy financial loss. However, business owners and organisations such as UKHospitality have called for more to be done to help the sector and address widespread staff shortages.

Although workers will be encouraged to return to the office after 'Freedom Day', businesses across the retail and leisure industry are banking on the continuation of consumer behaviours such as working from home and ordering takeaways, with new sites and delivery kitchens placed to capture residential catchments. Businesses in other retail categories have been focusing on creating 'destinations' to bring customers back to physical stores- hospitality could very well follow suit with more 'experience'-based offers. Independents could continue to be resilient, with consumers choosing to spend their money with those they perceive to have been hit hardest by the pandemic.

What was a weakness for hospitality and leisure venues during the pandemic may prove to be a strength after it: they exist for socialising. Many of us have craved nights out, family reunions and celebrations with friends. After a year of isolation and separation for many, our drive for togetherness could bring us back to the table.