October 25, 2019
Earlier this month, Thomas Cook staff were given a lifeline with the news that Sunderland-based Hays Travel would acquire all Thomas Cook stores saving 2,500 jobs. The deal was a surprise for many given the challenges high street travel agents have faced due to increasing competition from online as well as the raft of problems that TUI is facing as they close stores.
Within days they had reopened 130 shops across the country - a rare moment of good news for the high street in the current climate. Temporary six-month leases have enabled Hays Travel to reopen shops quickly and have also given landlords time to negotiate new longer-term leases with other parties such as Midcounties Co-operative who are still interested 50 former Thomas Cook stores. This blog will look at the deal's strengths and weaknesses using Local Data Company's extensive data of the UK retail market.

A former Thomas Cook converted to Hays Travel in Marygate, Berwick-Upton-Tweed captured by a Local Data Company field researcher. (Source: Local Data Company)
Strength 1 - Increasing market share in the Travel Agent market
In September 2012, Local Data Company data shows that there were 4,627 high street travel agents, with this number dropping by a quarter (25.4%) by the time all the Thomas Cook stores closed in September 2019. Hays Travel had 190 stores across the UK prior to the Thomas Cook deal, with the majority of these stores in the North East, North West, South East and South West England. The acquisition provided Hays Travel with an opportunity to continue to scale quickly, having grown their revenue to £1 billion in the last six years (Source: Hays Travel). The merger will see Hays Travel overtake TUI to become the largest high street travel agency in the UK with over 21% of the market as you can see in figure 1 below.


Figure 1: Market share in the UK by number of high street travel agent shops (Source: Local Data Company)


Although factors such as the weakness in sterling, continued uncertainty around Brexit and low consumer confidence that saw increased 'staycations', data from Mintel shows the volume of overseas package holidays taken by UK residents continues to grow year-on-year, although at a slower pace than previously. Growth in the current UK retail market has slowed, with opportunities for growth fairly limited to taking over failed retailers such as Mike Ashley's shopping spree or through M&A activity such as Tesco/Booker and Sainsbury's /Argos. This unique opportunity may have been too tempting for Hays Travel to pass up, leapfrogging from the 3rd to the top of the podium in the travel market sector.


Strength 2 – Accessing new territories
The Thomas Cook estate comprised 555 units across GB at the time of the administration, having the largest number of stores of the top three travel brands across several regions. Through the deal Hays Travel has been able to expand rapidly into new territories with a ready-made estate in Scotland and Greater London where they previously had no presence. Previously Hays Travel dominated only in its home region, the North East.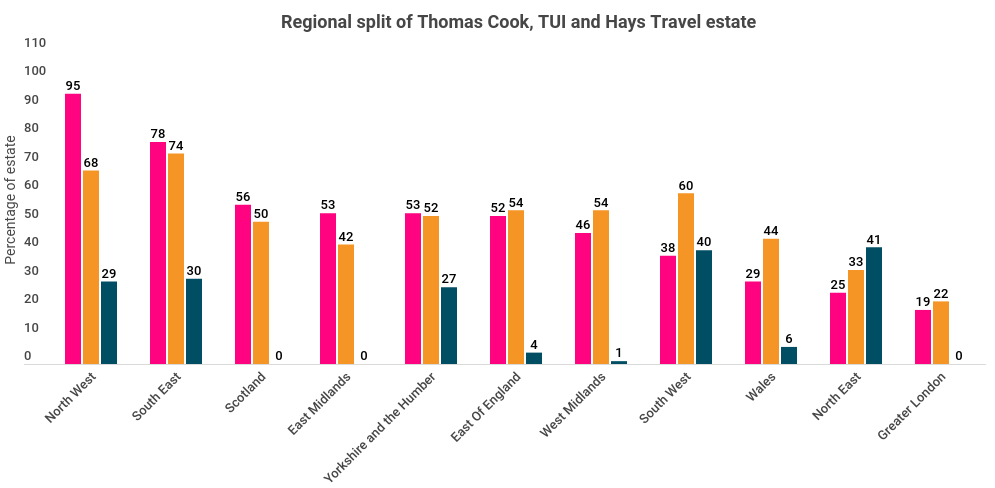 Figure 2: Number of high street Travel Agent shops by operator (excludes Northern Ireland) (Source: Local Data Company)


Strength 3- New store formats in new locations
Prior to the deal, Hays Travel had no stores on retail parks. Thomas Cook had a presence on 20 retail parks across GB making up 4% of their total estate. Given the challenges retail parks have faced with CVAs and administrations of large floorspace occupiers such as Poundworld, Maplin and Toys 'R' Us the deal offered a much needed boost for landlords across the country.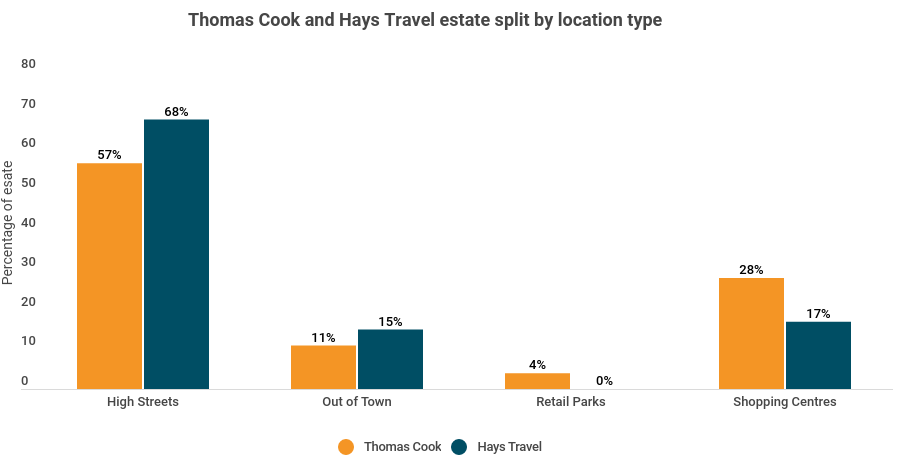 Figure 3: All shops by location type between Thomas Cook and Hays Travel (Source: Local Data Company)

The retail parks that housed Thomas Cook stores have performed better than the GB average according to the Local Data Company Health Index. The average retail park location within the portfolio scored 5.7 compared to the GB average of 5.5.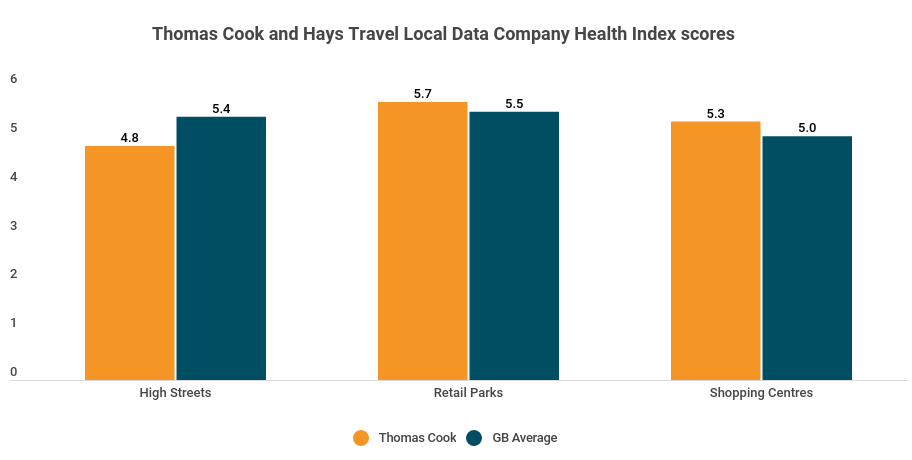 Figure 4: Local Data Company Health Index for the Thomas Cook estate vs. GB average in 2019 (Source: Local Data Company)
Hays Travel also took over Thomas Cook concessions in several of the largest supermarkets across GB giving them a new channel to grow their brand. Thomas Cook operated concessions within Co-operative Travel stores, as well as the big 4 supermarkets (Tesco, Sainsbury's, ASDA and Morrisons) – providing access to a new pool of consumers as these supermarkets dominate 73.8% of the UK grocery sector (Source: Kantar Worldpanel, September 2019).
Weaknesses - Some overlap with existing portfolio of stores
The merger of stores between Thomas Cook and Hays Travel will see some overlap in terms of store locations. Only 33 Thomas Cook shops are located within a 50m radius of a Hays Travel with this equating to just 6% of the total Thomas Cook estate. Increasing the radius to 100m, we see 49 former Thomas Cook stores within a 100m radius equating to 9% of the total Thomas Cook estate - nearly 1 in 10 stores.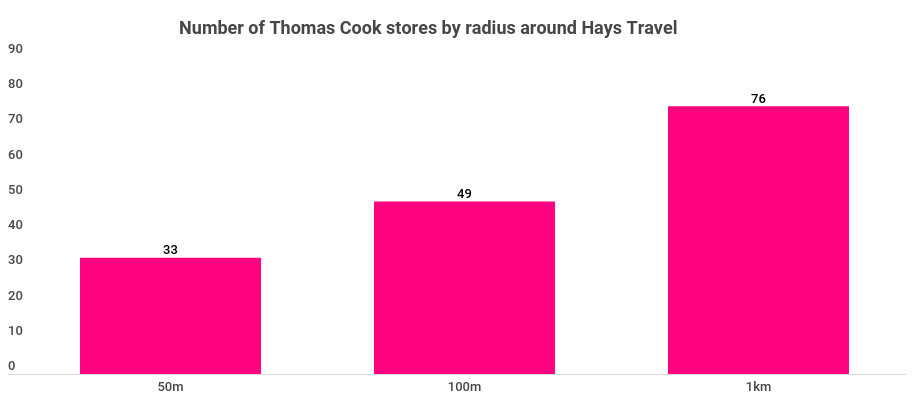 Figure 5: Number of Thomas Cook shops by radius around Hays Travel shops (Source: Local Data Company)
Thomas Cook is the 6th most common retailer within a 100m radius of Hays Travel stores, with the analysis showing the presence of Banks, Convenience stores and Health & Beauty stores as the other major retailers around Hays Travel stores. However, TUI does have a smaller number of overlapping stores although 70% of these are in the North East, North West and Yorkshire & the Humber regions that Hays Travel already has a strong presence.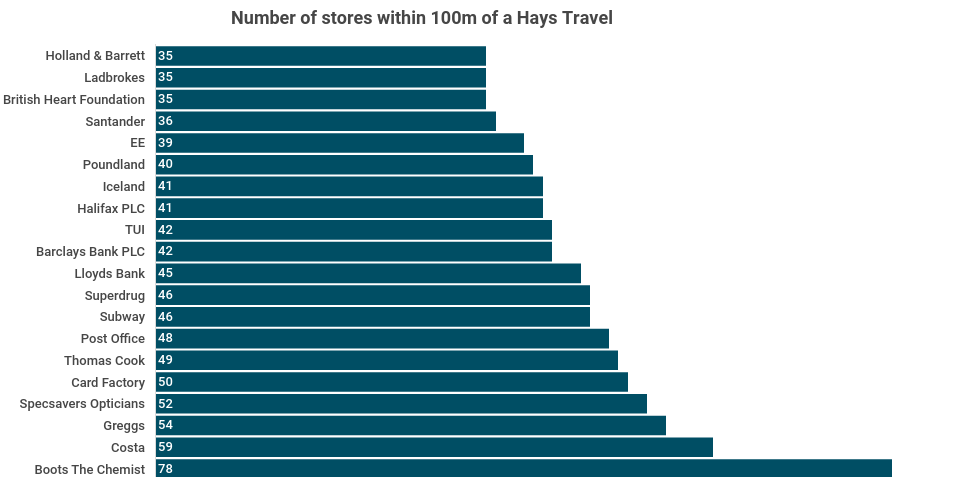 Figure 6: Top 15 retailers within a 100m radius of Hays Travel (Source: Local Data Company)


The challenge will be making sure the stores do not cannibalise sales, especially in a sector that has been impacted by e-commerce. It is likely that some stores will not be kept after the six-month period, with shops as in Rhyl, Wales adjacent to each other unlikely to continue to trade in competition. Another buyer is likely to be needed and as The Midcounties Co-operative, Trailfinders and Worldchoice are the only other operators other than Hays Travel growing their high street estate in the last 12 months the pool of potential occupiers is not large.
Conclusion
It was lovely to hear (for once) some good news on our high streets when Hays agreed the takeover of the Thomas Cook stores. However, this was not a small undertaking by the brand. There may be some initial turbulence as they go through the process of training staff, rebranding stores, distributing collateral and adapting to the management of three times as many stores. Hays Travel may look for help from landlords to keep as many stores as open as possible, with the current malaise on the high street likely to give them some bargaining power. The travel sector will look to keep sales volumes high and avoid the challenges the Toy sector faced when Toys R' Us (who made up 10% of the total market) went into administration which led to total sales dropping by 7% in the UK in 2018 (Source: NPD). In the short-term landlords will breathe easy, however too many shops have closed and remained vacant after administrations with our research on the ex-BHS estate revealing only 42% of the former stores have been reoccupied three years after closing.