January 22, 2021
While this January is very different for many reasons, Veganuary is now a fixture of the New Year. Making up for the overindulgences of Christmas, many turn their backs on meat and animal products, opting to go plant-based for 31 glorious (or very challenging...!) days.
In recent years, with the focus on sustainability, health and animal welfare increasing, vegan diets have exploded and meat/dairy alternatives are becoming a standard feature on our supermarket shelves. We're taking this opportunity to talk about something non-COVID related and shine a spotlight on how the vegan restaurant market has boomed in recent years.
Up until about 2016, vegan restaurants were relatively few and far between, with a noticeable expansion starting in 2016, displayed in the graphic below.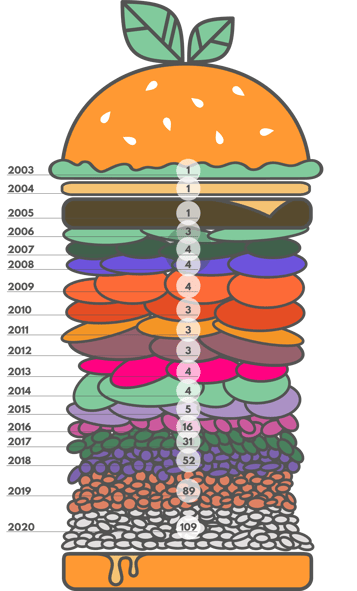 Historical number of vegan restaurants across GB 2003 - 2020. (Source: Local Data Company)
Unsurprisingly, Greater London has, by far, the most vegan restaurants of any UK city (when the hospitality market is open) at 45. After London, it's the Northern cities which have embraced the meat-free eatery the most with 7 vegan restaurants in Sheffield, 6 in Manchester and 4 in both Edinburgh and Leeds.
The first vegan restaurant that we tracked at the Local Data Company is called Mono on Kings Street in Glasgow which opened in 2002 and is still operational (albeit temporarily closed due to the current restrictions).
As we patiently wait for the hospitality market to reopen post lockdown, it is these niche markets, which pre-covid we highlighted as early stage growth areas that we will be watching carefully. Will these markets be able to continue the growth trajectory seen before the pandemic or will the intensely challenging nature of the past year cause long-lasting damage?
An early look at the 2020 data suggests that while growth did slow for the vegan restaurant market last year, net growth was still achieved. While the increase of 20 units across the year is modest, this is coming from a market of just 89 (a significant 22.5% increase) and was during one of the most challenging periods that the leisure market has ever seen.
We'll be looking more closely at how other corners of the market performed last year at our next summit, which we'll be hosting (digitally) on the 24th March at 3pm. More details will be released very shortly, so please keep an eye out for further announcements!