September 18, 2019
With a 256% rise in vegan restaurants since 2017, it's clear that vegan diets are becoming the new norm. So how are retailers adjusting to this new demand? This blog illustrates how veganism is not only influencing our diets – but also our wardrobes.
In the past 12 to 18 months, UK leisure operators have been quick to embrace the surge in interest in plant-based food. Popular restaurants, such as Chiquito and Wagamama, offer separate vegan menus and independent businesses dedicated to vegan cuisine are now opening at an increasing rate, including Wild Food Café in Islington and Lewis Hamilton's 'Neat Burger' which is scheduled to open 14 stores UK wide this year! Since August 2017, the growing demand for vegan food has facilitated a mammoth 265% rise in vegan restaurants, with 55% of the current total units across GB located in the capital (Figure 1).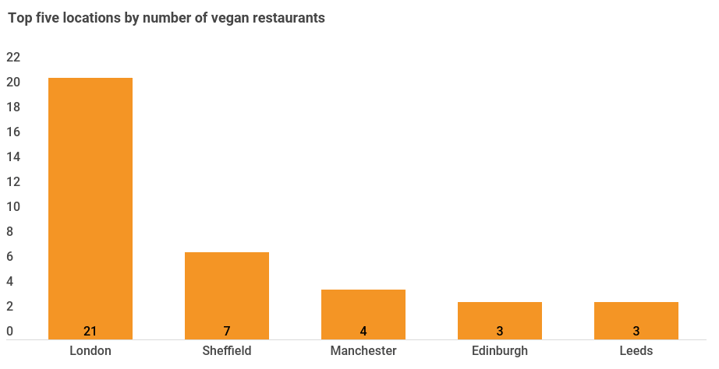 Figure 1. Graph displaying the top five locations for vegan restaurants in GB. (Source: Local Data Company)
Due to the 'newness' of this food trend, all vegan restaurants are classified as 'independent' i.e they have less than five branded stores nationally. The last 12 months alone has seen a 62% increase in independent vegan restaurants, with 61% of this growth being seen on the high street.
Once Across the Garden, York. (Source: Local Data Company)
Figure 2 demonstrates the huge growth since 2012, and we expect this growth to continue for the next few years at a similarly rapid rate.
Over time more and more well-established chain restaurants will increase their vegan offer to continue to attract people adopting this lifestyle, and we predict that the growth in vegan-only retailers will begin to plateau.
But veganism is not just a diet – it's a lifestyle. Over the past six months, comparison goods retailers have also been jumping on this trend and adapting their product ranges to meet this growing demand.
Whether you are a vegan or not (which I am not), it is hard not to find this explosive trend for vegan clothing and products fascinating. An investigation of well-known high street retail chains reveals that the supply of vegan clothing is indeed expanding to meet the growing UK demand. Two well-known leather shoe brands, Dr. Martens and Birkenstock, now offer vegan ranges which include boots, sandals, bags and purses in a range of colours and designs.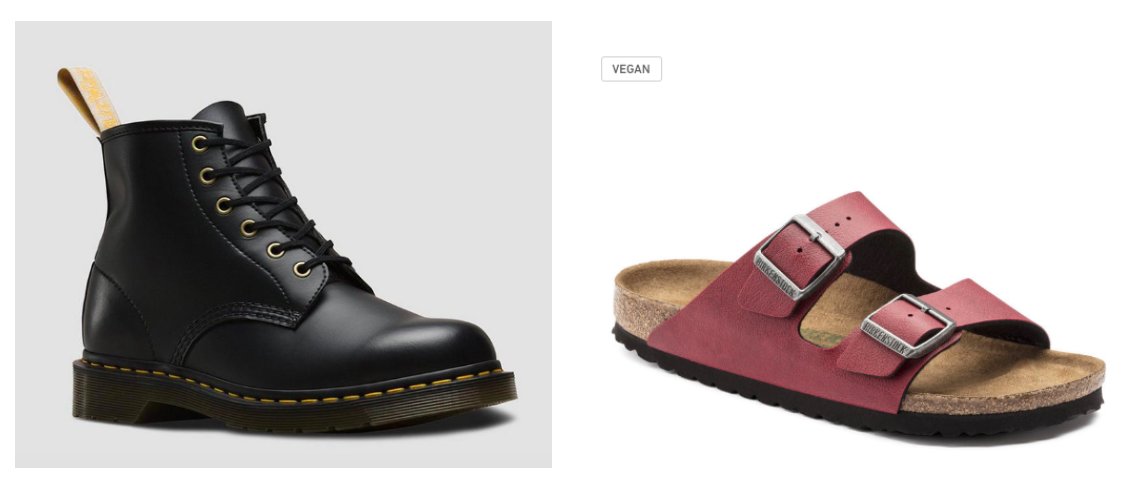 Example vegan ranges from Birkenstock and Dr. Martens. (Source: Birkenstock.co.uk and Drmartens.co.uk.)
Adidas, the international 'Badge of Sport', recently collaborated with Stella McCartney, an English fashion designer who strives to make the fashion industry sustainable in an effort to achieve more eco-friendly designs. The well-worn trainer 'Stan Smiths' are amongst one of many leather designs that are now available as part of the Adidas vegan range. Similarly, and perhaps more surprisingly, aside from their leather designs, all Nike trainers are made of 100% vegan products and materials. It doesn't even stop at shoes. High street fashion retailer, New Look, has just released a vegan range of nearly 500 affordable womenswear items.
There is also market for vegan beauty products, with popular brands such as NYX and e.l.f. selling vast vegan ranges, excluding all animal products and testing from these products. 50% of all products on sale at The Body Shop are currently vegan.
Whilst many of these retailers sell products online, a physical presence enables consumers to speak to brand representatives and learn more about the lifestyle, seeing for themselves how vegan products compare to the non-vegan alternatives that they are used to. Having a store network therefore is be an invaluable asset for a vegan brand looking to offer support to the community.
Veganism is undoubtedly a developing trend, as illustrated in the statistics on the rise of vegan restaurants and the expansion of vegan clothes ranges. To quote Chantelle Adkins, Head of Business Development at The Vegan Society, "shopping in line with your ethics without compromising your style has never been easier or more affordable" and I couldn't agree more.