September 11, 2019
The first half of 2019 saw a net decline of 1,234 chain stores on Britain's top 500 high streets - the highest number since analysis by PwC and the Local Data Company began in 2010
In total, an average of 16 stores a day closed, as restructurings and the online migration of shopping and services continue to hit the high street
However, store openings rose by c.4% highlighting the potential opportunities for new entrants as well as established retail and leisure brands
Heightened restructuring activity has seen the half-year net reduction in stores on Britain's high streets hit record levels according to research by the Local Data Company and PwC.

The first half of 2019 saw almost twice as many store closures (16 per day) as openings (9 per day). In total, 1,634 stores opened and 2,868 stores closed over the period, leading to a net decline of 1,234 stores (compared with a net decline of 1,123 in the first half of 2018).

On a sector by sector basis, only 15 out of 96 sectors showed a net growth in store numbers, and all but two grew by only a single digit number of outlets: takeaways with a net increase of 26 outlets, and sport and health clubs with a net increase of 17. Meanwhile, the biggest net declines were seen amongst fashion retailers (-118), restaurants (-103), estate agents (-100) and pubs (-96).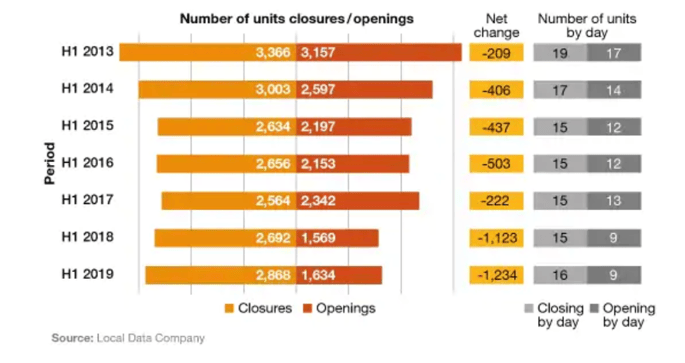 Figure 1. Opening and closures of multiple retailer units, H1 2013 - H1 2019

Lisa Hooker, consumer markets leader at PwC, said:

"The record net decline in store numbers in the first half of 2019 shows that there's been no let-up in the changing ways that people shop and the cost pressures affecting high street operators.

"While retailers need to keep investing to make sure their stores and propositions are relevant to today's consumers, it's also critical that all stakeholders find ways to ease the burden on operators, keep investing in the high street, and encourage new and different types of operators to fill vacant space.

"The good news is that there are green shoots, as new entrants are entering even embattled sectors such as fashion. Our research tells us that consumers still want to spend their money in well located and invested stores and leisure venues on the high street.

"However, as consumers continue to change the way they shop and spend their leisure time, the reality is that we may need fewer high streets in the future. This opens up opportunities to repurpose high street space for other uses, while the remaining space evolves to meet consumer demand for convenience, choice and experience."

Fashion retail continues to be the hardest hit sector, with 10 stores a week closing, mainly as a result of high profile administrations, alongside CVAs and restructurings -particularly amongst major mid-market chains.

While the decline in many service sectors are likely to continue, the fact that fashion and restaurant closures have been dominated by one-off administrations and CVAs, suggests that this decline may ease in the coming year.

Zelf Hussain, retail restructuring partner at PwC, said:

"A number of high profile business administrations have contributed to the record net decline in high street store numbers, for example in fashion retail and casual dining. Several of these were in turn caused by a culmination of CVAs that reduced rents and store numbers, but did not sufficiently improve the consumer proposition or cost structure of those brands.

"This reinforces our view that any business restructuring needs to happen alongside a wider programme of change. As we approach the key revenue period in the run up to the festive season- often make or break for many retailers- right-sizing store portfolios and wider cost bases will be crucial.

"But the PwC and LDC research also shows that successful operators are taking advantage of the current turmoil to either open stores that were not economically feasible in the past, or to move stores to better locations or to take advantage of lower rents. And it's this nimbleness that will set apart winning retailers in years to come."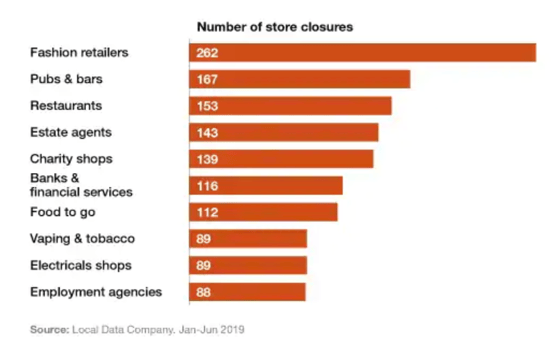 Figure 2. Top 10 categories for store closures, H1 2019
There was a slight increase in store openings in the first half of 2019 compared with last year (from 1,569 in 2018 to 1,634 in 2019), potentially indicating some renewed optimism amongst high street operators. Interestingly, seven of the top ten sectors for store openings also featured amongst the top ten sectors for closures, such as fashion.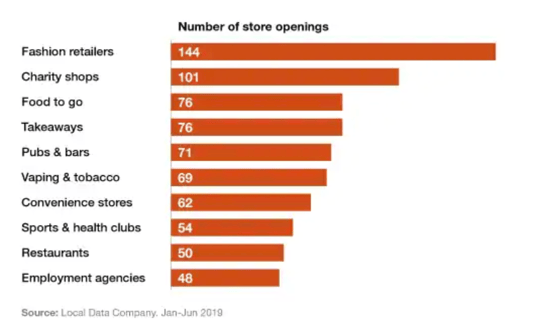 Figure 3. Top 10 categories for store openings, H1 2019
Across the regions and nations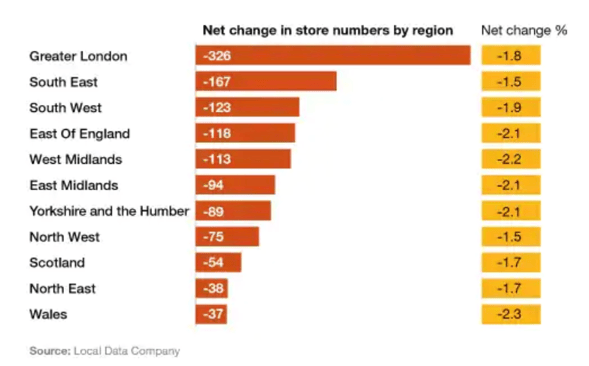 Table 1. Openings and closures of multiple retailers by region across the top 500 GB town centres in 2018
Greater London saw the largest number of net closures across all the regions, although it was right at the national average (-1.8%) when taking into account its overall larger number of units.

The East Midlands, North East, South East and Yorkshire and the Humber were the only regions to see a reduction in their net closures between H1 2018 and H1 2019.

Lucy Stainton, Head of Retail and Strategic Partnerships at Local Data Company, said:

"One of the most striking things about this latest Local Data Company and PWC analysis is the level of market churn identified in such a short space of time. Whilst the overall net change number, a loss of 1,234 occupied units in only six months, is certainly significant, the level of openings and closures activity beneath this is hugely notable as the industry continues to re-set.

In our experience, retailers are being that much more cautious and risk averse as far as both planning for new store openings and in making decisions across their existing property portfolios.

The reality is that UK retail space will continue to look very different over the coming years, and this is demonstrated by the sheer number of stores opening and closing on an ongoing basis."
Data originally released via PwC press room
https://www.pwc.co.uk/press-room/press-releases/store-closures-hit-record-levels.html
For more information please contact the PwC press team:
Diana Yeboah, PwC
Tel: +44 (0)7483422914
Email: diana.yeboah@pwc.com
David Jetuah, PwC
Tel: +44 (0)7841 468678
Felix Ampofo, PwC
Tel: +44 (0)7841 468245