January 14, 2020
With no time in the day for high street shopping, and with no one at home during the week, anything I purchase online is delivered to my local corner shop. I head to the shop after I have finished work, pick up the delivery and walk 100 yards back to my home with my new purchase in hand. This convenience is the reason why shoppers like me are favouring click and collect services and it is transforming the way online and physical retail work together, creating a seamless omnichannel experience for the customer and a cost effective method of delivery for the retailer.
We have seen the role of the physical store changing over the years, but it is clear a physical estate is still vital to driving business performance. This is seen most clearly with the 'online halo effect' where new store openings for brands that are less than 10 years old drive an average of 45% increase in web traffic to a brand's website (Source: ICSC). We also see businesses such as Next who are keeping over 100 loss-making retail stores open in order to continue to facilitate online collections and returns (Source: Next PLC).
Many retailers now offer click and collect services for the next day or sooner, with some even offering under one-hour pickup times. This follows significant investment by many retailers as they understand the importance of making click and collect both efficient and convenient.
3rd party pickup
More and more retailers are starting to offer click and collect to non-store locations, such as petrol stations or local convenience stores. This type of partnership is beneficial to the retailer, the 3rd party store, and the customer. Everyone wins.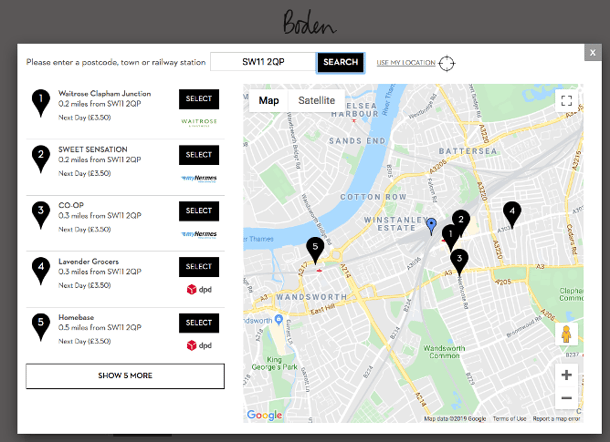 Figure 1: The online click and collect checkout page on the Boden website with the option to collect from a Waitrose & Partners, two independent convenience stores, a Co-op and a Homebase store (Source: Boden)
For the retailer, increasing the number of pickup points will increase the number of customers using the service. Retailers will save on the logistical costs that individual home deliveries entail and many retailers who offer click and collect services also report that purchases made through click and collect are returned less than regular deliveries, which reduces the cost of processing refunds and restocking products.
Benefits for the pick-up store include increased footfall and impulse sales. It is estimated that 70% of shoppers collecting or returning parcels make a quick in-store purchase whilst they are there. In my case, this is often me purchasing a sugary treat (or three!) from my corner shop.
On top of this, the customer benefits from increased speed of delivery often at a lower cost vs home delivery, in a more convenient location and at a time that suits them best. Not to mention the environmental benefit as click and collect reduces the number of separate courier journeys, reducing CO2 emissions.
The boden and john lewis model
The challenge for retailers is to provide a click and collect service that improves customer experience by being affordable, convenient, fast and reliable, however this is not always feasible for smaller brands that haven't built up the technology and logistical network that major brands like John Lewis have.
One solution to this is for retailers with a smaller estate to piggyback onto the click and collect services of the larger brands, such as the recent partnership between Boden and John Lewis & Partners.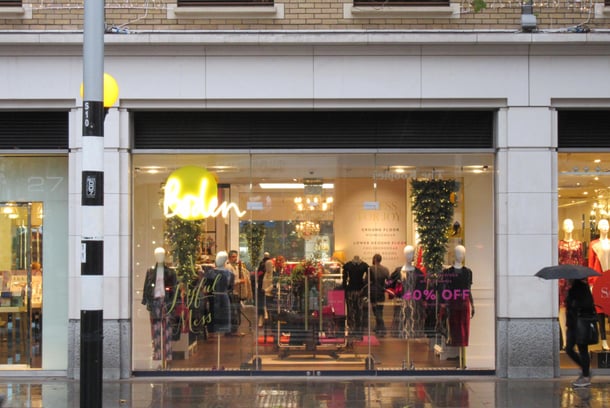 Boden store located on Duke of York Square, London (Source: Local Data Company)
Last month, John Lewis announced they were to provide brands with access to its click and collect distribution network, Boden being the first retailer to trial this, with the potential to add more brands in the future. What this means for Boden – a primarily online retailer with only 3 of its own physical stores - is that orders placed online can be picked up from 30 Waitrose stores across the country.
The potential for this partnership if rolled out to every John Lewis and Waitrose is huge, as shown on the map below.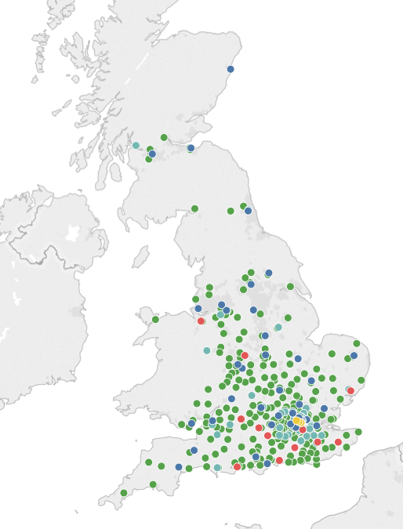 Figure 2: Maps of the John Lewis & Partners, John Lewis at Home, Waitrose & Partners, Little Waitrose and Boden store estates (Source: Local Data Company)
When comparing the number of sites that John Lewis brands have across GB (437 units across all John Lewis, John Lewis at Home, Waitrose and Little Waitrose stores), with the number of Boden standalone units (only 3 units), shown on the map in yellow, the number of potential click and collect points will increase dramatically, providing access to many more customers across the country.
whICH other retailers could john lewis target?
As we have location data for every retail and leisure occupier across GB, we can perform analysis on the brands that John Lewis stocks that have less than 25 of their own stores and operate stores close to John Lewis and Waitrose to identify additional potential targets for John Lewis to roll out the Boden partnership click and collect model with.
Percentage of units that are located within 1km of a John Lewis & Partners or Waitrose & Partners store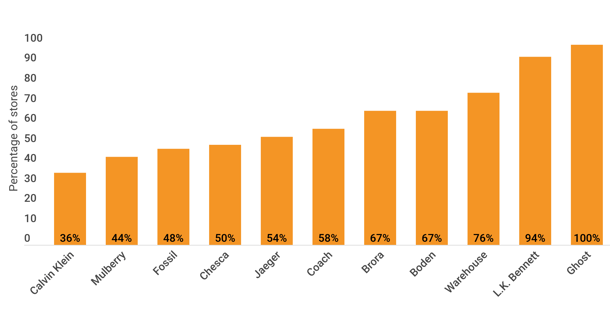 Figure 3: Percentage of brands as a proportion of their total units that are located within 1km of a John Lewis & Partners or Waitrose & Partners store (Source: Local Data Company)
This type of analysis has proved successful in helping retail logistics businesses optimise their performance by identifying specific brands that are prevalent around the routes they service for their brands. Identifying the presence of retailers around specific stores can also be used for competitor analysis or to assess whether there are brands that a business performs well next to – or 'proxy' retailers. This insight is invaluable for retailers looking to open a new store as it enables focused location planning, identification of available units with a high presence of proxy retailers and low level of competition.
Figure 3 shows that 2 of the 3 Boden stores (67%) have a John Lewis or Waitrose store within a radius of 1km. Other notable retailers that appear close to John Lewis or Waitrose stores include Ghost where both of their 2 standalone units lie within 1km of the John Lewis estate, and L.K.Bennett where 16 of the 17 standalone stores are within 1km (94%).
What next for Next?
Next is another brand leading the way when it comes to partnerships, especially to facilitate growth of their online only brand, Label. With a strong logistical network already in place, Next stocks 3rd party brands such as All Saints, River Island and Nike on their online platform which serves to reach an extended customer base without any investment in physical infrastructure. Rather than cannibalising Next's sales, this move provides more choice in a market where choice is critical to success (just look at Amazon and ASOS). This partnership could secure Next's future in a very tough fashion sector.
Much of Next's current store network now plays the role of showroom, facilitating click and collect and online returns for a whole range of brands. If they were to close some of these stores, it would likely result in a drop in online sales.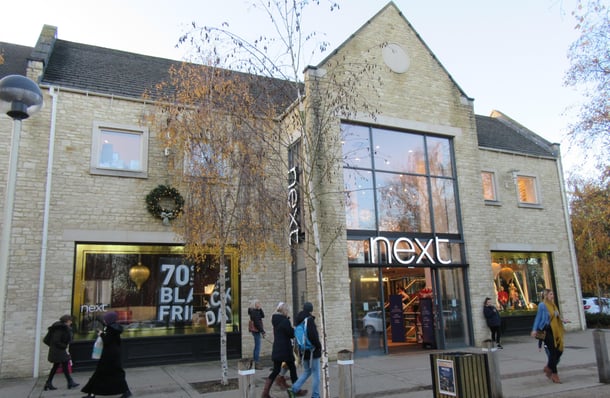 Next store in Witney, Oxfordshire. (Source: Local Data Company)
Click and collect as a logistical process may be too expensive and complicated for smaller businesses to create their own bespoke services. A 3rd party partner can utilise a bigger brand's geographical store network as pickup locations to provide the opportunity to scale and expand their customer reach and touch points, whilst also profiting from the benefits of increased footfall and reduced costs.
Click and collect has the potential to boost physical retail by merging the lines between digital and physical and by making stores the most convenient place to purchase and collect shopping.
To find out more about how our data can inform logistics and click and collect strategy, please get in touch with us at team@localdatacompany.com