December 6, 2019
It's been an incredibly busy and successful few years for convenience symbol group Nisa. I sat down with Sales Director Steve Leach over a coffee to understand a bit more about Nisa's recent success, challenges and what he sees as the future of the convenience market.
Can you tell me a bit about the last 12 months at Nisa - what have been your biggest successes?
We've had a really active 12 months at Nisa. The one-year anniversary of our time with Co-op came around in May, which has gone very quickly! The continued integration of Nisa into Co-op is our biggest success including the roll out of Co-op own label products which have been made available to our Nisa partners. This gives them a clear USP in the market and we've seen brilliant traction with independent retailers supplied by us. Our promotional campaigns are also now aligned; there's a market leading deal which is available in both Co-op and Nisa supplied stores where you can get two Co-op own label pizzas with four Budweiser beers for £5 - it's flying off the shelves! We've had terrific feedback because it's a real footfall driver which is helping the like-for-like sales challenge from last summer when we had the world cup and the run of amazing weather.
Secondly, we've done some terrific work bringing new partners into the business, using the strength of the new relationship with Co-op. At our trade show in Stoneleigh we saw record levels of recruitment where we brought in 58 new stores over 2 days. We had lots of really good supplier and partner feedback and had an opportunity to celebrate our partners' success through annual awards.
Have there been any challenges to overcome?
Trying to fit all that into 12 months! The pace of the industry means that everybody is running at 100 mph so making sure that we make the most of our link with Co-op, remaining competitive and supporting our retailers in a very challenging market.
We are also working hard with our teams and retailers to develop longer term plans for growth. A really good example of this would be the format and development team, they're working on a really flexible approach to putting down new stores and helping retailers with their micro and macro space management. We've invested with a larger number of retail development managers to support partners and we are trying to showcase ways to keep ahead of the market and sharing best practice tips to help retailers engage with the latest trends.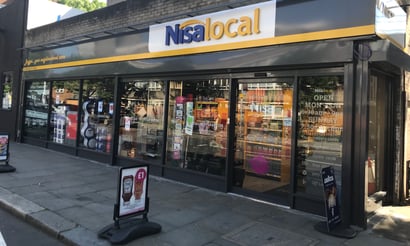 (Source: Nisa)
How do you see the role of convenience stores in the community evolving over the next 2- 5 years?
The great news for Nisa is that the fastest growing part of retail currently remains in convenience; the channel forecast is for the market to grow by another 7.1 billion between now and 2023.
So that's the good news. The challenge is, that is where all the action is, so everyone is muscling in to the market and it's even getting even more competitive. We also know that consumer habits are changing to 'little and often'. People are buying a single meal or completing a single shopping mission at a time and any customer loyalty that existed historically is really a thing of the past, so people will be shopping based on the convenience of what they need, when they need it. That's the beauty of the Nisa model, the fact that we serve over 4,000 stores now from 1,300 partners means that you'll never be too far away from a Nisa store even if it isn't immediately obvious that it is supplied by Nisa. The majority of our network trade under a unique name or as part of an independent chain that we supply. A great example would be Bourne Leisure that services the Butlins, Haven and Centre Parcs holiday parks, so even if you are on holiday you might be supplied by Nisa even without realising it.
How does Nisa give back to the community?
I think the role of a convenience store is to make sure the range and services are instantly and readily accessible. Talking about the role in the community provides me with a brilliant opportunity to talk about our 'making a difference locally' charity. A percentage of each own label product goes into a fund that goes back to each partner who can reinvest back into the community. Through the 'making a difference locally' campaign we have seen brilliant stuff with local community groups, schools, churches and societies. It creates a much more personal relationship that we have than a lot of the large corporates.
I'm very honoured to be one of the trustees of the charity and we see first-hand a lot of examples of great causes that have really benefited from 'making a difference locally'. The fact that people can recognise and reward communities in which they live and operate the store makes such a difference and makes local customers more likely to shop with us over one of the large multiples which doesn't have that relationship.
What steps is Nisa taking to increase sustainability of partners' stores?
This is a hugely important area and another benefit of working with the wider Co-op family who are recognised for having many ethically and sustainably sourced products. We're working more broadly than that though. Nisa operate a free recycling waste collection service for partners so we can make sure waste is diverted from landfill and recycled wherever possible.
Our store-fit team works with a really wide range of suppliers that offer more environmentally friendly and energy efficient solutions such as refrigeration, air conditioning, lighting etc. What those guys are doing is using economy of scale to make sure that we are doing the right thing from a sustainability point of view but also making sure it's cost efficient by sourcing on behalf of all Nisa partners.
The final part of this to showcase from a format perspective are schemes such as the free water system at our evolution store in Stoneleigh. Customers purchase an eco-friendly reusable water bottle that you can come in and top up free in store. This is an initiative borrowed from the 'on the go' Co-op format that's in Manchester Piccadilly which is starting to be picked up in more retail spaces.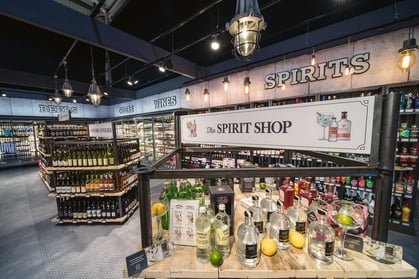 (Source: Nisa)
What are your predictions for the grocery market as a whole for the next 5 years?
Well I don't think it's going to get any less challenging, quite the reverse. I think the grocery market is going to continue to be a real battleground where there's a growing demand from consumers for more fresh produce and healthier options in line with healthier lifestyles. As everybody gets busier, the amount of time that people have available is going to continue to shrink so we are all going to be as frazzled as ever and consumers will value grocery and convenience stores that have what they need when they need it. Alongside this, embracing some of the trends around sustainability, healthy eating, veganism and other trends that previously were quite niche.
The successful retailers in five years' time (and I'm confident Nisa will continue to remain in this place) will have to be fast, agile and have to continue to keep exceeding customer expectations which will just become higher as we keep achieving them.
What's next for Nisa?
Building on the success of the last year with Co-op we've got a really exciting and ambitious growth strategy in place. We're making really strong headway and are aiming to grow the business significantly both through recruitment of new partners and driving greater sales from existing partners. We'll do this by improving the Nisa offer and continuing to make it even more competitive. The Co-op own label is obviously paramount to our plan as it brings a clear USP to the Nisa partners, which consumers love. We will continue to do that with even more formats and a flexible approach. We'll be heading in to new areas that we're not as well known in to try and help us to scale so it's going to be a fascinating few years, very fast paced, lots of fun and it will keep us on our toes I'm sure.
Steve Leach is Sales Director at Nisa and a board trustee of the Making a Difference Locally charity which is focused on helping independently run local stores to add value to their communities. You can follow Steve on Twitter at @first4retail.