Retail & Leisure Trends Summary Report
H1 2017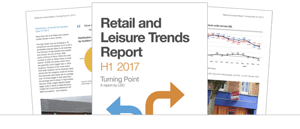 Download your copy of the Retail and Leisure Report Summary
(H1 2017)
The first six months of 2017 produced a remarkable turnaround in some of the key indicators of the health of the UK's retail locations.
"Across the half year Retail and Leisure vacancy improved and more businesses opened on the high street than closed. In 2016 the net loss in numbers of units had been more than -1,600 but in H1 2017 it returned to growth." Introduction, 'Retail and Leisure Report: Turning Point (H1 2017)'
One of the main takeaways:
By Midsummer's Day 2017, levels of activity in openings and closures had fallen to a ve-year low. At the end of the second quarter, more shops were closing than opening.
The full report includes:
Top business openings and top business closures (by classification, location type & regions/nations across GB)
Insights on Mutiples and Independents across the UK
Top towns by LDC Health Index score across GB
Vacancy rates across GB (by location type, nations/regions)
Footfall
Commentary from Matthew Hopkinson (LDC)

To download your copy of the report summary please complete the form on this page. You will receive an email with your report shortly.