Key activities supported
Analysis and tracking of key performance drivers across the existing estate
Live source of data for in-house analysis
Strategic target lists to drive profitable acquisition strategy
The need for a single source of accurate and up-to-date market data
The Deltic Group's relationship with the Local Data Company began because the existing market data was fragmented and not as up-to-date as was required. The data they were using was obtained via a variety of sources and they were finding it increasingly difficult to build a consistent framework to assess both their existing estate and potential new sites. The disjointed nature of this data meant that identifying correlations between successful sites and key market drivers was becoming increasingly difficult. As the data was being pulled together manually from various sources, identifying actionable insights from this data was clunky and inefficient. The Deltic Group needed a single source of accurate, comprehensive and up-to-date data to ensure that they were using a reliable method for key decision-making activities around acquisition and investments.

Using the Local Data Company's online insight platform (LDO) The Deltic Group's Property Director and wider team are able to review all required metrics on market health and pitch in one system, efficiently and accurately. Using LDO, the team can easily assess the trajectory of each market by viewing historical trends across key data points including demographics, market health and competitor activity. The team can extrapolate out and create forecasts to predict which new sites would facilitate long-term success, and which of their current locations may be at risk. The easy-to-use and visual nature of the platform means that The Deltic Group can view, export and analyse data on any location across GB and access important insights, based on consistent and accurate data within minutes.

Today, The Deltic Group executives continue to rely on this information to substantiate their understanding of a town or city's performance. Through comparisons with the regional economy, they can understand where the most attractive destinations are for a night out and whether there are gaps in the leisure provision which could highlight an opportunity for one of the Deltic brands. They do this by viewing profiles of towns and cities, market demographics, economic profiles and the catchment size for each current or potential site.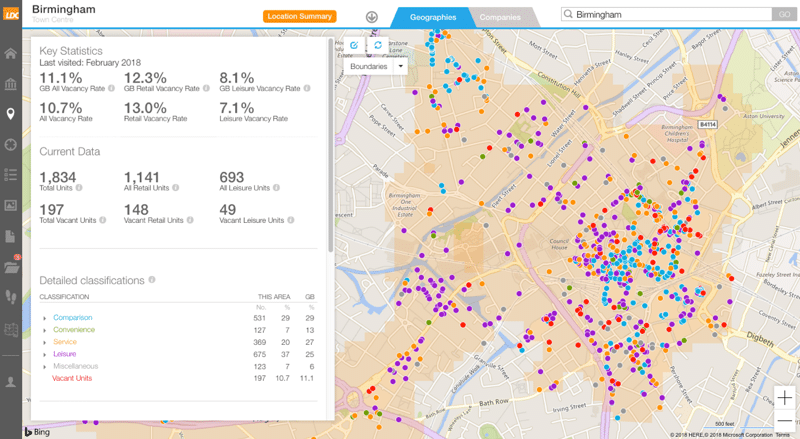 Screenshot of LDO's map screen showing the retail and leisure units in Birmingham.
Strategic projects to drive acquisition and investment
Running in parallel to the provision of software and data for internal use, the Local Data Company has worked with The Deltic Group over the years on a variety of strategic projects. This consultancy work has helped delineate the key performance drivers for The Deltic Group's estate and has enabled them to define what makes a 'good location' for all of their portfolio brands. Using proprietary data, Local Data Company analysts have created models which have revealed some surprising metrics which commonly align with The Deltic Group's most successful sites. This information has been used to benchmark against other locations and intelligently focus in on potential new sites.

Most recently The Deltic Group and the Local Data Company have worked together to produce a piece of work which has identified a list of target sites for one of The Deltic Group's newer bar concepts. Using a list of benchmark sites a list of target towns was developed which would be suitable for expansion. Using the benchmark list, the analyst team reviewed metrics such as customer demographics, consumer spend, numbers of restaurants, bars, nightclubs, Health Index scores and competition density as a few examples. This work produced a list of potential sites, ranked in order of suitability, some of which had not been on The Deltic Group's radar previously. This has given The Deltic Group a focused strategy to work on, through further investigation and physical site visits to determine which take to the board as an investment recommendation.