A data-driven approach to ATM sales
NoteMachine has an active field sales team who travel the country visiting sites that may be interested in hosting a NoteMachine ATM. The field sales team, as well as the head office telesales teams, currently use LDC's online location insight tool, LDO to review and analyse potential locations before investing time and resource in site visits or further research.

Within LDO, the sales teams are able to isolate a geographical region and drill down into the types of retailers who are most likely to be interested in hosting an ATM. They use this data to prioritise and plan their approach, saving time and capturing all targets within an area, as well as having visibility on less obvious prospects. Once the team has identified leads, they are presented for approval to ensure only the most appropriate and viable locations are selected, cherry-picking and prioritising the highest quality prospects.

Not only can they identify targets through LDO, they can also survey the surrounding area for cash generators which may support the need for an ATM in the vicinity, such as fast food units, beauty salons and convenience stores. This enables the sales team to make fully informed decisions on the quality of the prospect catchment, based on live, granular data.

Having this additional source of prospecting information has allowed NoteMachine's sales team to apply a robust methodology to the continued ATM roll out through a quantified view of the market. By using data to drive sales activities, the team have increased the efficiency of the process, thus reducing the opportunity costs by selecting the targets most likely to convert and those which are likely to be the most profitable customers.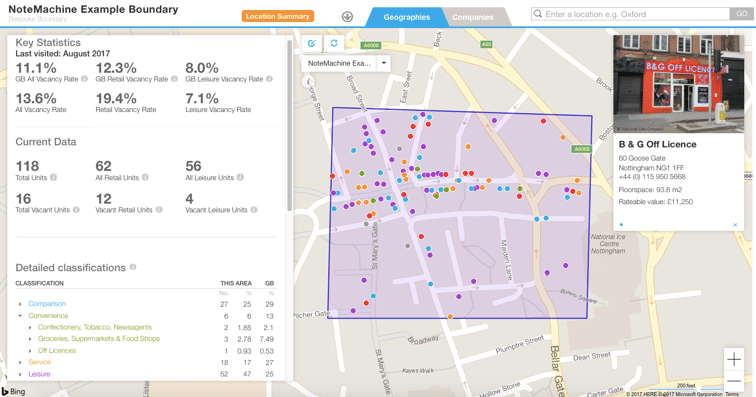 Tracking key market trends to identify risks and opportunities for NoteMachine
LDC uniquely track over 600,000 individual units across GB and due to desk and field research running in parallel, around 80,000 updates are made to the LDC database each month. This results in LDC providing NoteMachine with the most up-to-date view of the market available, with the data refreshed each day in LDO. NoteMachine can be confident that they are using the most accurate data possible to make key strategic decisions.

NoteMachine works with a huge variety of both multiple and independent retailers across a broad spectrum of sub-sectors. This means that NoteMachine needs to be able to track a variety of different markets including retail banking, convenience retail, service retail and others. With these sub-sectors evolving and changing so rapidly, it is important for the senior management team to have the latest and most up-to-date data on openings and closures as well as overall trends.

LDC provide detailed reports to NoteMachine on key sectors, providing a comprehensive breakdown of market activity as well as analysis of individual fasciae and brands. These reports are used by NoteMachine's senior management team to quantify risks and opportunities within these markets, enabling informed and pro-active decisions around areas for expansion.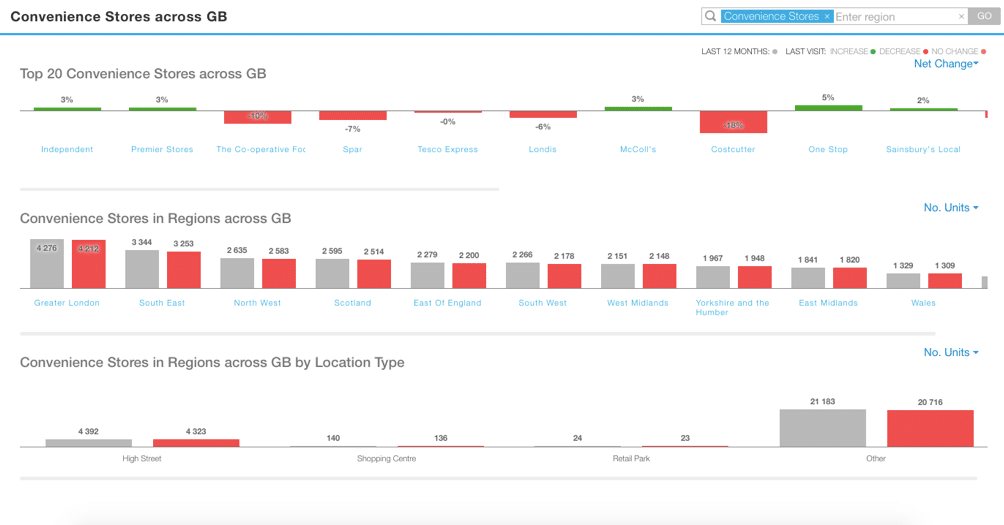 Using LDC data to super-charge NoteMachine's marketing campaigns
NoteMachine uses LDC's granular data to target marketing campaigns aimed at identifying prospect 'through the wall' ATM locations. The independent convenience sector is critical to NoteMachine's ATM portfolio and was chosen by NoteMachine as a sector that still holds opportunity for growth. Working with NoteMachine, LDC supported a successful marketing campaign, providing a list of names and addresses of all independent convenience stores within a defined geography. This data informed the target list for a relevant and targeted direct mail campaign promoting NoteMachine and its products and services.

In the first six months following this campaign, NoteMachine received 200 warm leads and have already converted many of these into customers. Through a targeted and data-driven approach NoteMachine has identified new customers, new markets and new opportunities for growth.