Tracking strategic growth and regeneration
The Local Data Company has been producing reports on the changing retail landscape of Manchester City for five years, which are now a key resource for the entire Growth and Regeneration team. The data is used alongside data from other sources to track progress, and to drive development, aligned to the Council's long-term strategic objectives. The reports are produced on a six-month schedule and are accompanied by an insight session where the Local Data Company meet with the Council to discuss the opportunities and risks highlighted in the report and review Manchester's performance in context with wider market trends. This process is frictionless for the Council and allows them to access the latest data, insight and trends, delivered consistently each six months.
Trust in uniquely accurate and recent data
Having a robust and up-to-date source of information allows Manchester City Council to accurately track the performance of their improvement initiatives. They can also identify gaps in retail provision and use the data to be strategic about which retailers and leisure operators to proactively approach to fill vacant space. They can track trends across other UK cities and plan for the future to ensure that Manchester continues to be seen as one of the most prosperous and attractive cities in the UK.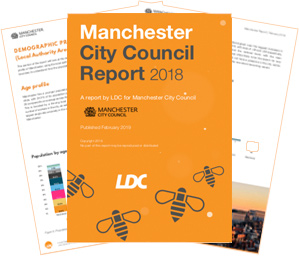 The data is also used by the Strategic Director and leadership team for internal reporting; therefore, it is critical that this data is accurate, reliable and credible. Trust in the Local Data Company as a source comes from the unique field-research data collection methodology, which is applied consistently across all towns and cities in the country. The data is available in a raw format which the Council is able to integrate with a host of complementary datasets.