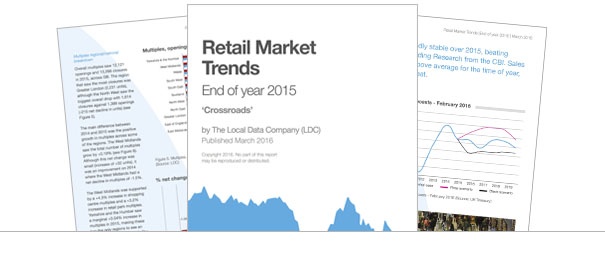 Download your copy of the H2 2015 Retail Market Trends Report Summary:

Crossroads
This report provides the latest analysis of openings and closure activity for both independent and multiple retail and leisure occupiers across Great Britain's shopping locations in 2015.
The main takeaways:
Overall in 2015 there was a net decline in units of -671 across GB.

47,080 outlets closed in 2015, compared to 46,409 openings.

The net decline in units was a -23.5% drop, when compared to 2014 where 47,782 outlets closed compared to 46,905 openings, leading to a net reduction -877 of outlets.
This report summary also includes:
Independent Analysis
Top 10 business openings by classification mix
Top 10 business closures by classification mix
National & regional variations
Top 5 independent towns (50+ units)
Bottom 5 independent towns
Activity by location type
Multiple Analysis
Top risers and fallers by business type
Multiple openings and closures by region
To download your copy of the report please complete the form on this page. You will receive an email with your report shortly.