October 8, 2015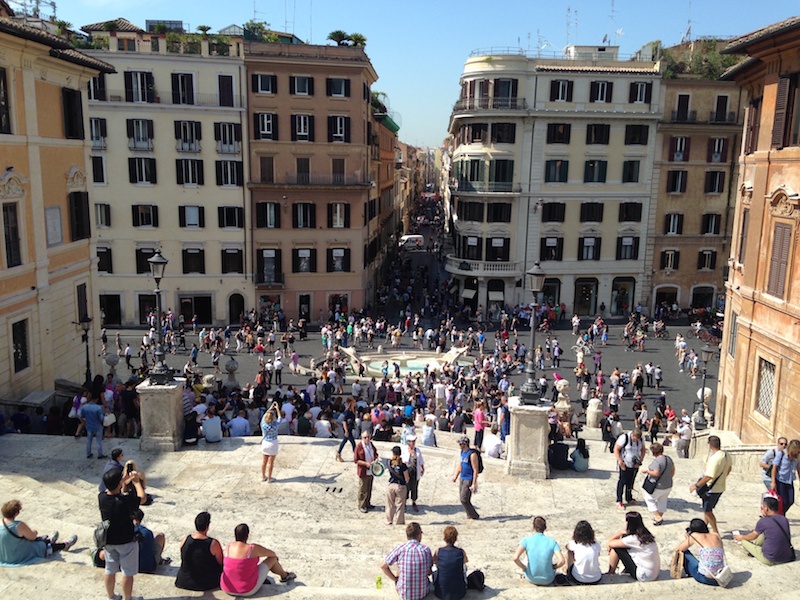 A month ago today I was lucky enough to be flying out to Rome as part of the UK Trade & Investment World Retail Congress delegation.
Initially I was daunted, not least because the relentless focus on "omni-channel", "digital" and "disruptive technologies" made this humble location planner feel a bit irrelevant. I was seemingly a dinosaur in a world of touch screen jackets and beacon technology. What a tragedy, still in my mid-twenties and already on the industry shelf…
The UKTI briefing opened with a brilliant talk from a senior trade advisor based in Milan. The parallels between the Italian retail landscape and England in recent years became immediately obvious. That was it, I thought, I could move to Italy. Key similarities included the following:
Italy experienced significant growth in multiples between 2000-2014 (from 46% of the market to 60%), Italian independents have seen a decline from 47% to 27% in consequence.
This multiple growth includes some British success stories with the likes of Lush, Vodafone, Clarks and Accessorize successfully entering the Italian market.
Now with 962 shopping centres and a new trend in more leisure-led "destinational" shopping, again paralleling the evolution in UK shopping.
In the food sector Italy are seeing less 'big weekly shops' in Supermarkets and smaller more frequent shops.

As a result there has been a move to smaller, convenience formats with the likes of Carrefour introducing a convenience network across Italy.
However as the congress wore on I found hope in a common theme; physical stores are not redundant, it is the role they play which is evolving. Annulla i miei voli – I would stay in the UK after all. As the chair of the congress declared in his opening speech, "The old retail business model needs to be ripped up, and an all-important focus on the future is key".
"The old retail business model needs to be ripped up, and an all-important focus on the future is key".
The evolution of shops – key learnings from WRC:
1. Character and Localisation
Oscar Faranetti, founder of Italian food concept Eataly said that for them a focus on localisation is key, ensuring each new site isn't just part of a "chain" but rather the design, range and overall character of the store suits the local demographics.
In my opinion, in the UK, Ted Baker do this very successfully, with each new store opened taking on a theme suited to its broader surroundings. Something, which the brand hasn't just implemented in the UK, but an exercise which they have taken around the globe as they have expanded.
2. "Online / Offline Mash-Up"
But what of this pesky 'online' phenomenon? Andy Clarke discussed how at Asda they, "started online food 18 years ago but it has only picked up pace in the last 5 years." He argued that despite an industry focus on online, this still represents a relatively small part of their overall business at sub-10%. Therefore a vast proportion of their sales will still happen in store, both now and moving forward.
Jim Manzi, Chairman of APT (a Mastercard company) reiterated this point elsewhere in the congress. Their figures show that 92% of business is still offline, he asserted that the press have grossly over publicised the idea that "high street is dead".
For Andy Clarke, restructuring stores is about efficiency in the portfolio. Recognising this, they have to invest in low-cost, efficient formats. The space is still being used but how it is being used is what is transforming.
Key to this "mash-up" is free and easy Wi-Fi in stores and offering a faster click and collect option than your nearest competitor, as a couple of examples.
Additionally, research from Planet Retail showed that the top reason for choosing a retailer remains "conveniently located" – yay for location planning. For example, Screwfix offering 5 minute click and collect is all very well, but the "collecting" part has to be convenient and efficient for the consumer.
3. Seeing an Opportunity in Physical Space
Yet perhaps even more interestingly were the new-world online businesses who had taken a leap into the physical realm. Australian shoe brand, Shoes of Prey had taken the seemingly impossible step (get-it?!) taking their innovative, customizable shoe range offline and into selected department stores.
Birchbox had gone a step further, not only taking space in Gap stores in the US but also opening stand-alone Birchbox sites. Their founder saw a huge opportunity in taking the online concept and "bringing it to life", demonstrating another common theme here, one of making stores more experiential.
The Chief Creative Officer of Bang & Olufsen said "when we started we had almost 1000 stores and when those formats first came out they were revolutionary in design". Not anymore. Keeping the format innovative and fresh was declared a challenge for any brand. For Bang & Olufsen it was about asking themselves "how we can get the magical elements of Bang & Olufsen into the store experience".
Interestingly, the Marketing Director of Disney said exactly the same, proving this is a challenge right across the retail spectrum.
Conclusion
Throughout the Congress I detected feelings of caution, a slight yet palpable fear of the unknown and an industry very much in flux.
However, without a doubt the over-arching sentiment was excitement and you certainly could not under-emphasise the buzz that surrounded the event.
Challenge, change and competition invite the opportunity to innovate and there was no shortage of ideas and concepts being thrown into the mix. Though I'll admit, the need to be able to answer your phone by swiping your jacket sleeve remains lost on me (sorry Google).
Levi's president James "JC" Curleigh declared that in order to innovate yet remain iconic Levi's must become "the 150 year old start up". Nice!
What is the catalyst of this change?
It's us!
The consumer, it was our fault all along.
We are connected, savvy and, dare I say it, lazy.
We are demanding the seamless ability to shop conveniently across any medium we damn well please, at any time or place.
When it comes to physical shops – yes, we'll take those too thank you very much. We just want them to be magical, experiential and on our doorstep!