January 12, 2021
As we approach a year of living with Coronavirus, Local Data Company research is clear about one thing. The pandemic has had a significant impact on UK towns and cities, and this shows no signs of abating as we work through the reality of another prolonged period of lockdown.
Following the first lockdown, we frequently reported on the rate at which units were able to reopen. One of the main trends we saw was significant regional differences with the West Midlands seeing the lowest reopening rate in England at 65.9% of units (at the end of August), compared to Greater London at 77.9%. As we moved throughout the second half of the year with local lockdowns and the constantly evolving tier system, it became apparent that even within regions, there was a significant variance in the ability for towns to bounce back. Our research found that this was based on a few things; the percentage of retail units classified as 'essential' in a town; supply of hospitality businesses (which have been hit especial hard by the Coronavirus restrictions) and how many people live around an area (how residential it is), amongst other factors.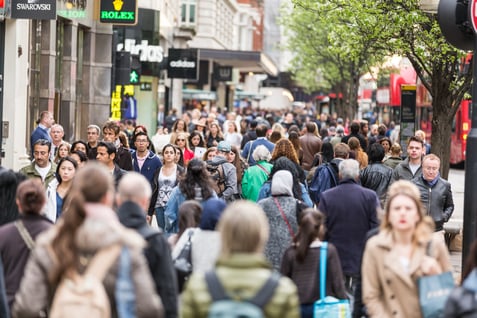 image source: istock
Currently, retail places are changing almost as quickly as the pandemic itself and therefore our business has sharpened its focus on how we work with councils and BIDs to provide robust, accurate and detailed data on how their town is being affected. As the only business who is deploying a team of field researchers to capture information on openings and closures, we are committed to supporting each town or city's unique path to recovery based on the unique set of challenges faced. Not only do we have detailed and historical data on towns, we are also able to install and manage footfall sensors to count the number of visitors to a level of accuracy not seen in the retail market before.
FOOTFALL COUNTING
As councils, BIDs and other local authority groups start to plan ahead and refocus on boosting recovery across high streets post-lockdown, having a robust method for tracking footfall is critical for councils to accurately measure how consumers are returning to retail destinations.
With a selection of government funding initiatives such as Future of the High Street Fund, Highstreet Heritage Action Zone Fund and the Reopening High Streets Safely Fund, many towns and cities are now focused on measuring the impact of the pandemic and are making medium and long-term plans to ensure a successful future for their town centres.
We work with many local councils providing a footfall tracking solution alongside strategic projects such as benchmarking, gap analysis and other historical analysis using our data that spans across 10 years. This work provides critical insight for councils about a location's performance, relative to similar or regional towns and cities.
Our footfall sensors are popular with councils as they have been designed specifically to work in a retail environment and capture ground-truth numbers to a market-leading level of accuracy and granularity.
Discreet Local Data Company sensor in situ in a shop window
Benefits unique to Local Data Company footfall sensors include:
Fully GDPR compliant and does not capture any personal data
Installed internally so no impact on external building work
Sensors are discreet and sympathetic to the store environment
Ground-truth accuracy – no reliance on counting proxies but rather capturing actual people moving past the sensor
Accuracy within +/- 5%
Future-proofed technology with real longevity – no reliance on any third-party technologies
Works in all weather and light conditions (including darkness)
Sensors can be used to compare day and night economies, measure local marketing campaigns, understand where footfall hotspots are, tracking the impact of events such as markets, measure how footfall returns to a town or city centre during and post-COVID-19 and critically, measuring the impact of funding received from the government across regeneration and recovery schemes.
For more information on the Local Data Company footfall sensors, visit our website or email me directly at katieg@localdatacompany.com.
For more information on counting footfall including best practices and tips for analysis, please visit our footfall resources page here.