December 15, 2016
In a year full of political and economic uncertainty for all businesses - not least retailers - it was somewhat reassuring to see Scotland's shop vacancy rate continuing to move in the right direction.
While not travelling at great speed, new data showing a further drop in the number of shops lying empty in towns and cities north of the border to 11.7 per cent - down from 13 per cent five years ago - is not a bad result.
However, a question facing the three panellists at LDC's annual Scottish summit this week was whether Scotland's high streets and shopping centres will ever see a return to the golden pre-recession retail age of 2008 - when just one in five retail units were unoccupied.
KPMG's Head of Retail David McCorquodale, Emma Mackenzie, Director of Retail Investment Trust New River and Edinburgh Council's Head of Enterprise and Innovation, Jim Galloway, joined LDC's Matthew Hopkinson and Professor Leigh Sparks, Professor of Retail Studies at Stirling University, to field questions from industry experts over the future of retailing in Scotland.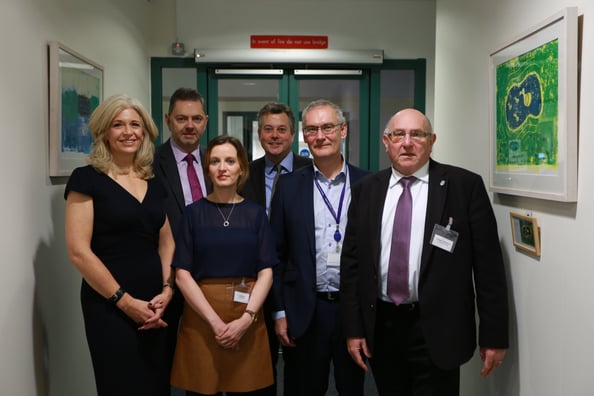 Jane Bradley with this year's panellists (from left to right) Emma Mackenzie from NewRiver, Jim Galloway from Edinburgh City Council, Jane Bradley from The Scotsman, Matthew Hopkinson from LDC, David McCorquodale from KPMG and Professor Leigh Sparks from The University of Stirling. (Source: LDC)
An increase in online shopping, combined with tough economic conditions and changing consumer demand have all posed challenges for retailers in recent years, with even high street stalwarts such as BHS disappearing from the retail landscape.
But while the number of vacant stores in Scotland is slightly decreasing, units which are occupied by "Booze, Money and Gambling" (BMG) businesses are on the wane. In the past year alone, the number of cheque cashing shops has plummeted by more than a third over the past twelve months, while properties occupied by off-licences have also fallen by 13.4 per cent and betting shops by 1.6 per cent.

Net change in off-licences by location type (Source LDO)
However, one thing the panel was clear on was that BMG units, while perhaps not as palatable to dwellers of middle class shopping districts, still were an integral part of many high streets.
"People need to cash cheques, people want to have the occasional flutter," explained Ms Mackenzie. "It doesn't mean everyone is a gambling addict."
Dundee has the highest vacancy rate of any city in Scotland, with 22 per cent of shops standing empty, while Girvan, Kirkwall, Fort William and Ardrossan have all seen more than 15 per cent of units lying vacant for over three years.
In Edinburgh, generally a popular location for retail openings, a stand-out statistic is that of the falling number of charity shops, which has plummeted by 10 over the past year to 58.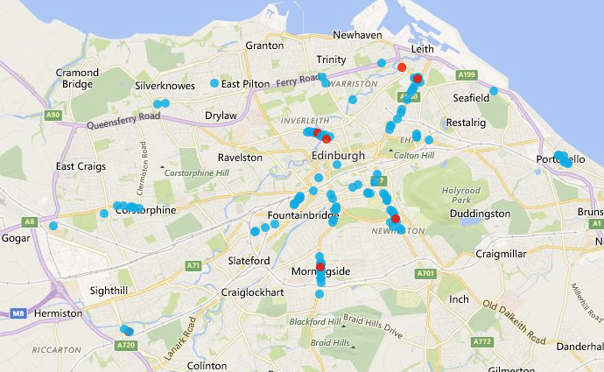 Charity shops in the Edinburgh area (Source LDO)
Mr McCorquodale put forward the idea that more properties currently occupied by shops should be turned into housing - plugging a gap for affordable homes and filling unwanted retail space at the same time.
Meanwhile, an issue which is often discussed in relation to residential housing, but rarely in terms of commercial property, is that of absentee landlords.
Ms Mackenzie told delegates of an English town where NewRiver - which has recently entered the FTSE 250 - had recently taken over the shopping centre, with a row of privately owned shops directly opposite. Many of them were derelict, she said, but the firm was finding it tricky to contact the owners of the property to discuss if some kind of joint redevelopment could take place.
All three panel members agreed that this is a major problem - that there are properties on every high street lying empty which could potentially house a viable business if the landlord, who often lives abroad, was interested in making something of the unit.
If we want to improve vacancy rates in Scotland and transform areas with a glut of disused shops into thriving areas, we need to be creative. And whether it is a move towards residential properties, using empty units for pop up stores or art exhibitions - or just simply making sure that space is available for entrepreneurs to consider, we need to work together to ensure that we move forward to change the face of shopping streets and centres across the country.
Jane Bradley is Consumer Affairs Correspondant for The Scotsman, follow her on Twitter @janekbradley.