October 3, 2019
Missed our 20th Retail and Leisure Summit last week?
Due to the demand for tickets for our summit last month, we are repeating our keynote presentation via our first webinar, which will take place on the 10th October from 3pm - 3.45pm.
During the webinar, Lucy Stainton, Head of Retail and Strategic Partnerships at the Local Data Company will present the highlights from our latest analysis on the retail and leisure market over the first six months of the year.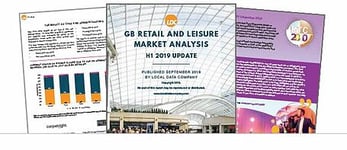 Lucy will cover:
Openings and closures trends
Changes to vacancy rates and persistent vacancy across regions and location types
Analysis on the impact of CVAs and administrations over the past 18 months
A review of the rate of retail property redevelopment
Top growing and declining retail categories
Deep-dive analysis into the growth in Barbers over the past few years
Analysis of early stage growth categories to identify how the future high street will look
Lucy's keynote presentation will take approximately 30 minutes which will leave 15 minutes where we will welcome report author Ronald Nyakairu to join us in order to answer any questions from the audience.
Register for the webinar via the link below.
If you can't make the webinar, please register anyway and we will share a recording of the session shortly after it has finished.
If you have any questions please email us at marketing@localdatacompany.com