March 9, 2018
Unless you've been hiding under a rock (which you might have been to avoid the weather last week) you'll have been fully aware of the Siberian storm to hit the UK, lovingly named 'The Beast from the East' by the media and the general public. The pandemonium caused by the snow and freezing temperatures that arrived with 'The Beast' were further increased by another weather system, storm Emma which hit from the West, meaning that the majority of the UK entered a 'deep freeze', seeing temperatures dip to -10 plus! The two storms caused widespread travel chaos, affecting buses, trains and planes, rendering many housebound from Tuesday through to Saturday when the storm passed and the thawing began.
You won't be surprised to hear that this freak weather impacted footfall levels across the 800+ locations which host LDC's SmartStreetSensors and the impact was felt very differently from region to region as bands of weather took hold.
With this in mind, I've taken a snapshot of sensors within a few locations in which we track footfall across GB. It's key to note that this is just a representative sample from a few cities in which we have sensors currently installed. I have just focused on the major retail streets within these cities where we have at least 2 sensors installed – so that any weekly changes can more easily be attributed to the impact of the weather on an area (rather than other micro-location factors such as roadworks around an individual location).
Week-on-week footfall: locations with 2+ sensors (26th Feb - 4th March versus previous week):
Cardiff, Queen Street -38.3%
Glasgow, Buchanan Street -35.4%
Bristol, Cabot Circus/Bond Street -23%
Manchester, Market Street -19.7%
Nottingham, Clumber Street -19.7%
Oxford, Cornmarket Street -13.5%
London, Oxford Street -8.3%
Looking at these locations you can see the areas that were hit the hardest by the storm (Wales, Scotland and Brighton in the East) unsurprisingly saw the biggest decrease in footfall across the week. The centres to see the biggest impact were Glasgow which was hit really hard and saw a -35% decrease in footfall levels and Cardiff at -38.3%. This isn't surprising as these areas were hit severely by the storm and train stations in both Cardiff and Glasgow had to be shut, with many locations seeing their lowest footfall of the year. The two locations to be impacted the least were Oxford Street in London (-8.3%), which is central enough to avoid being battered too much and Cornmarket Street in Oxford (-13.5%), which managed to sneak between the two storms.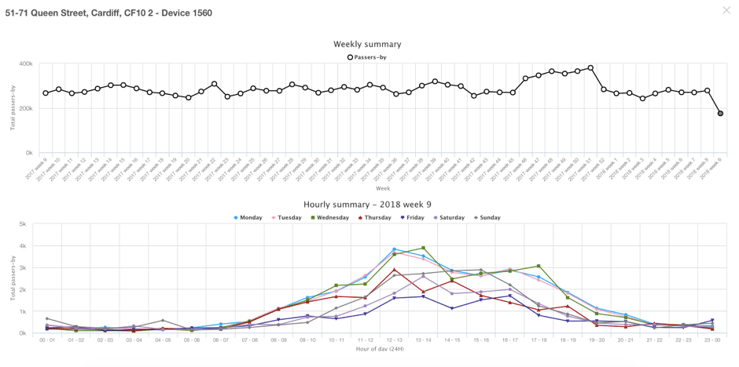 Another interesting note is the impact felt in Bristol, which clipped the edge of storm Emma coming in from the west. For those in the know, Cabot Circus is the main shopping area in Bristol and so it's unsurprising that there was a steep decline in shoppers making into this location at -23%. We did see a lesser impact in the more residential area of Cotham Hill in Bristol, which saw a -15.7% reduction in footfall from the previous week, mirroring the fact that people tend to stay close to home during extreme weather.
However, not everyone was hiding indoors last week. We identified a few locations which actually saw an increase in footfall levels last week compared to the week before. The majority of these were smaller, more residential locations spread across the county. Interestingly, many of these locations have a convenience store nearby. An example of these locations is Stockport Road, Manchester (+5% increase on the previous week), with a Nisa Local and a pharmacy close-by. This very much mirrors what you would expect when such weather is experienced, communities depend on local convenience stores when they are unable to travel to supermarkets and other destinations. Indeed, we saw many stories of shoppers panic buying bread and milk due to the weather conditions last week, and the Grocer reported that some Co-op stores had to shut for a few days to recover from a dual hit of increased demand and some difficulties with their deliveries.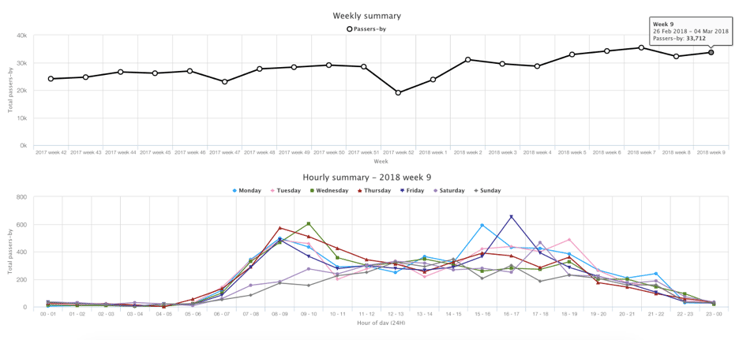 Here's what Steve Leach, Sales Director at Nisa had to say:
"During the extreme weather of last week, we found even more customers decided to shop locally with Nisa retailers. We had many retailers who went above and beyond to keep their stores open and trading while footfall and demand increased, with fantastic support from our logistics team and partners who worked round the clock to minimise disruption. Local, independent retailers often have a much closer relationship with their community and are far more in tune with their needs, particularly when faced with difficult situations such as those experienced recently. Being a community is about coming together and supporting each other and this is reflected in the efforts our retailers made in staying open for their customers."
You can follow Steve on Twitter at @first4retail.
Another trend in the locations analysed which saw increased footfall was close proximity to a park. Examples of this are Victoria Road in Aberdeen (+15% on the previous week), Romsey Road in Southampton (+3% on the previous week) and Kirkgate Road in Thirsk (+4% on the previous week). This may seem strange, but many children (and adults) enjoyed at least one snow day last week, and our theory is that many headed to a local park or green space to enjoy the snow while it lasted.
Many of these locations were also within proximity to a community centre, hospital or school, for example Mid Stocket Road in Aberdeen (+10% increase on the week before) which is very close to Aberdeen Royal Infirmary, Mile End school and the Mile End Community centre. These trends reveal the increasing importance of these local centres in such occurrences and how communities depend on local amenities.
Currently 64% of our footfall sensors have reached their year anniversary, and this number is growing week on week. This means as our network grows and ages, the data that it provides to us is becoming more and more valuable to quantify the differing ways our retail and local communities are used. We're really looking forward to being able to quickly access data on footfall trends to analyse impacts of other environmental changes including weather, development and openings and closures activity.
If you are interested in hosting one of our commercially scalable SmartStreetSensors, or are interested in accessing footfall data to track activity around your estate/location of interest, optimise operational models and understand where footfall hotspots are for out-of-home advertising, media and field marketing teams, full information can be found by visiting our website. Alternatively, you can email me directly with any questions around the technology or the data at chris@localdatacompany.com.