April 29, 2019
Last week saw hundreds of passionate 'Extinction Rebellion' protesters hit the streets of London, protesting to raise awareness of the impact of climate change across the world. The impact on traffic, commuters and businesses has been widely reported, with retailers' sales being hit hard during the week. I wanted to take a look at the impact on footfall across this area, with our SmartStreetSensors being active in this area, comparing the Easter week last year (week 13) and the slightly later Easter this year (week 16). Here are some of my top-line findings:
Regent Street experienced a substantial decrease in footfall during the Easter Extinction Rebellion protests with footfall down every day compared to the corresponding week of 2018.
While there were moderate decreases seen throughout the week, there were particularly large decreases in footfall counts on the Friday and Saturday at this device location.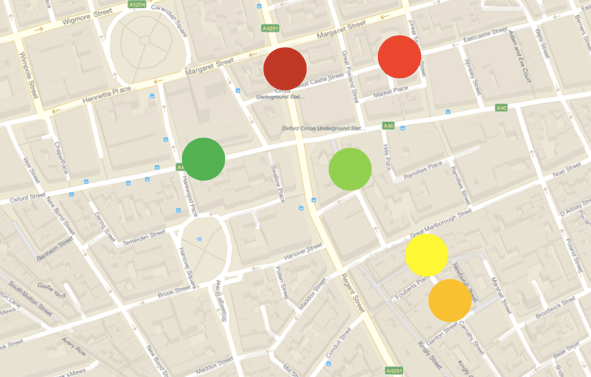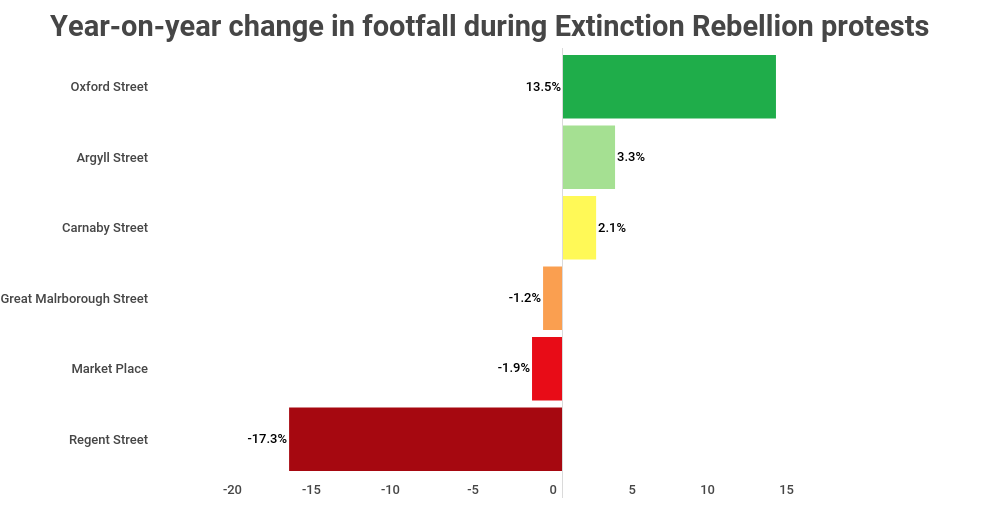 Figure 1: Year-on-year change in footfall from Monday to Easter Sunday around Oxford Circus from 2018 to 2019, with colour coded map (Source: Local Data Company)
The largest impact across all six sample devices around Oxford Circus was seen on Good Friday with all devices other than on Regent Street seeing large increases in footfall on this day. This is likely to be as a result of many people joining the protests on the bank holiday.
The footfall device located in the fashion cluster on Carnaby street was not hit hard by the protests and saw a small rise in the week from Monday to Friday compared to 2018 footfall counts. Saturday and Sunday however were hit particularly hard and experienced large decreases in footfall on both days.
Market place, a location with a focus on leisure, saw a contrasting trend to the fashion-focused Carnaby Street. From Monday to Thursday footfall decreased year-on-year compared to the equivalent days in 2018, but Friday, Saturday and Sunday all saw an increase.
These contrasting trends at Market Place and Carnaby Street could be due to people joining the protests on the Friday bank holiday and over the weekend and needing to find a place to eat, rather than visiting the fashion retailers in this area.
For more information about our footfall counting capabilities, please get in touch with the team at team@localdatacompany.com.