There have been worries for a few years now that the British High Street is dying. At LDC, we don't believe that is true, however we do believe that the high street IS changing. But it's not just high streets that are changing, as all three of the location types that we track at LDC (town centres, shopping centres and retail parks) have had some interesting challenges over the past few years.
Looking at our recent market report that covers the whole year of 2016, we can see that this was a tough year for retailers located in town centres. They started the year declining in numbers, which then worsened in the summer around the time of the referendum when numbers of openings of new stores in town centres declined much faster than closures.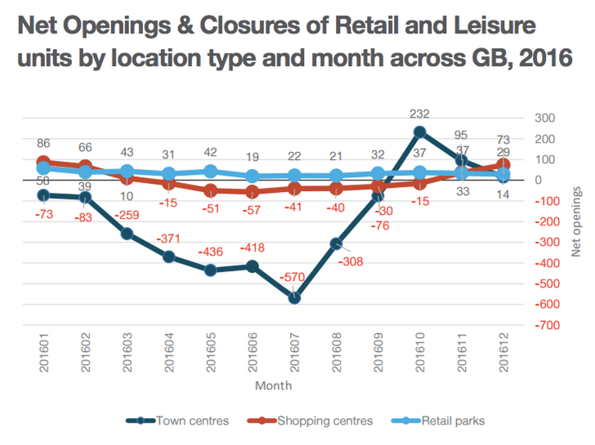 Figure 1 - Net openings and closures of Retail and Leisure units by location type and month 2016. (Source: LDC)
However, as of the end of 2016, town centres still housed over 51% of all retail and leisure stock, so are far from dead, and remain the main location type in terms of numbers of stores across GB. The next biggest location type for percentage of stock is the standalone retail location category at just over 39%. You might be surprised to hear that retail parks only account for 2.6% of all units across GB, however these percentages would change significantly if you were to compare in terms of retail floor space, with units in retail parks sometimes 13 times the size of those that sit on our high streets.
Town centre stock numbers continued to decline in 2016 from January through to October and only began to improve in winter, losing a total of 373 stores net across the year. This, compared to a small increase of 22 stores in shopping centres and a larger increase in retail parks at 304, marks an interesting change in times. Again, it would be worth noting that the relatively mild increase in retail park numbers masks the real gain in retail space for these locations.
Looking at long-term data from 2012 to 2016 we can see that 2012 was a terrible year for town centres, in which they lost 709 to the economic crash. However, town centres were not the only casualty. In 2012, all four location types lost numbers, with the standalone retail locations being the worst hit with -2581 units in total. The standalone stores recovered the next year in 2013, but then returned to decline and have continued to decline faster, year on year since. It will be interesting to view the data at the end of this year to see if this will continue.
Coming back to town centres, the trajectory has been similar, but nowhere near as marked as for standalone locations. After a loss of 709 in 2012, marked growth returned in 2013 with a net increase of 948 stores, which then began to decline once more in 2013 and has done so ever since, but at a much less harsh rate. What is interesting is that both of the more 'traditional' retail locations have seen similar trends when it comes to numbers of stores.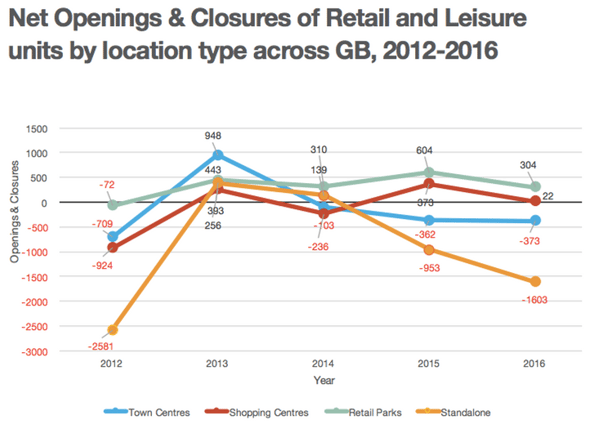 Figure 2 - Net Openings and closures of Retail and Leisure units by location type across GB, 2012-2016. (Source: LDC)
If we look at more recent data for March 2017, which was released in our monthly Dynamic Location Intelligence Bulletin (available to customers of LDC), the picture looks much healthier this year for town centres. Since the start of 2017, numbers of stores have increased and our town centres are now going from strength to strength. Does this mark the beginning of a comeback for these locations? We'll be keeping a close eye on this over the summer months to see if they can survive another politically turbulent year.
The face and make-up of the high street has also changed. Whilst it seems increasingly like our shopping locations are filled with brands we know and recognise, the data actually tells us a different story. Whilst you might think it is independent businesses that have had a tough time since 2013, it is actually the multiple retailers (brands with more than five stores) that have really experienced a hit. Multiple retailers have been in decline since 2014, and in 2016 alone experienced a net loss in openings and closures of a whopping -2481. Compare this to an increase of 831 stores for their independent peers and it would seem like the chain brands are the ones who seem to be in troubled water. This reflects the support that consumers are now providing to the local suppliers and the preference for individual and unique products and experiences. Couple this with the fact that on the whole, independent retailers may be less likely to sell their products online as a smaller operation, therefore physical stores are their main selling channel.
Image 1 -Independent retailer in Farnham (Source: LDC)
So does this mean that the rise of online shopping is causing death in our physical retail locations? Not necessarily. Recent analysis done by LDC shows the trajectory of internet sales in line with the GB vacancy rate, and surprisingly, the vacancy rate has not increased in line with increasing internet sales. Therefore, the data suggests that there is room for both traditional retail and online and the key to survival may be the integration of the two, such as click and collect services.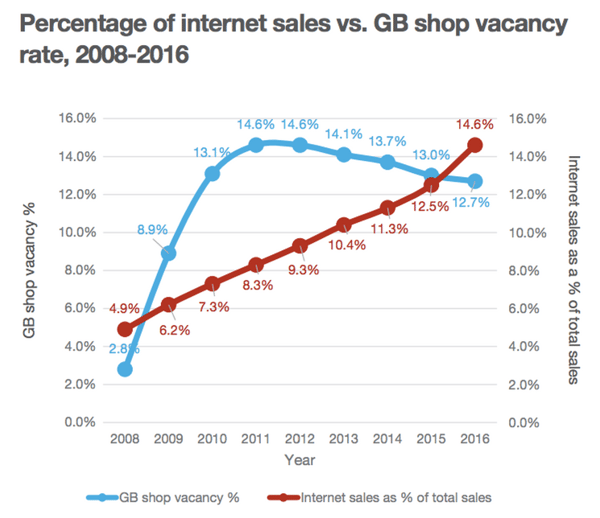 Figure 3 - Percentage of internet sales vs GB shop vacancy rate, 2008 – 2016. (Source: LDC)
Moving back into our retail locations more generally, it may not surprise you that across 2016 the biggest losses were seen in banks at -845 stores GB-wide. Second in the list was convenience stores (-522), followed closely by women's fashion stores (-304).
In terms of risers, the top three growing retail classification types were tobacconists (including vaping shops, which accounts for much of this increase), Barbers, and Beauty Salons, the proliferation of which I'm sure can be confirmed by looking out the window to a nearby high street or in your local town centre.
Over recent months, at events and conferences, we are hearing more and more about the changing demands, and even expectations of today's consumer. There are more and more calls for retailers and leisure operators to deliver experiences and services rather than/alongside physical products to consumers, especially as the millennial consumer increases in spending power. This does seem to be supported by the data which sees fashions stores decreasing in favour of leisure operators such as coffee shops and take-away restaurants and service providers such as nail salons. All which provide an experience of some variety.
As ever, LDC will continue to track the changing fortunes of all retail locations across GB and how social, political and economic headwinds (of which there will be plenty this year!) affect the success or failure of our retailers and the locations in which they continue to operate in. As the rate of change increases, so will the importance of the data that can provide insight into risks and opportunities for independent and multiple businesses.
For more information on these topics and additional data on vacancy rates, location health by town, analysis on the business rates increases and a look at which fasciae triumphed in 2016, download the free 10-page summary of our latest report here.