July 7, 2017
With the latest version of Bing maps, we saw an opportunity to provide our users with a better experience on LDO, our location insight platform. LDO allows you to view what the retail landscape looks like, incorporating maps with our field researched data on vacancy rates, retail category mix and ratios of independent to multiple businesses for locations.
The updated version of Bing maps includes 'Streetside' view for the larger, more metropolitan areas of Great Britain, which allows users to view a running image of streets, as if they are walking down them themselves. Now, not only can you view data on the health and retail classification mix of a location, you can now delve down and view images of a street and the exact location of a potential store or scheme, building an even clearer picture of a location. This adds an extra level of insight into the platform and will help users decide whether their store or scheme will fit in with the local environment, without even having to leave the office.
Access the new Streetside view by selecting your location in the map screen and zooming in until the streets turn blue (any streets that remain white are not currently available in Streetside view).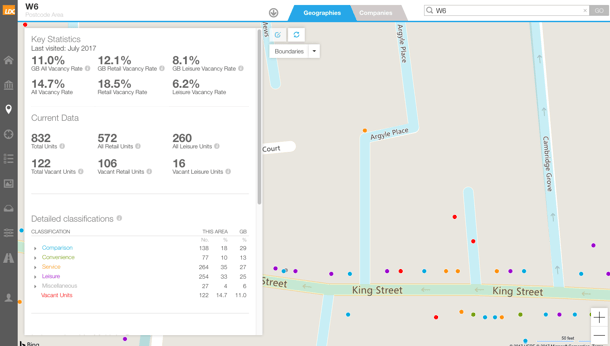 Double clicking on the street you would like to visit will bring up the Streetside view for that location.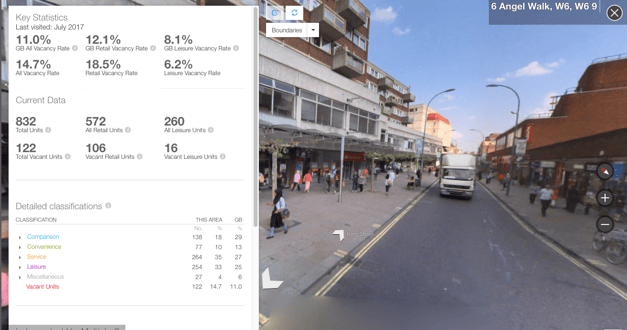 You can use the white arrows at the bottom left of the image to move up and down a street, zoom in and look around.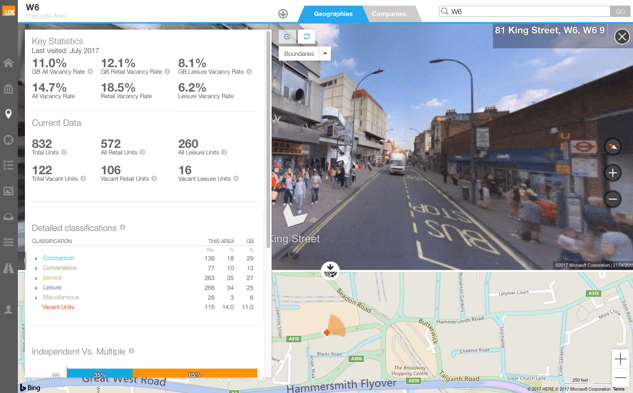 You can also have the Streetside view open at the same time as the map view, as shown in the image above, with a red square and direction of travel shown in orange on the map underneath. This marker will move as you use the arrows to navigate forwards and backwards within the Streetside view.
I hope you enjoy this new feature, if you have feedback on this, or any aspect of LDO, please email us at marketing@localdatacompany.com.