November 13, 2017
Lowest number of store closures since 2010

Tobacconists, beauticians and coffee shops thriving

Shoe shops, women's clothing and charity shops declining
Despite the advance of online retail and a testing economy, the number of chain retail outlets closing on Great Britain's high streets is at its lowest level for seven years, PwC research compiled by the Local Data Company (LDC) reveals.
The analysis tracked 67,521 outlets operated by multiple retailers* in 500 town centres across Great Britain. In the first six months of 2017, 2,342 shops opened on Great Britain's high streets, retail parks and shopping centres alongside 2,564 closures, equivalent to 14 closures per day.
The net difference between store openings and closures in H1 2017 has shrunk significantly to 222 stores compared to a net loss of 503 in H1 2016. This represents the smallest net decline since H1 2013, when 209 more stores closed than opened (See Figure 1).
Leisure chains (food, beverage & entertainment) have continued to thrive, rising from +57 stores opening in H1 2016 to +116 in H1 2017.
The UK retail sector has higher online sales as a percentage of total retail sales than the United States or any country in Europe. Desktop PCs are still the most popular device for placing online shopping orders but mobile devices, especially smartphones, are catching up.**
This online growth may see an already leaner, fitter high street evolving further, PwC suggests.
Lisa Hooker, consumer markets leader at PwC, said:
"It's encouraging to see the high street holding up - and even rallying in some cases. The twin cannons of increased online purchases and a tough economy have seen many retailers take a long, hard look at their store portfolios. There will always be a physical presence on the high street, but developments in technology are accelerating and impacting future staffing and operating models.
"Ways of shopping are continuously transforming and include subscription models, the connected home, and companies using data analytics to suggest your next purchase. Major questions are beginning to be asked about who will ultimately 'own' the consumer.
"The UK is one of the world leaders for consumer online purchases. Retailers must continue to evolve if they are to make the most of both new digital opportunities and the country's high streets."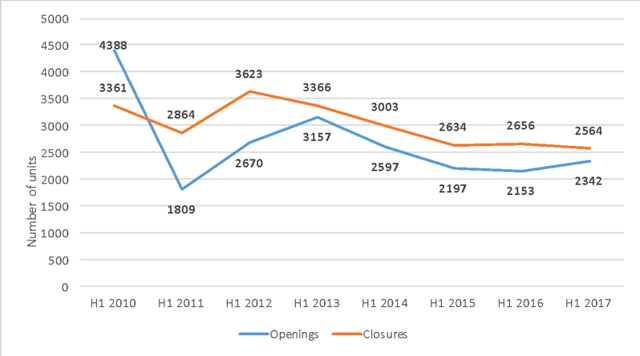 Figure 1. Opening and closures of multiple retailer units, 2010-2017
The analysis of the 67,521 outlets across Great Britain found that overall volumes of activity (openings + closures) have plummeted from a record 7,749 in H1 2010 to 4,906 in H1 2017.
Tobacconists, beauticians and coffee shops are among those growing at the fastest rate during the first half of 2017. Ice cream parlours have also seen an increase, with occupiers such as Kaspa's Creams and Ben & Jerry's expanding their networks.
The data reveals that across multiple retailers in 500 town centres, charity shops, shoe shops, gift shops, and women's clothing shops were among the hardest hit in the first half of 2017. With the emergence of online property portals (e.g.Rightmove) supporting homebuyers and homeowners' property needs, high street estate agents saw a net decline of 36 units (78 openings vs. 114 closures).
Mike Jervis, insolvency partner and retail specialist at PwC, said:
"The relatively low level of net closures in the first half of this year reflects a more stable environment, with consumer confidence proving more resilient than expected as the year unfolded. Historically the number of retail insolvencies has been a major factor in the volume of store closures. 2017 is on course to post the lowest level of administrations for more than a decade, with a favourable impact on overall store numbers.
The environment is, of course, uncertain, with recent data showing a more challenging retail environment. I expect net store closures to be an ongoing feature of the market. Retailers will choose specific closure stores very carefully and will aim to capitalise on leases expiring in the ordinary course of their businesses."
Shoe shops, charity shops and women's clothes shops were the three hardest hit sectors. Gift shops and card and poster shops have also been affected, with these categories appearing in the bottom six for the first time.
However, categories that have seen significant net declines in previous years are getting closer to some form of equilibrium, with cheque cashing (-13 units), banks (-32), general fashion shops (-25) all posting their lowest net closures for three years.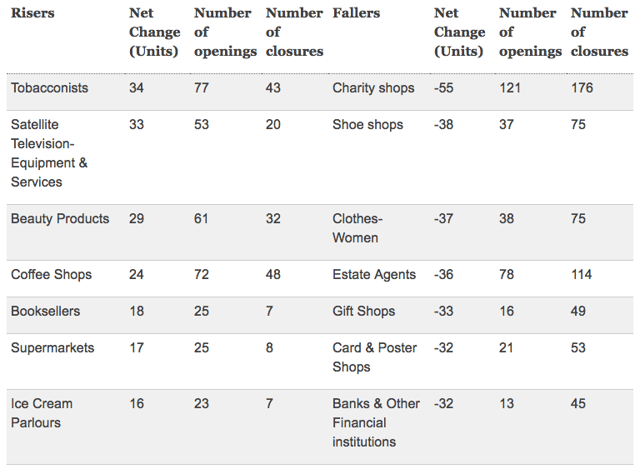 Table 1. Top risers and fallers by business type in H1 2017 (Source: LDC)
Across the regions and nations...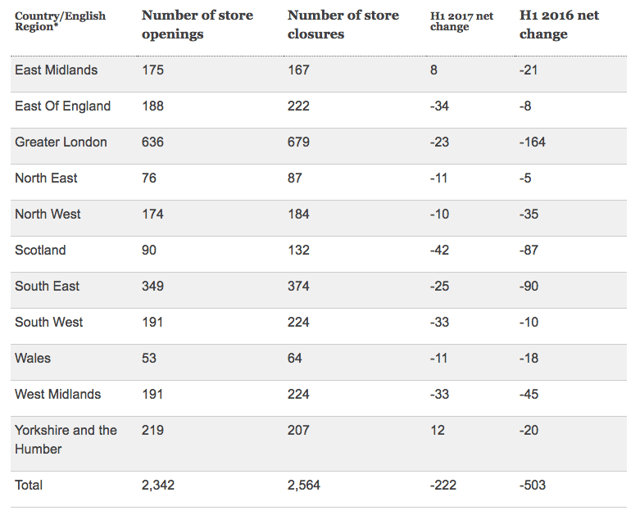 Table 2. Openings and closures of multiple retailers by region across the top 500 GB town centres in H1 2017 (Source: LDC)
Scotland saw the largest number of net closures across all the regions. The nation's net change however did decrease from -87 in H1 2016 to -42 in H1 2017. East Midlands and Yorkshire in the Humber, were the only regions to see a net increase in chains of +8 and +12 respectively.
Matthew Hopkinson, director of The Local Data Company, said:
"The reduction in the number of chain retailers closing in Britain's town centres indicates an increasing degree of stability for many towns that have seen the significant loss of multiple retailers over the last ten years. From an average loss of 540 chain shops every six months to just -222 in H1 2017 is a major slow down.
"Regional variances show the importance of understanding local economies. Some regions such as Yorkshire and the Humber have shown a significant turnaround from a loss of 20 units in H1 2016 to growth of 12 units on H1 2017.
"It is the leisure sector that is creating more openings than closures on our high streets while traditional shops and services, such as clothing and banking, continue to close stores. If the leisure offer has reached saturation, which I argue it has, then this slowdown in the closure rate might be short lived if the leisure growth rates reduce from their current levels."
ENDS
Notes to editors
*

Multiples are retailers that have more than 5 outlets nationally

**Sources: Invesp and Statista

The analysis is derived from The Local Data Company visiting the top 500 town centres. Each premises was visited and its occupancy status recorded as occupied, vacant or demolished. Vacant units are those units, which did not possess a trading business at that location on the day we visited it. Internal shopping centre data is included where we have had co-operation from the landlord. The total number of multiples premises surveyed was 67,521.

The town centre is defined as per DCLG's definition of the retail core. Scotland has no official retail core geography so the geography taken is the postal town area where not specified otherwise. Net change is openings less closures. The percentage change is derived from the net change figure relative to the total number of live multiple businesses.

The closures figure is the total number of closures divided by 183 i.e. half of the days in 2017 (365).

Retail parks are retail warehouses with three or more adjoined units. Shopping centres are groups of shop clustered together under one cover with ten or more units.

PwC's Total Retail research can be found at: http://www.pwc.com/gx/en/industries/retail-consumer/global-total-retail.html
About PwC
At PwC, our purpose is to build trust in society and solve important problems. We're a network of firms in 158 countries with more than 236,000 people who are committed to delivering quality in assurance, advisory and tax services. Find out more and tell us what matters to you by visiting us at www.pwc.com.
PwC refers to the PwC network and/or one or more of its member firms, each of which is a separate legal entity. Please see www.pwc.com/structure for further details.
© 2017 PwC. All rights reserved
About the Local Data Company
LDC is the UK's leading data creator using real people on the street to acquire the most up to date, on demand location and company specific data for the retail and leisure sectors. It combines powerful proprietary technology with a unique, field researched database of over half a million premises. LDC delivers primary evidence on thousands of companies and locations, including high streets, town centres, shopping centres, retail parks and standalone out of town stores.