October 27, 2016
Retailers closing 15 stores a day as the high street continues to reshape, says PwC and LDC.

• Lowest number of store openings since 2011
• Tobacconists, estate agents and jewellers thriving
• 'Fintech' advances see click and collect services booming


In the first six months of 2016, 2,656 shops closed on Great Britain's high streets, a rate of 15 stores a day, PwC research compiled by the Local Data Company (LDC) reveals.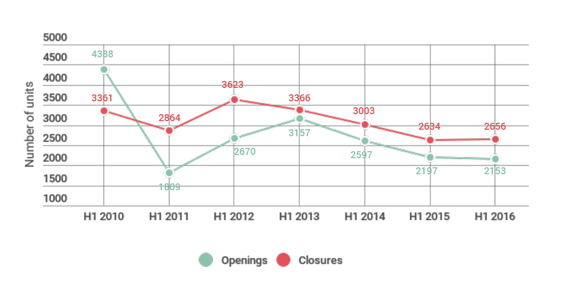 Figure 1. Openings and closures of multiple retailer units, 2010-2016
The analysis of 66,401 outlets operated by multiple retailers* in 500 town centres across Great Britain found that overall volumes of activity (openings + closures) have plummeted from a record 7,749 in H1 2010 to 4,809 in H1 2016.
Here are 3 opinions from industry experts about the research done:
Madeleine Thomson, retail and consumer leader at PwC, said:
"Despite the uncertainty and fall in number of store openings, consumer sentiment has rebounded following the post-EU referendum dip. With employment levels still high and price inflation yet to hit the shops, the majority of the UK public believe they will be better off in 12 months. If we look ahead to Black Friday and Cyber Monday (25th and 28th November respectively), upcoming research shows that 27% of consumers intend to make purchases, spending on average £203 over the weekend. Of this spend, 17% of will be in store (rising to 24% for over 55s).

To increase footfall to their stores, it is key for retailers to ensure their in store offering and price point is relevant for the younger demographic who are particularly high users of online channels and very price savvy. Our Total Retail research** shows that consumers value shop assistants with a deep knowledge of the product range, the ability to check stock quickly and to see and order online ranges in store."
Mike Jervis, insolvency partner and retail specialist at PwC, said:
"We are seeing far fewer closures due to outright insolvencies, but more due to lower key restructuring of store portfolios. This is still having a negative impact particularly on the High Street - interestingly, units on retail parks are far easier to find alternative tenants for. The data covers the first half of 2016. Since then there has been more evidence of stress in certain parts of the retail sector as costs challenges begin to crystallise. These include foreign exchange rates, Living Wage pressures and business rates increases.

These can be managed provided revenue is maintained - so consumer spending is key. The area where we expect most problems is in fashion retailing where recent data points to lower sales volumes."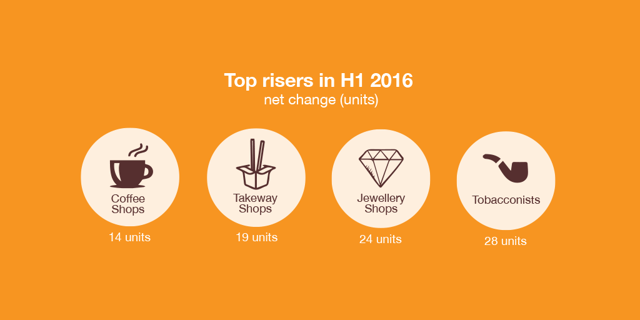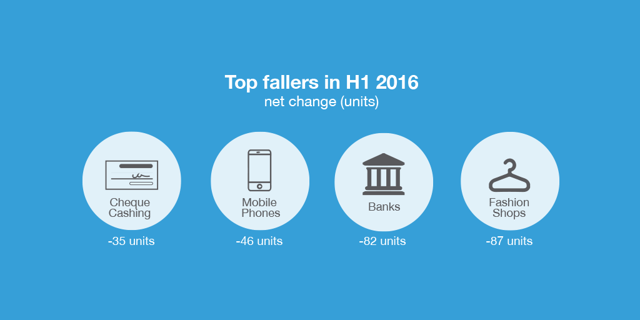 Matthew Hopkinson, director of The Local Data Company, said:
"The retreat of multiples from town centres across Great Britain continues, reflecting the wider changes happening in retail driven by the retrenchment of comparison goods retailers, especially in clothing and footwear. The role of the store continues to evolve. Provision of a seamless on and offline experience is key. 'Click and collect' is but one example of this. Chains are having to work harder than ever to guarantee store location, format and experience along with a strong web presence, social presence and logistical operation that delivers to consumers' ever increasing demands of 'now'. This is severely impacting profitability and hastens store closures.

The spaces left by the traditional occupants of our high streets are being increasingly filled by health care operators, food and beverage operators and the ongoing rise of the discounters. Understanding the 'who' and 'where' when it comes to multiple retailers is the key to create the destination that leads to successful and healthy town centres."