The number of units that were structurally changed or redeveloped (demolished, merged, split or converted for another use such as residential or logistics) increased by 32% in 2018 as landlords and place managers work to re-imagine requirements for bricks and mortar retailing. A new report released today by retail location insight business the Local Data Company reviews changes across over 650,000 retail and leisure units to analyse the rate of UK market change in 2018. The number of units being redeveloped increased from 2,646 in 2016, to 2,706 in 2017 and jumped to 3,577 in 2018. This year-on-year increase shows the growing trend for landlords to reconsider how existing retail stock is best used to meet the changing needs of consumers.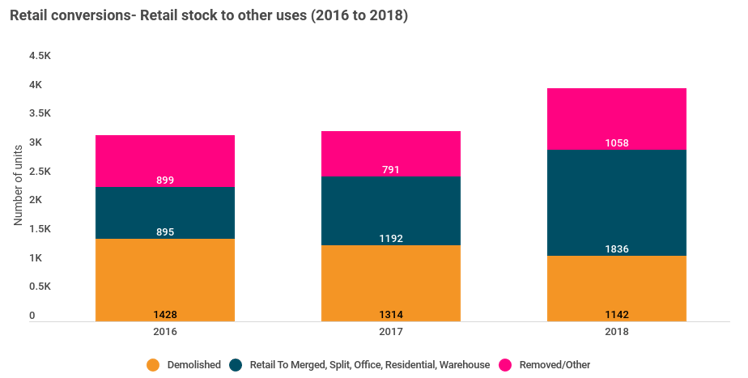 Figure 1: Redevelopment of retail stock between 2016 to 2018 (Source: The Local Data Company)
This structural change is serving to mitigate the impact of a significant slowdown in openings of new stores which resulted in an overall net loss of occupied units of -7,550 – equating to 1.2% of the entire retail and leisure market. The closure rate increased marginally with 50,828 shops closing in 2018 compared to 50,767 in 2017. The rate of openings decreased by almost 2,000 over the year, resulting in record losses which saw over 20 stores a day closing their doors for the final time. However, the average vacancy rate across the country only rose by 0.3% in the year from 11.2% to 11.5%, still below a high of 12.5% seen in 2013; revealing how an increase in structural changes to units is preventing the vacancy rate from rocketing upwards.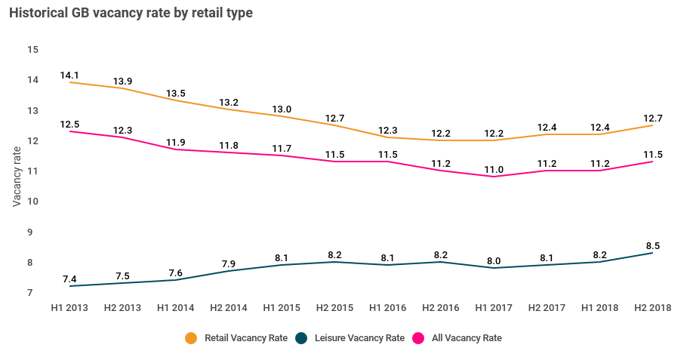 Figure 2: Historical GB vacancy rate by retail type between 2013 and 2018 (Source: The Local Data Company)
The location type hit the hardest by a year of turbulence was retail parks, which saw an increase in vacancy rate of 2.3% in 2018, rising from 4.9% at the end of 2017 to 7.1% at the end of 2018. 2018 saw a host of retail park occupiers facing challenges, with Toys R Us, Maplin, Poundworld, Carpetright and Multiyork all closing larger format stores. As of April 2019, only 17% of the 274 retail park stores for the aforementioned retailers have been reoccupied, leaving 226 vacant units. With a reducing pipeline of occupiers who have an appetite for large-format sites, retail park owners will need to increase the rate at which they redevelop their property.
Lucy Stainton, Head of Retail and Strategic Partnerships, commented:
"2018 was another unprecedented year of change as the sustained challenges faced by many legacy brands collided with an advent of new concepts – these constantly shifting sands making conditions tougher than ever for most operators. However, any headline statistics by no means represents the full story and beneath some undeniably stark high-level numbers we can see a multitude of emerging trends and brands which hint at a very bright, diverse future for our high streets. This is shown particularly by two years of strong growth in more service-led categories such as barbers and beauty salons. Alongside this, a more diverse assortment of restaurants are increasingly opening on our high streets, serving up fresh and exciting cuisines such as Iranian, Malaysian and, of course, Vegan.
The significant increase in structural redevelopment of retail space across 2018 indicates that landlords, place managers and councils are starting to take action to critically review how much retail stock is in the market and how much is actually required. Over the coming months, we expect this trend to increase, and with it will come a redefinition of not just our high streets, but shopping centres and retail parks too.
Retail parks had a tough 2018 due to a raft of CVAs and administrations, the impact of which is still clear to see as 75% of the Toys R Us stores are still vacant a year on. The trend for structurally altering units will have a significant impact on retail parks and will bring with it a diversification of the types of retailers that we'll see opening in these locations.
The first four months of 2019 has already seen the likes of Debenhams announce a CVA and the owner of Cotswold Outdoor also revealing closures. It will be interesting to see if this denotes a further year of turmoil for the industry or if this is perhaps the storm before a calmer period in H2 2019."
Other key findings from the report:
Despite the market focus on high streets, the vacancy rate only rose by 0.3% across this location type in 2018

- the smallest increase of all three categories that the Local Data Company tracks (shopping centres, retail parks and high streets) ending the year at 11.5%. This mirrors the changes to the overall GB vacancy rate seen over 2018.
Shopping centres are faring slightly worse, seeing an increase in vacancy of 0.5%, ending the year at 13.5%.
All four retail classifications (Service, Convenience, Leisure and Comparison Goods) declined across the year, with the decrease in occupied Leisure units gaining speed (net change of -749).
Comparison Goods units have been falling sharply since 2012 and the rate of decline increased by a significant 53% in 2018 to -4,679. Since 2012, 17,226 Comparison Goods units have been taken out of the GB market, which is roughly equivalent to the entire retail and leisure stock of Essex.
The decline in Service retailers slowed, with decreases in numbers of banks (-716) being mitigated by an explosive growth of barber shops (+813) and nail salons (+495).
Vegan restaurants continued to increase at pace, with 16 new Vegan restaurants popping up across the country in 2018. There are now 57 Vegan restaurants; the majority of which are in London (23), but Yorkshire and the Humber still comes in in second place with 20% of all vegan restaurants (12) in this region.
Numbers of multiples (brands with five or more stores nationally) continued to fall, with the net decline accelerating steeply from -4,010 in 2017 to -6,537 in 2018;

the highest decline in the past five years. However, the decline of independent units slowed from -1,483 in 2017 to -1,013 in 2018, boosted by growth in independent leisure concepts.
The full report is out now and is available to download here.