September 9, 2020

Post-lockdown reopening update – full market


The reopening rate at the end of August across the entire retail and leisure market was 71.3%, with variances across regions. Across hospitality and the beauty sectors, which were given the green light to reopen from the 4th July, 77% of units had reopened.
Scotland (55.3%) and Wales (60.3%) still lag behind England as lockdown measures were relaxed at a slower rate.
West Midlands (65.9%) had the lowest reopening rate across England, while Greater London had the highest at 77.9%.
There continues to be little difference between business types, with multiples having a slightly higher reopening rate of 74% compared to 70% for independents.
Independents have fared the best in the South East, with this region being the only one where independents had a higher reopening rate than multiples.
Welsh Independents have been especially challenged, with just 55% reopened, 15% behind Welsh multiples which have reopened 70% of units eligible.
Hospitality and beauty sector (reopening from 4th July)
Two months from the date that the hospitality and beauty sector was given the green light to reopen (4th July), a total of 77% of units surveyed had reopened their doors. There were regional variances with Greater London leading the way with a reopening rate of 83%, while the East Midlands rate was 68%. East Midlands (Leicester lockdown), West Midlands and the North East have the lowest reopening rates, with each of these including towns and cities which have had local lockdowns or increased restrictions due to higher numbers of COVID-19 cases.


percentage of stores reopened post-lockdown by region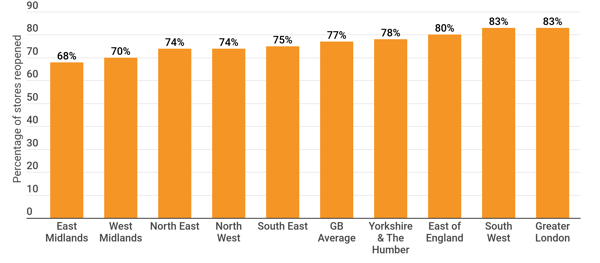 Figure 1: Regional reopening rates across England for categories eligible to reopen from 4th July (Source: Local Data Company)
Serviced apartments had the highest reopening rate at 97% across England, as the demand for staycations soared due to fears around international travel and quarantine restrictions.
Savills research also shows the sector was outperforming other accommodation categories pre-COVID with the success of platforms like Airbnb.
hospitality and categories with highest reopening rates
Traditional takeaway restaurants dominated the top 15 categories, occupying 9 of the top 15, with Asian cuisines such as Indian, Thai, Vietnamese, Japanese and Chinese all in the top 10.

Pubs saw a healthy reopening rate at 79.8% across the 4,600 surveyed with managed pub groups (87%) outperforming the independent sector (74%) as some landlords such as Greene King offered rent relief and support to tenants throughout the pandemic.

Top 15 hospitality categories for rate of reopening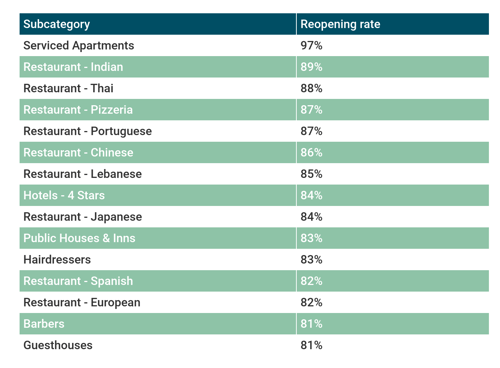 Figure 2: Top 15 categories by reopening rate across England (Source: Local Data Company)
Barbers were also in the top 15. Barbers have been one of the fastest growing retail categories consistently for the past three years and many small businesses have worked hard to reopen as soon as possible to take advantage of the pent-up demand to fix DIY lockdown haircuts.
Mexican/Tex Mex had the lowest reopening rate of units eligible to open from 4th July (61%) across England. Casual dining Tex Mex brand Chiquito was one of the first casualties of the pandemic with the brand going into administration causing all sites to close.
Beauty Salons and Hair & Beauty Salons also made the bottom 15, with these categories impacted due to longer restrictions on close-contact treatments such as eyebrow threading, waxing and tinting which was only allowed from the 1st August.

Bars had lower reopening rates, with most unopened sites in office locations which have limited footfall due to many staff working from home at least part-time. The exclusion of alcoholic drinks from the EOTHOS also had an impact on how quick bar owners were to reopen.


Bottom 15 hospitality categories for rate of reopening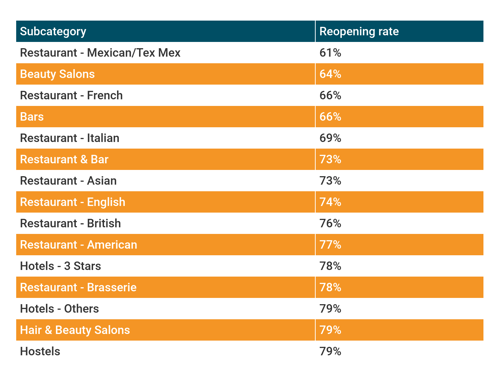 Figure 3: Bottom 15 categories by reopening rate across England (Source: Local Data Company)
Hostels and Hotels with a lower star rating also feature in the bottom 15 categories due to a lack of tourists and backpackers and staycationers opted to splurge on more expensive hotels.
market commentary
"The Eat Out To Help Out scheme (EOTHOS) was successful in getting people back out into restaurants and making them feel safe, with surveys showing that for nearly 40% of those using the scheme, it was their first visit to a restaurant since the sector's reopening. Restaurants looking to extend this scheme should be cautious to not get patrons accustomed to the value benefits but look to come back due to the quality of food, restaurant experience and customer service elements. Retailers have had experience with this with events such as Black Friday, which has made customers more price conscious and bargain-focused, delaying spend throughout the year in anticipation of a discount.
Attention now turns to the end of September when the lease forfeiture moratorium comes to an end and tenants will have to pay backdated rent, as well as rents for the next quarter. Several major chains have gone through the CVA process, with PizzaExpress the latest to gain approval. With the reopening rate across the sector at 77%, we must begin to wonder what will happen with the remaining 23% of occupiers given it is now two months since they were eligible to reopen. Already, 5% of these have vacated their premises and in the coming months, we can anticipate more of these units will become vacant with the likelihood of these ever reopening becoming less by the day. This increased supply of space will give opportunities for new brands and new entrepreneurs to try their hand in the leisure sector, however many may remain vacant for some time with the supply of units outstripping the demand from occupiers, most of which are looking to reduce, not expand their estate.
The true long-term benefits of EOTHOS will begin to become clearer, with restaurants, bars and pubs all looking to continue the momentum in what will be a difficult autumn."
Ronald Nyakairu, Senior Manager, Insight and Analytics
For more information on reopening trends across the market, please contact us at team@localdatacompany.com