July 9, 2020
Huq Industries and the Local Data Company have partnered to produce a Consumer Activity Index which uses high frequency mobility data to track activity across a range of bellwether brands. The new Index will provide time series data to track the recovery of the retail sector across GB by analysing activity levels across the store network of 26 of the largest retailers, spanning 10 store categories (fashion, electronics, grocery etc).
This release assesses the activity around hospitality stores only (excludes essential and non-essential retail) on the first weekend the hospitality sector was able to reopen (4th and 5th July).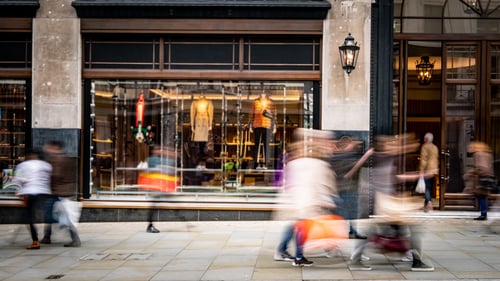 Despite the much-anticipated reopening of the hospitality sector (also known as 'Super Saturday) consumers remain cautious in the face of the ongoing COVID-19 pandemic and many opted to stay away as many pubs, bars and restaurants opened their doors once more.
Mobility data from Huq/LDC measuring consumer activity around stores revealed that activity was down by 37% when compared to the weekend before lockdown commenced in March (21/22nd March). Activity was down 81% when compared to the average activity levels across the first 6 weekends of 2020 as many consumers took a watch and wait approach.
London lagged 35% behind the rest of England, seeing footfall levels down by -75% compared to the weekend before lockdown (21/22nd March) against an average across other English regions of -40%. Across the capital, the lack of tourists, sporting events, theatres and a reluctance to use public transport is still having a profound impact on activity levels.
The region which saw the best recovery was Yorkshire and the Humber with activity down by just -26.7% compared to the weekend before lockdown (21/22nd March) as many welcomed the reopening of pubs and restaurants.
percentage change in consumer activity levels by English region compared to the average across first 6 weekends of 2020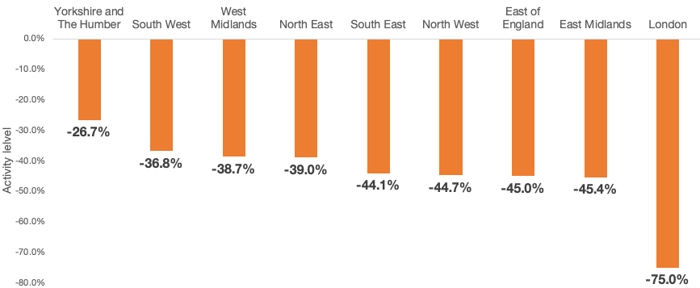 Note: This chart draws on an extended sample of hospitality outlets in order to increase depth of regional coverage.
Back to the national picture; compared to the previous weekend, restaurants saw the biggest boost, with activity up 48% week-on-week compared to a 22% uplift for pubs.



Percentage change in activity levels for the weekend of 4/5th July


| | | | | |
| --- | --- | --- | --- | --- |
| Comparison period | Pubs | Cafes and fast food | Restaurants | 'Super Saturday' weekend total |
| Pre-lockdown weekend (21/22nd March) | -40% | -35% | -36% | -37% |
| First 6 weekends of 2020 average | -85% | -75% | -83% | -81% |
| Week-on-week | +22% | +19% | +48% | 27% |
Commentary from Lucy Stainton, Head of Retail and Strategic Partnerships at the Local Data Company:
"The latest LDC/Huq Consumer Activity data on the 'Super Saturday' weekend illustrates the true impact that the lack of tourism and continued reticence to get on public transport in the capital is having on this city in particular. Historically, London has always been more resilient than other regions, with vacancy in the capital at just 8.2% coming into the pandemic, significantly lower than other regions and the national average of 12.3%. However, as we can see from these latest statistics, with continued working from home practices, London and other larger cities may well see a reversal of fortunes, with smaller, local high streets being favoured by a more cautious consumer.
Hospitality brands, especially those with sites in more densely populated areas, will need to be very clear in communicating what their customers can expect in the way of social distancing and other precautions to help build customer confidence. With this in mind, we would certainly expect to see a gradual return to city centre pubs and restaurants as cases continue to decline and more offices open up, thereby generating the footfall these types of venues need to support their trade."