February 26, 2020
Since the summer of 2018, we have been busy working on the research and development of the next generation of Local Data Company footfall sensor, building on the wealth of experience gained from our involvement in the SmartStreetSensor project, launched with UCL back in 2016.
The initial SmartStreetSensor project was funded by the Economic and Social Research Council (ESRC) and was designed to be the most comprehensive study to date of footfall patterns across Great Britain's high streets. We installed over 1,000 sensors over the course of the project which provided retailers with granular footfall trends across a wide range of locations.
After the project's completion, we were convinced that we could further help retail stakeholders to understand footfall trends and help them navigate a challenging period for the market. Our main aim was to increase the consistency of footfall counting to provide even more accurate counts using technology developed especially for this purpose.
To do this, our team of data scientists and software developers have used their wealth of knowledge and experience in collaboration with a range of specialists in some of the newest and most exciting tech.
The team consisted of:
3 in-house data scientists
1 UCL data science consultant
4 software developers
1 IOT architecture specialist
2 device specialists in hardware and firmware
1 mobile application specialist
1 IT project manager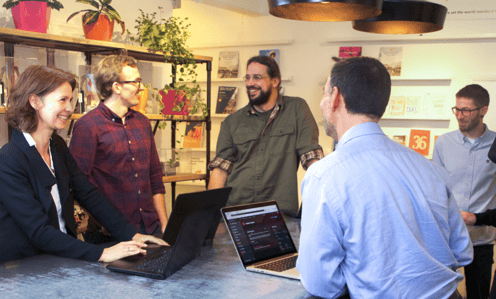 The technology for the new footfall sensor has been developed in-house and is bespoke to our requirements. This ranges from machine learning algorithms and software that translate data into meaningful counts, alongside mobile and web applications for installing and testing sensors.
As this technology is very precise, we have designed and developed our own hardware to ensure correct positioning which is critical to maximising accuracy.
This has been a complex project, with very little margin for error. With hard work and commitment of the entire team, we've developed technology that will be a powerful tool for occupiers, landlords, councils and a range of stakeholders across the board.
Next time I'll share more information about this new tech, when it'll be available for installation and why we're so excited about it!
Ivana joined the Local Data Company in 2010 and leads the technology team in development of solutions across wide range of platforms, from mobile technology, data warehousing and Web applications, proprietary tech and data science.