February 11, 2020
We have released a report today introducing a brand new metric developed to measure resilience across the retail and leisure market. In this latest analysis, we use 10 years of granular occupancy data to review the 'survival rate' of stores across the country.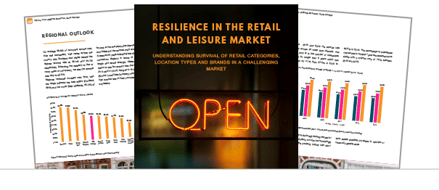 We define 'survival rate' as the percentage of units within a certain cohort (location type, retail and leisure category or brand) which remain operational 1 year, 3 years and 5 years from the date of opening.
e.g. Analysis has shown that there has been a drop in businesses that survive for longer than 5 years, decreasing from 67.2% in 2015 to 62.5% in 2019.
This facilitates understanding of how resilient different store types/brands and locations are by benchmarking the average length of occupation for a group of premises against others. This measure will facilitate lenders, property managers, asset managers and funds to review investments, looking at the relative strengths and covenants of each retailer.
This new report includes insight on:
New ways that resilience can be measured and quantified through the analysis of long-term market data on 3,700 markets across GB

Which retail types, location types and brands have been the most resilient to market challenges over the past 10 years

Which brands have the longest average length of operation (i.e survival rate)

Which brands and sectors have the strongest covenants

Which regions across the country have the highest percentage of occupiers surviving to their fifth year of operation.
To download the report, click the button below:
JOIN OUR WEBINAR to learn more
To introduce this new measure, we will be hosting a webinar on Thursday 20th February at 3pm where Ronald Nyakairu - Senior Manager, Insight & Analytics at the Local Data Company will talk through this new analysis and will discuss the key findings. Ronald will then be joined by Tom Berry of CBRE and together they will take questions from delegates, prompting discussion and sharing best practices from within the sector.
Register for your place on the webinar via the button below.