In this blog post, Chris looks at the close relationship between coffee consumption footfall and analyses footfall profile's of different location types across GB.
The recent UK Coffee Week got me thinking about the close relationship between coffee consumption and footfall, now that the major brands have multiple outlets in most of the UK's prime locations, and have persuaded many of us that the concept of 'morning coffee, afternoon tea' is highly out-dated - and that 24/7 coffee is a good thing.
I exclude myself from this generalisation, as I still consider myself proudly old-fashioned when it comes to liquid refreshment. Yet, the more I travel from the Midlands to work in London, I find myself increasingly meeting clients in coffee shops or finding the nearest outlet with a clean table and free WiFi - I can feel myself being dragged into the post-midday coffee culture. With opening hours well into the evening in some of the busiest locations, the days of coffee being a morning rital are long gone and it seems that almost any location is now viable for a coffee shop, as long as a certain volume and quality of footfall can be guaranteed.
But can this be measured, or even predicted for any location?
Can we measure the differences in consumer behaviour between our caffeine-chugging cities and the more laid-back market towns?
At what point does footfall become viable in a non-commuter destination where only 1 person per minute is walking past at peak times?
How much coffee demand is driven by the need for a quick fix or business meetings requiring free WiFi?
What's the role of neighbouring outlets in each of location type where coffee shops are at the heart of the retail offer?
New high street footfall data means that we can now link daily pedestrian flows past coffee shops to the profile of surrounding outlets, giving insight about which locations offer the best potential for a 9am commuter take-out, and the factors that drive this demand.
The high footfall levels that I remember as a kid around some of London's busiest tube stations now seem common in more suburban parts of the capital. One shopping centre I occasionally visit in West London contains both a tube station and bus terminus and there are new food and beverage outlets opening almost constantly, on the back of huge footfall and traffic levels throughout the day – a trend seen across much of London at the moment, with Leisure occupiers driving retail change.
It's not just the volume of footfall that's surprising for one of the smaller London destinations, but the velocity. People pour out of the tube and bus stations at speed, not just in the morning and evening peaks, but seemingly across much of the day – and the demand for hyper-convenient food and drink service en route is a must for many if them.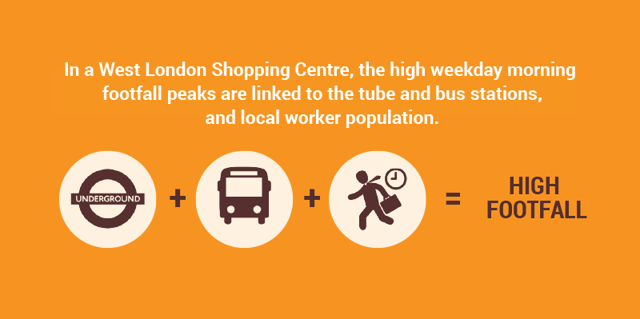 The centre is a stronger centre than the national average, scoring 7 out of a possible 9 on the LDC Retail Health Index has a relatively high number of multiple brands (80%, compared to the GB average of 35%) – including all of the major coffee chains. An increasing number of occupiers are Leisure operators, which now account for 40% of all units, compared to 32% 12 months ago. Coffee shops account for 9% of outlets within the centre, which is over 10 times the national average. This in itself gives an idea of the potential footfall volumes.
West London Shopping Centre - Classification mix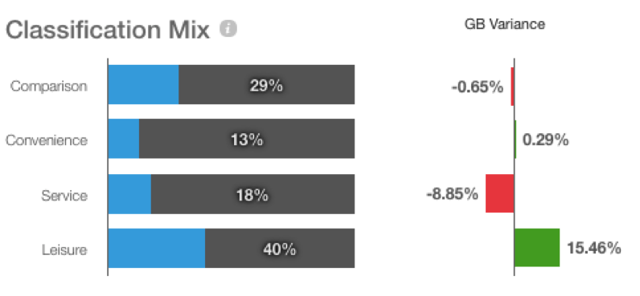 West London Shopping Centre – Change in occupancy over time, by classification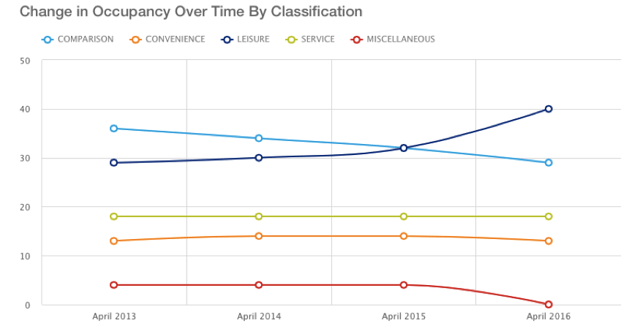 Data from a number of 'SmartStreetSensors' (Footfall counting devices) located within the centre shows footfall levels of over 7,000 per hour at peak times – that's more than 100 adults per minute – most of whom appear to be commuters heading from the transport hubs to local offices via the numerous coffee bars and street vendors within and around the centre.
Based on my very crude estimates of counting the number of pedestrians with a take-away coffee/tea/speciality cuppa, less than 1% of people have a coffee in hand when exiting the tube at 9am on a Monday. By the time they've reached the exit to the shopping centre, this has risen to around 10%. That's 10 hot drinks per minute being bought from 4 coffee outlets within the shopping centre – a high 'pavement opportunity' for any retailer within the centre that can tap into the need for instant refreshment.
The long evening tail of footfall (especially on Friday nights) is linked to the number of other Leisure operators nearby – bars, restaurants and theatres. The 'quality' of footfall at this time appears to be quite different: less agitated, slower and more liberal with their cash, so the conversion rate to coffee is lower (evident by fewer take-outs), but there is still demand that the major brands are tapping into.
West London Shopping Centre - Footfall by day / hour
The area is literally buzzing as a result, and it's hi-speed culture is reinforced by being on the right side of the digital divide. Consumers and retailers in the area are well connected, but with the high consumer expectations of quick service that go with it.
According to ONS and Liverpool University's Internet User Classification Groups, 87.5% of the population in this part of London fall in the categories of E-professionals and students.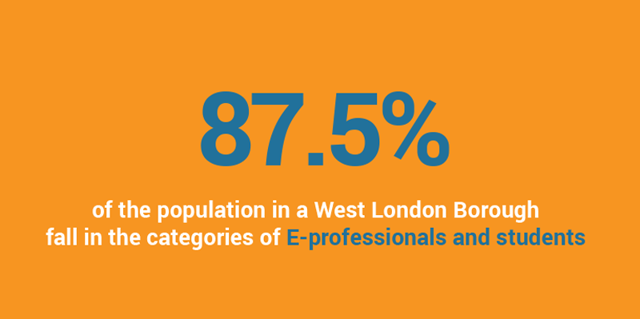 The main characteristic for these groups is the daily use of the internet to support their banking, bill payments and food and grocery shopping. And being heavy users of mobile payment apps, they expect to be able to pay quickly and easily for their morning cuppa.
This can be compared to other areas which may also have high digital engagement, but exhibit more 'traditional' footfall patterns of mid-afternoon and weekend peaks, where meeting up for coffee is more of a social experience linked to a day out or wider 'shopping' activity (an increasing amount of which may be co-ordinated online from the coffee shop).
A measure of the volume and quality of footfall past a specific site is one of the most frequently requested metrics in location planning projects.
The footfall profile of market towns shows a very different profile to most parts of London. Example data outputs are shown in our case study for Market Harborough, which has a Health Index rating of 5 out of 9. Whilst being a strong local destination for comparison goods shopping, it obviously doesn't command the same density of footfall as busy central London locations, and the proportion of Leisure outlets in the town centre is well below the GB average at 17%, and relatively stable over time.
Average high street footfall levels recorded by 10 sensors across the town are less than 10% of those in the West London centre (which can reach almost half a million per week in some locations).
You could probably have estimated some of this, although its useful to have the absolute numbers. What's more interesting to me is the shape of the daily curves, because they tell me that the morning coffee rush typical of the West London centre is even more unlikely at 9am on a weekday morning in Market Harborough.
With a maximum of 300 people per hour at 9am near Caffe Nero in the main square, that's only 6 people per minute in the market for coffee, and given the more relaxed atmosphere, I'd expect the coffee conversion rate to be lower still. The highest footfall levels are 2pm on a Saturday, when coffee shops will need to cater for family groups rather than stressed urban commuters. Naturally, this requires a very different format of coffee shop.
The Square, Market Harborough (High Street) - Footfall by day / hour
(Comparison Goods Occupiers = 39)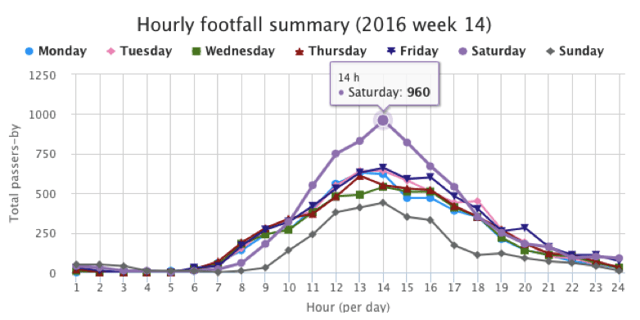 The Square, Market Harborough - Classification mix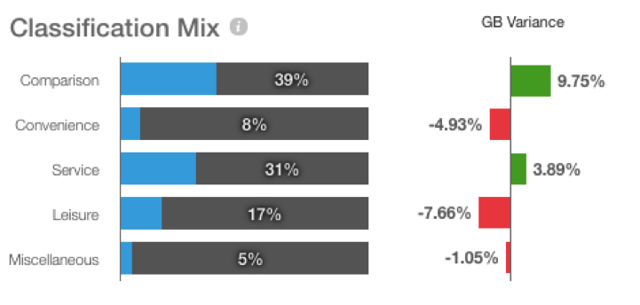 The Square, Market Harborough - Change in occupancy over time, by classification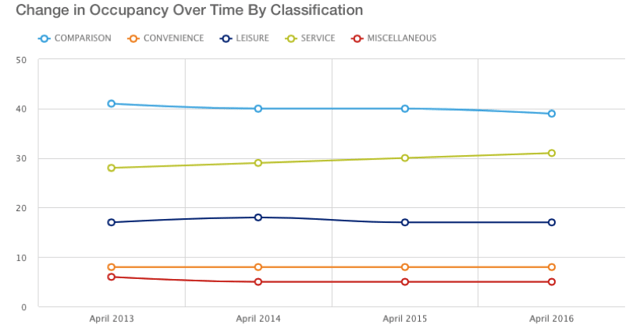 Shopping Centres
Many other retail destinations (not just town centres) with quite different catchment area sizes and demographics have similar footfall profiles to the one above, suggesting that there are some common patterns in the mix of nearby outlets.
A shopping centre in Greater Manchester has a fairly normal distribution on most days, with a peak on Saturday afternoons. Again, Comparison Goods dominate the centre, with Leisure accounting for only 10% of occupiers, and decreasing over time. Is this cause or effect, chicken or egg? Does the occupier profile reflect the inherent footfall levels in the town, or is footfall responding to the opening hours and classification mix of outlets within the centre? It's probably a bit of both.
Shopping Centre, Greater Manchester - Footfall by day / hour
(Comparison Goods Occupiers = 56%)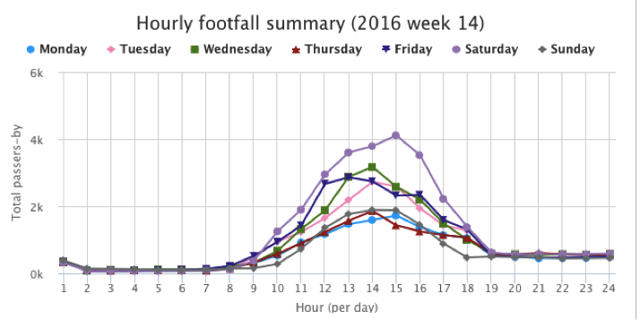 Shopping Centre, Greater Manchester - Classification mix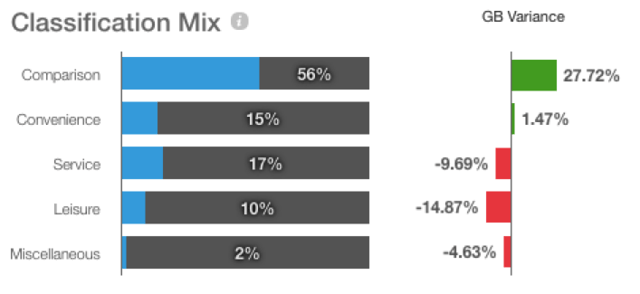 Retail Parks
A retail park in Leeds shows a similar pattern, although Sundays are much stronger than the town centre locations above. Comparison Goods account for 76% of outlets on the park, which is a destination centre with restricted Sunday trading hours.
Retail Park, Leeds - Footfall by day / hour
(Comparison Goods Occupiers = 76%)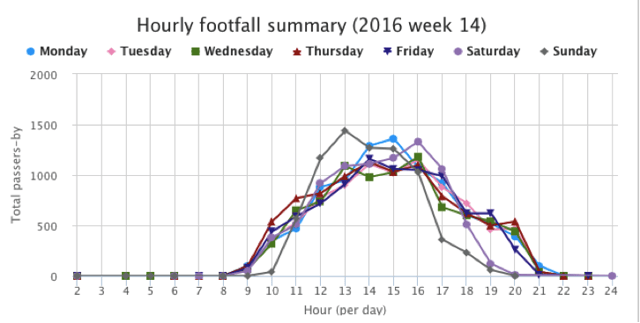 Retail Park, Leeds - Classification mix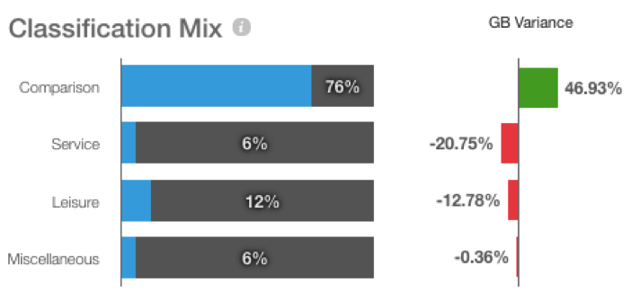 Comparison Goods
All 3 of these non-London locations are dominated by Comparison Goods occupiers, selling non-perishables rather than focusing on coffee or convenience, whereas the centre in West London is dominated by Leisure categories that tap into and give a further boost the 3 distinct peaks in footfall.
Other high streets, especially those in London have a greater diversity of occupier types, and the footfall profile reflects this, with 2 distinct footfall peaks at lunch-time and at 6pm - although not necessarily on the same day.
Patterns such as this may just be incidental, and I'm prepared to be proved wrong about suggesting a link between footfall volumes / profile and the mix of outlets nearby. But with enough sample points and the expertise of some genuine experts in this field, we can start to model this more accurately, and that's where we need your help.
SmartStreetSensor Project
We're looking for project partners to host LDC's new 'SmartStreetSensors' at a heavily discounted rate and to help contribute to the most comprehensive study of GB footfall to date. This is a result of our partnership with the University College London (UCL), Economic and Social Research Council / Consumer Data Research Centre (CDRC) and several leading British universities in a national rollout of one thousand devices for deployment in key urban locations.
By combining footfall data from over 1,000 locations, selected by UCL, with LDC's other datasets, we want to understand what makes and shapes great places. With a spread of sensors across a representative sample of locations we're aiming to answer some of the above questions and understand what magnets or mix of outlets attract people to certain places, at what times, and how key events and other factors influence pedestrian flows on Great British high streets, shopping centres and retail parks.
The sensors are easy to install, require no IT infrastructure and all data is returned securely to you via our online dashboards along with key insights from the project.
The project will build on LDC's detailed knowledge of high streets and how they are changing. This understanding will be combined with unique footfall insights to enable some of the leading academics in the field, and end users in retail planning, to better understand how high streets are used.
The end result will be better understanding of the key characteristics of high streets and what creates changes in footfall (and ultimately spending) patterns. The data will also be a rich source of location context for feeding digital marketing as it becomes increasingly important to personalise messages to the right person at the right time – for example, understanding whether somebody is more likely to be a commuter in the market for a quick take-away flat white, or demanding a more relaxing break as part of a comparison goods-driven destination shop.
As the data set builds over time, it would be a bonus if we're able to predict the potential coffee demand or pavement conversion rate in any location. In reality, we may never truly understand what drives footfall because we're looking to explain the behaviour of often irrational consumers, who are increasingly online with their minds elsewhere and expecting ever greater coffee. But we should get some fascinating insight along the way about the impact of changing consumer behaviour on some Great British places.
Find out more about the SmartStreetSensor Project by clicking here or on the image below: