August 11, 2016
With consumer behavior changing all the time, more and more retailers are experimenting with pop up or concept stores in an attempt to bridge the gap between online and offline. Whilst this isn't particularly a new play in retail, it can provide a great opportunity to expand a brand's reach or access a new market or location.
Which brings us to one of the latest concept stores, Mamas & Papas, who recently launched a smaller footprint store named One Four Four on Clapham's Northcote Road in London. The store is part showroom, part community space offering a limited range of leading products (their full range is available to shop digitally in-store) alongside an emphasis on wellness, experiences and gifting.
The smaller store marks a move away from their traditional Retail Park locations. In September 2014 Mamas & Papas were granted a CVA, with 25 of these locations at the time being classed as "currently unviable".
This exciting new boutique store not only represents a move away from larger warehouse stores, retail parks but also a move into Central London. This high street concept allows Mamas & Papas to engage with high street footfall, process orders in store, and be close to complementary retailers such as Sweaty Betty and Oliver Bonas. Likewise their idea to dedicate community space to their target audience of new mums and first time pregnancies will ensure this store is a real destination.
For this particular shop, the target audience is millennial parents-to-be. Northcote Road provides the right demographic as Richard Donnel of Savills explains 'two-thirds of buyers are aged between 30 and 39', with Wandsworth having the highest concentration of babies in Europe.
According to our Health Index which measure the attractiveness of a retail destination, the area (SW11) scores 8 out of 10, an improvement on its 7 out of 10 score in 2015. This is above the GB average of 6 out of 10.

This is Mamas & Papas' first London High street store (they currently have two stores in Westfield White City and Stratford), so we decided to take a look at their other locations across Great Britain. Using our Occupier Dashboard on LDO we are able to see an overview of Mamas & Papas' store locations.

It will not come as a surprise to see Mamas & Papas' stores in healthy locations, given their target market. However, what is truly impressive, is that 85% of their units are in strong locations with a health score above 6.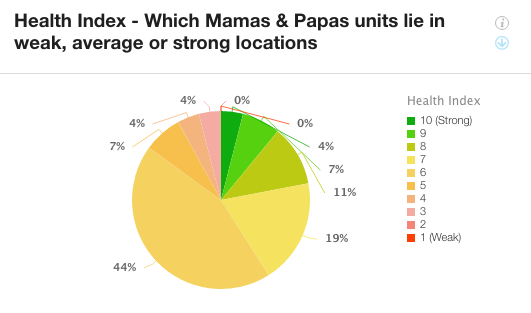 Also, 78% of the locations where Mamas & Papas have a presence, are improving.

Did you know? 78% of @mamasandpapas #locations are improving & they're launching a small concept store in Clapham. pic.twitter.com/uzvOAhHZKw

— LDC (@LocalDataCo) August 11, 2016
With 24% of their units in Shoping Centres, and 66% of their units in Retail Parks, the vacancy rates of Mamas & Papas' locations are all below the GB average (since 2011).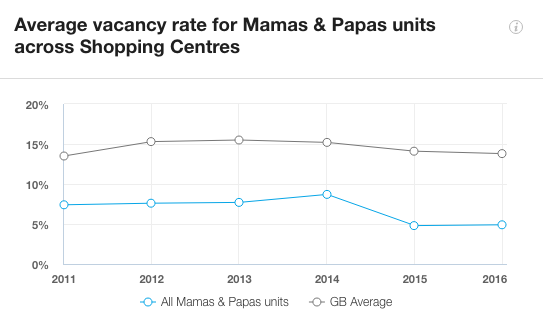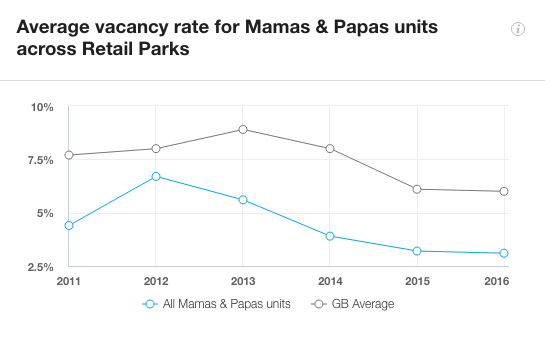 This is clearly a real evolution for the Mamas & Papas business, it will be interesting to track future concept stores as they look to roll these out.
We really enjoyed working with Mamas & Papas on an initial strategic outline and here's what Jason Greenwood, Mamas & Papas' COO said:
"Mamas & Papas worked with LDC on an initial strategy review for our London expansion. We needed granular and transparent data which would make it very easy for us to map out similar and competing brands, market health and to assess opportunities for the Mamas & Papas concept across the capital. The resulting data, maps and review workshop have helped prepare us for the next phase of our expansion and made a complex market much more straightforward to assess. We look forward to partnering with LDC again in the future."