It may not be the first thing you picture when you hear the words fast food, but our next top five fast food restaurant of 2017 was created to make life a little sweeter. We introduce you to number two, Krispy Kreme.
Krispy Kreme was founded in North Carolina, USA in 1937. It began as a single, local doughnut shop known for serving customers hot, fresh, delicious treats, something it prides itself on continuing today. We all know the iconic glazed doughnut but Krispy Kreme also offers over 15 other types of doughnuts. These range from your basic favourites like chocolate and vanilla to creative flavours like Apple Pie and Lotus Caramelised Biscoff. You can also stop in to get a coffee or milkshake.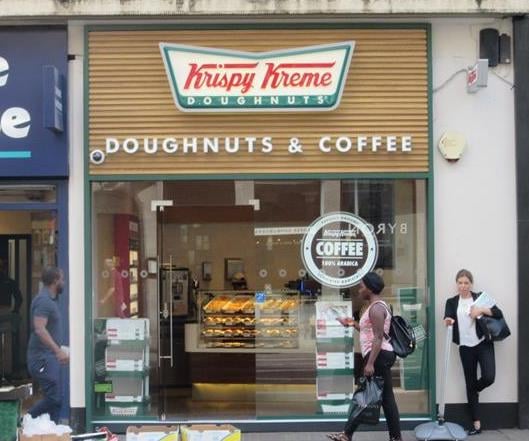 Image 1: Krispy Kreme London Unit on High Holborn (Source: LDC).
Krispy Kreme opened its first UK-based store in 2003, taking a unit in Harrods department store. Since then it has opened multiple other stores in Britain, Scotland and Wales, quickly making it a favourite treat for anyone with a sweet-tooth (like all of us here at LDC).
Krispy Kreme currently has a 104 strong estate which covers the breadth of GB. It reaches all the way up from Aberdeen down to Plymouth, with all areas in between pretty well represented as can be seen from the map taken from our location insight platform, LDO.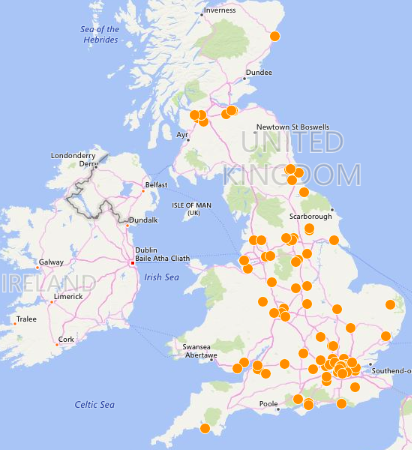 Image 2: Map of the Krispy Kreme store portfolio (Source: LDC).
In terms of health, Krispy Kreme has a relatively healthy estate, with their stores' locations ranging from a 5 to a 10 in heath and the majority (31%) in a healthy location with a score of 8. Krispy Kreme has gravitated towards positioning their stores in shopping centres, offering sweet treats as a pick-me-up to flagging shoppers. LDC data on Krispy Kreme stores shows 74% of the estate sits within a shopping centre, 15% are located on the high street and 9% are in out-of-town locations. Only 5% are situated on retail parks - this reveals how different the offer and the operational model is for Krispy Kreme compared to other fast food occupiers who often gravitate towards retail parks.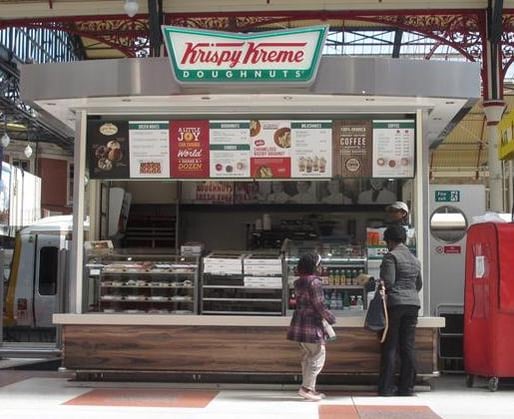 . Image 3: Krispy Kreme Unit in Victoria Station (Source: LDC).

In 2016, Krispy Kreme opened 26 new stores and closed 5, resulting in a net new total of +21. Eight of these were spread across Edinburgh, Glasgow and Aberdeen, revealing a push to provide their sugary wares to Scotland. Of the new openings, 21 stores were introduced into shopping centres, showing that this location type is the 'sweet spot' for Krispy Kreme. The other five locations included travel hubs in Manchester, Edinburgh, Glasgow and London and one out-of-town unit in Peterborough.
2017 brought another super year of acquisitions. Krispy Kreme had 31 openings and 12 closures, producing a net increase of 19. The freshly opened stores were situated in a mix of cities and large towns with the highest volumes of openings being in Reading, Doncaster and Glasgow each opening 2 units, and 6 in Greater London. Overall, there was a fairly even spread of openings with no regions losing numbers of stores overall. The fact that Krispy Kreme are willing to open and close stores at a relatively high rate, but don't seem to be contracting within any regional market, shows how agile they are with their store locations. Not being afraid of churn, Krispy Kreme are willing to move the locations of their stores to ensure they are always in the best and most profitable sites as locations change and evolve over time.



Image 4: Krispy Kreme presence by region (Source: LDC).
To take this to the next stage, Krispy Kreme should review footfall around their locations. Not just to benchmark their stores, but to also identify the best streets and micro-locations in which to move/open their new stores within a current market. To read more on how you can access LDC's footfall data collected from our growing network of SmartStreetSensors, visit our footfall webpage www.localdatacompany.com/footfall.
Krispy Kreme have a powerful strategy. They know what works for their brand and they stick to it. However this doesn't mean they are afraid to change and adapt alongside the increasingly rapid pace of change of our GB retail locations to ensure that their stores are in the most impactful locations possible. It is this flexibility in all aspects of their business which has brought them to number two of our top five fast food outlets of 2017, and we think they have a very sweet future indeed.
Next time, we make the big reveal and announce the American burger brand that takes the crown. It might not be who you think…
For more information about our field researched data base and what insight we can provide about your competitors, or the market as a whole, then get in touch with us at sales@localdatacompany.com or call us on 0203 111 4393.