May 23, 2018
Five Guys is an American burger joint which originated in Virginia DC in 1986, when the Murrell brothers were encouraged by their parents to start a business. As the family grew, so did the business, which resulted in them naming the brand that is known in several corners of the world as 'Five Guys' (representing the five Murrell brothers). The unique selling point for Five Guys was the ability for its customers to be able to customise their burger with as many fresh toppings as you could imagine. They also focus on fresh, locally sourced ingredients and to this day, Five Guys don't have a single can opener or a freezer in any of their stores worldwide!
In early 2003, the chain began franchising and by 2012 they had around 1,000 locations across the US and Canada. In July 2013, Five Guys hopped across the Atlantic to open their first store here in the UK in London's Covent Garden, which on its opening day had burger-hungry Londoners waiting in line for four hours! They've not looked back since.
Image 1: Five Guys, Covent Garden. (Source: LDC)
Today, Five Guys have 83 UK stores and have won awards including Market Force and Sunday Times' Fast Track. Most impressively their bacon cheese burger currently holds the prize as being the 3rd most ordered item globally on food-delivery service Deliveroo! Am I making you hungry yet?
All this is quite the accolade. So we turn to LDC's data on Five Guys which can tell us a bit about their expansion as a part of this prolific success.
The map below (taken from our location insight platform LDO), shows us how Five Guys' GB estate is currently spread out. We can see that Five Guys' stores are pretty evenly spread across the country, in the major cities with (unsurprisingly as this is where they initially landed in the UK) a cluster around London.

Figure 1: Map of Five Guys estate. (Source: LDC)
But what do all these locations have in common? Figure 1 above shows us that, overwhelmingly, Five Guys' stores are situated in pretty 'healthy' locations according to LDC's Health Index which uses LDC's data on charity shop, cinema and anchor retailer presence, dwell time, and catchment size and spending power to form an index ideal for understanding how well a location is fairing. 82% of Five Guys stores are located in areas with a health index score of 6 or over. About half of their stores are located on high streets, 36% in shopping centres and 12% are on retail parks, which is more than some of the other brands featured on our top five.
Figure 2: LDC Health Index figures for Five Guys. (Source: LDC)
But what does their more recent growth look like?
In 2016, Five Guys opened 11 stores spanning across the country from the chilly shores of Aberdeen, all the way down south, serving the roundabout fans of Milton Keynes and only one new store opening in our great capital. In terms of location types, six opened on high streets, four in shopping centres and just one in a retail park - Meridian Leisure Park in Leicester, which (according to our field researchers who visited the area in September), is still open and in full swing.
In 2017, Five Guys doubled their expansion, opening 24 new stores across GB. During this time, Five Guys focused their expansion more on Greater London, opening seven of the 24 in this area alone. However, they have also expanded across GB, growing in number across all regions apart from Wales and the North East. Outside of London they seem to have mainly focused on a Northerly expansion, opening three new restaurants in Scotland, two in Yorkshire and three in the North West, suggesting that Five Guys intends to have a significant coverage across both the South and North of Great Britain.
Openings for this brand in 2017 follow a similar pattern to the previous year, matching the split of their current estate, in that openings on high streets and shopping centres dominated and once again, one store was opened on a retail park (Coliseum Leisure Park in Cheshire).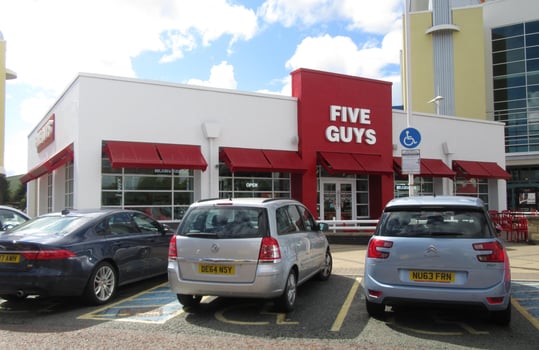 Image : Five Guys unit on Coliseum Leisure Park in Cheshire. (Source: LDC)
For Five Guys, it would seem that their main focus is to continue to expand its presence on high streets and in shopping centres, where hungry shoppers can pop in for a burger and chips fried in Five Guys' distinctive peanut oil. They do however seem to be 'dipping their toe' into the world of retail parks, but within this location type, they have chosen the parks more focused towards a leisure offer, with nine of the ten parks with a Five Guys site named specifically as 'Leisure Parks'. They have also chosen the most desirable of these locations, which create a leisure destination for consumers as both the new leisure park sites opened since 2016 (Meridian Leisure Park and the Coliseum Leisure Park) have a Health Index of 7, very healthy indeed and feature many different entertainment and leisure options.
So, let's look at another factor. Are Five Guys so successful because they targeting places where competition in the fast food world is low? Not necessarily. Only five of the 18 towns or cities that Five Guys opened in last year are under-represented by the 'Fast Food Takeaway' category in the LDC database suggesting that they are not afraid to take on competitors head-on.
What's their secret?
Five Guys seem to have cultivated a winning strategy, appropriate for their brand values of providing a family friendly environment which meets their philosophy 'to perfect and serve', bringing together the food and experience that their customers love - and they are sticking to it. Targeting high street and shopping centre locations that are in areas that are performing well and can ensure a steady flow of revenue for the brand and stick to the 'destination' out of town leisure parks which are focused on providing a fun day out, not just a meal. Simple, but clearly very effective. Their unique approach to burger customisation and providing fresh and local ingredients is enough to differentiate them from the raft of other fast food providers that are looking to tempt us into a take-away, so they have no need to shy away from their competitors.
We wish Five Guys all the success for 2018 and beyond! And for the record, mine is a bacon cheese burger, extra pickles.