LDC's ground-breaking new GB footfall heat map is being launched on 14th September 2017 and will enable you to:
Build an accurate picture of hourly footfall activity around your estate or micro-locations.
Benchmark the performance of your portfolio against the rest of the market.
Understand the viability of locations and how appropriate your operating model is for the local environment.
Understand the impact of key events and seasonality within a town centre.
Over the past 12 months our tech team has been hard at work developing a brand new online footfall heat map, which has been created off the back of the success of our SmartStreetSensor Project.
The project was launched back in 2015 in conjunction with University College London (UCL) and the CDRC, and had the aim of finding a more accurate way of tracking footfall around Great Britain. Our customers wanted to really understand the micro-trends on the high streets of Great Britain and the impact this could have at a store level.
We've been overwhelmed by the positive response to this project and we now have around 1,000 footfall sensors using LDC-designed technology allocated to host sites across GB. Now that we've got a good level of coverage, we wanted to maximise the value that we can extract from this data and hence, our ground-breaking new footfall map was born.
With the help of three talented data scientists and a forever passionate and hardworking technology team, we are excited to release our new GB footfall heat map screen on the 14th September at our 16th Retail and Leisure Trends Summit. This innovative new dashboard will change how footfall data is used and will provide occupiers, landlords, local authorities and BIDs with detailed data on micro-locational trends, which can be used to drive growth, assess existing estates and understand how our town and city centres are being used on an hourly basis.
The new footfall map screen comes with some unique features, based on feedback from our current SmartStreetSensor partners and I'm going to preview a few of them here for the very first time:
Highly visual representation of footfall hot spots by hour, at street level across a given town or city centre.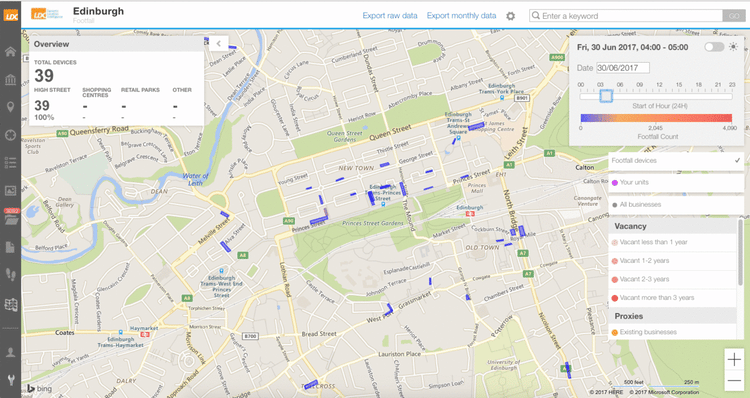 As you can see above each polygon indicates where we have a sensor installed (keeping the exact store location anonymous for our hosts), and the colour of the shape is linked to footfall volumes, cold blue to a hot red. Hover over the shape to view the location of the device, with volumes of footfall for the chosen time and what the peak footfall time is for that location. Further information is also provided including any footfall generators that are in close proximity, such as transport links and pedestrian crossings. From this screen you can then click to view comprehensive footfall trends for that particular street.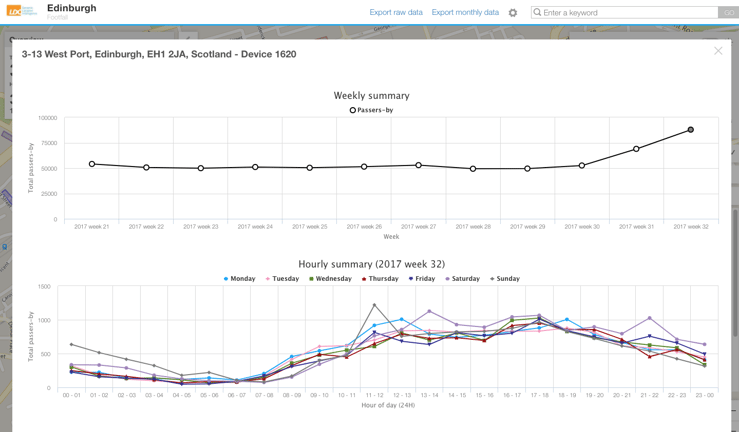 Benefits
Understand micro-locational footfall trends in full context with the surrounding retail provision understanding where any footfall generators such as transport links and pedestrian crossings are, allowing you to make completely informed decisions on site potential.
Identify and verify potential new locations for your brand through a detailed understanding of footfall hot spots and knowledge of the pitch with the most appropriate footfall for a given operating model.
Understand how your business should operate within a current location, such as opening hours, promotion and marketing activity, based on data and quantitative evidence.
Review the effectiveness and impact of marketing in and around your store.
Track how footfall changes around your portfolio as the retail provision in the local area changes over time. This will enable operators to better understand the performance of a given estate in context and to identify any risks and opportunities in each market.
Evaluate like-for-like sales in the context of like-for-like footfall in each market. This will be valuable as part of rental and lease negotiations as well as more generally having an awareness of the exposure of your store estate to an ever-changing market.
View footfall in other benchmark towns to identify potential new locations that have similar trends to your most successful stores and a high likelihood of success, based on temporal data and hard facts.
Understand the impact of key events in any location, and how this varies across a town centre.
View how the footfall hotspots vary across a town centre to determine what occupiers would work well in your town.
The ability to layer footfall data with LDC's core data on:
Vacancy/persistent vacancy
Openings and closures
Retail mix
Location of competitors/proxies
Drive time catchment size
Surrounding retail stock and brands
Information about units including when they opened, website information and vacancy within a 200m radius.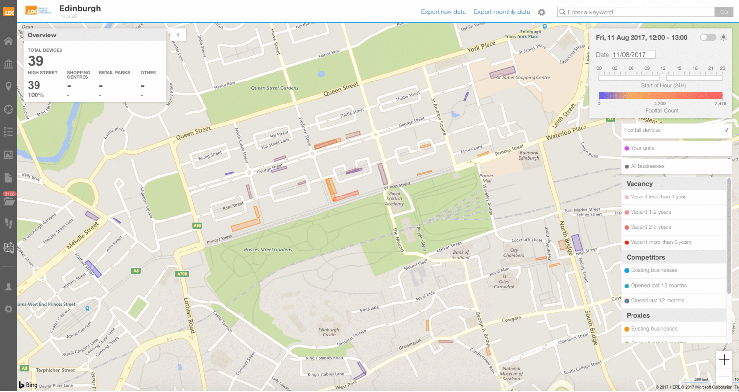 The highly dynamic and visual map allows for additional data layers to be toggled on and off, choosing the data set that is most relevant for your analysis. This enables operators to build an accurate and detailed picture of micro-locations using the variables most appropriate to any given brand. This will help to inform decisions on re-locations and new store planning as well as being able to track and benchmark performance.
Benefits
The customisable and dynamic new screen allows you to pick and choose the information that is most relevant to your brand and map layers of data together at the click of a button in a simple and visual way. This allows you to understand how the flow of a town works in relation to its stock and how this changes over time.
View multiple data layers in one place, at the same time, to make analysis easy.
The opportunity to toggle between the day time and night time view for easier analysis of footfall trends per hour for retail vs. leisure operators as appropriate to your business.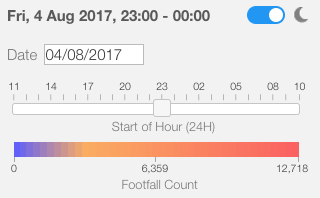 Choose between a day time and night time view, and select which hour to start your analysis on. This is a useful tool for operators or councils that are interested in the night time vs day time view for any location, or operators that only open in the evenings and only wish to view the evening trends.
We will be releasing more information over the coming weeks on our leading-edge new footfall heat map, so please watch this space. We are incredibly proud of everyone's hard work, as well as the engagement we have had from the retail community which has been overwhelming, and we can't wait to share this with you.
The new footfall map screen will be released at our 16th Retail and Leisure Trends Summit, on the 14th September. If you have not applied for a ticket yet, please do so by visiting the event page here.
For more information, a demo, or to register your interest for the new footfall map screen, please get in touch with a member of the team by emailing us at sales@localdatacompany.com or giving us a call on 020 3111 4393.