May 26, 2021
Cengiz Rahmioglu is one of the names behind a brand-new concept, Burning Rose; a Thai restaurant which aims to bring big flavour and food discovery back into people's lives.

Cengiz has years of experience working in both the food service and delivery sectors, having previously held roles at both healthy fast food brand Leon and delivery giant Deliveroo. It was at Leon that Cengiz met the team that would go on to create Burning Rose. We sat down (virtually) with Cengiz to talk about his experience of launching a new hospitality business during the COVID-19 pandemic.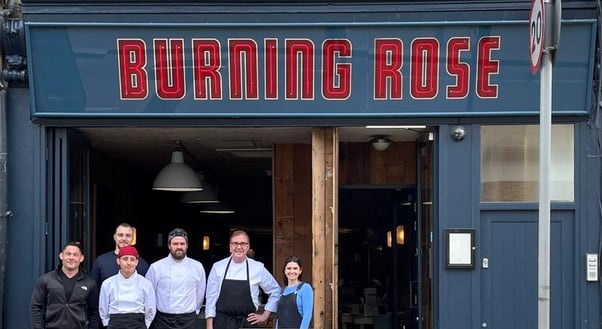 Cengiz (left) and the team at Burning Rose.

Sarah: Hi Cengiz, thanks so much for agreeing to sit and speak with me, firstly can you tell me a bit about Burning Rose?
Cengiz: There is so much to tell you! Burning Rose opened its doors in mid-April so we are still very new and constantly changing, for example we are currently focused on the best way to welcome dine-in customers in preparation for the mid-May unlocking.

But anyway, I'll start with the big picture. I am working with a great team who like Thai food and the people of Thailand a lot. Some of us grew up there. Some of us have travelled there. Some of us have lived there. Our head chef has worked in a few of the most notable Thai restaurants – including the first two Thai restaurants awarded a Michelin star. Now we want to share what we've learnt with you, whilst making sure we keep learning too.

We really wanted to dial up the flavour profile of Thai food in the UK and brighten up people's lives on a Thursday, Friday, Saturday evening. It's fair to say that everyone has had a tough year and food has been one of the most important things that bring pleasure even during tough times. It's also sadly very unlikely that we'll be able to travel to Thailand in the near future, so we wanted to bring the Thai colour and spirit to the UK instead.


Sarah: What's your experience of creating a new hospitality brand during the pandemic?
Cengiz: Working on this project during Covid has brought challenges but also opportunities. The hospitality sector has been dealing with a few challenges even pre-Covid, such as crazy rents, business rates and access to talent. However, there is now more access to space at the right price so the fresh start has been great.

Before, if you were starting a new concept, you would look at urban areas such as the City or the West End. Today this has flipped and you're now looking at the more suburban and residential areas. We want to be part of a local community from day one rather than starting in city centres and branching out into the suburbs.

Because of the restrictions over the past few months, we started out providing takeaway and delivery only, which worked really well and gave us the opportunity to focus on getting the kitchen operations working perfectly. Now, we can build on the business piece by piece; we used lockdown as an opportunity as we didn't need to worry about all the different channels at once, leaving us to focus on operational excellence.

Our consumers have also been really engaged which has been a great surprise. We've been able to collect feedback from about 30-40% of all orders so far which is hugely helpful to ensure we learn as we go and know what we may want to do differently in the future.


Sarah: How has Covid changed consumer habits in the food service sector?
Cengiz: In some ways, Covid has accelerated what was already happening in terms of people seeking greater convenience. Today, motivation for ordering food is mainly not wanting to cook or getting something that you would not be able to make yourself at home. Consumers can't spend their income on holidays at the moment or going out on a Friday night but they still want to treat themselves.

We've focused on that 'treat occasion' and have made sure the customer experience is really good. Historically, many delivery experiences that I have had in the past left something to be desired. A good delivery experience has historically been that the food arrived on time without anything missing. We wanted to set the bar a bit higher than that. With operators such as Dishoom offering delivery, restaurants are starting to think about the 'at home' occasion, rather than it being an afterthought; it's a critical part of their strategy.

That's probably the biggest change. Where we expected customers to be in five years' time - they're already there. And there is now an opportunity for restaurants to catch up, asking questions such as 'how do I interact with a customer who is not dining in my restaurant and meet their expectations?'.

Sarah: How are you working to meet these new expectations at Burning Rose?

Cengiz: We are working to what I like to call a 'delivery-first' model - we had delivery in mind from the offset – i.e. menu-breadth, packaging and making sure that food travels well. So not offering something like a papaya salad which would not travel well in a bag with hot curry.

It's interesting to see that people are often less adventurous with delivery food than in a restaurant -store, so for us, it's about creating them better versions of the food they know.

We also use a lot of the same thinking as we did at Leon. For example, during innovation sessions we would say 'what would McDonald's in heaven be like? If you had chicken nuggets in heaven, how would they taste? Would they be made from real, tasty chicken thighs?' and essentially using that thinking to come up with a menu.

So, using this thought process at Burning Rose, we're asking ourselves 'if you had the best Thai green curry in the world, what would that taste like?' and then we work back from there.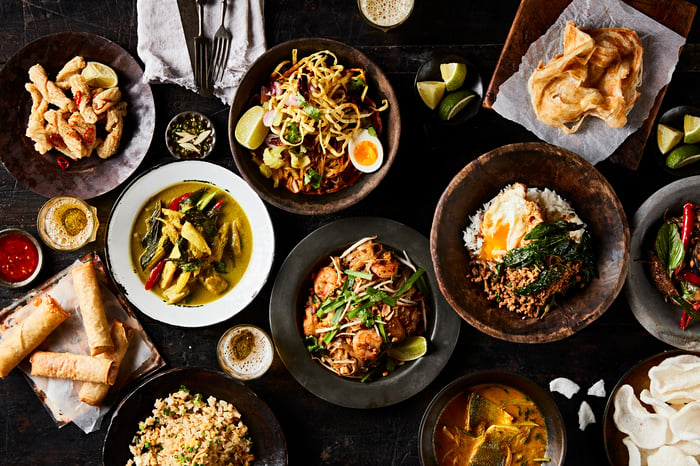 The Burning Rose team drew on past experience to create their menu.
Another challenge now is that people have had a lot more free time, so many have upskilled in terms of cooking which has led to higher expectations when it comes to ordering food in. Restaurants have to work a bit harder and think about the offer as a package alongside the experience. Our answer here is that it's very difficult to make the perfect curry paste from scratch at home or create the perfect caramelisation on a pad Thai without a commercial wok burner. This is where we provide that added value.

Sarah: How will Covid impact your expansion strategy?

Cengiz: I'm actually trying not to think about Covid too much. For me, the current focus is to spend the next 3-6 months developing the best systems and processes in place to create a consistently great experience for customers. At the end of the day, you're judged by the one negative experience, despite many other positive ones. So, while I think there are great opportunities for growth with the brand, I'm intentionally not thinking too much about the future right now.

However, with the world changing around us, there is an opportunity to think about formats, and this will be something we'll think about at some point. We felt really strongly that our first location should be a bricks-and-mortar unit, something that customers can touch and feel. There is lots of talk about virtual brands and dark kitchens etc. but I think that food and branding is emotional and it's important when creating a brand that is has a soul. Maybe I'm old school but I do think it's critically important to have a high street presence so customers know you are a real place with a speciality that they can see and experience for themselves.

Sarah: How many sites do you foresee in the next 3-6 months?

Cengiz: There is already demand for us to go faster. In my head I do have ideas about where sites 2,3,4,5,6,7 should be. If everything goes well we will grow, but we're not committed to a specific number.

The worst thing, which we've seen a fair few times, is where brands get good momentum, expand too fast and then the customer experience is not executed well and you get lost in the crowd quite quickly. For us, if we need to go slow in order to build something long-lasting, that's what we'll do but equally we hope there will be more sites in the next 12 months. It's quality over quantity. Over number of sites, we are more interested in how many customers we serve that are happy with what we have provided. Number of sites is more of an ego-driven metric which makes a good headline but isn't the end outcome that we are focussed on right now.

Sarah: What would your advice be to anyone opening a new hospitality concept at the moment?

Cengiz: Probably three things. First one is to not fight the delivery platforms. I think they've been viewed as a necessary evil, which they're not. Whether we like it or not, the world has fundamentally changed over the past few years and it's not a matter of whether you need to offer a delivery proposition, but how to maximise value from it. You should always think about whether your model can be delivered to customers at home. That is fundamental. Although there will always be brands that will want to focus on the dine-in experience first.

The next is the importance of being data-driven, especially with location selection and is arguably even more important than it was before. For me, it's a combination of the hard, quantitative data that you provide at LDC, but also immersing yourself in every single site that you are looking at, scouting the streets, talking to people and understanding the local offer and customer expectations. That's probably one of the parts where we spent a disproportionate about of time in Balham before we opened. Data is one of the most underutilised assets. I think it'll be increasingly important, not just in property selection, but in menu, offer, pricing and how you market to customers.

I think it's fair to say that FMCG, grocery retailers etc have been using digital marketing for years but restaurants have been slightly later to adopt. It'll be important for every restaurant marketer to understand how customers are acquired and how to surprise and delight them so that they keep coming back. It's also about thinking about putting service recovery systems in place when things go wrong so that even when a customer has a bad experience you can turn it into a positive. It's almost thinking about yourself as an e-commerce provider in a lot of ways, which restaurants are not used to doing.

People often think on Deliveroo, how do I improve my list position, in terms of the ranking algorithms for example. However, that's the wrong question to ask. What about your customer funnel and how you are getting customers through the door? The list position is just an output at the end of the day and not something to be focused on.

So if I took a step back, I would say:

• Delivery is your friend and it's here to stay
• Be data-driven across your business
• Lastly, the importance of digital marketing and winning in the digital high street – the rules of the game are changing.

Sarah: What is your favourite Thai meal?

Cengiz: Ohhh, good question! I can probably give you two answers: A classic prawn pad thai, it's not the most adventurous of meals, but in terms of the flavour profile and the sweet and savoury it's my comfort food and what I always go back to.

More recently, it's Chiang Mai Noodles & Chicken (also known as khao soi), which is our signature dish on our menu. As we are having a colder spring than normal it's a really heart-warming dish in terms of the depth and intensity of flavour, it really shows why Thai food is so amazing and raises the bar on how exciting food can be.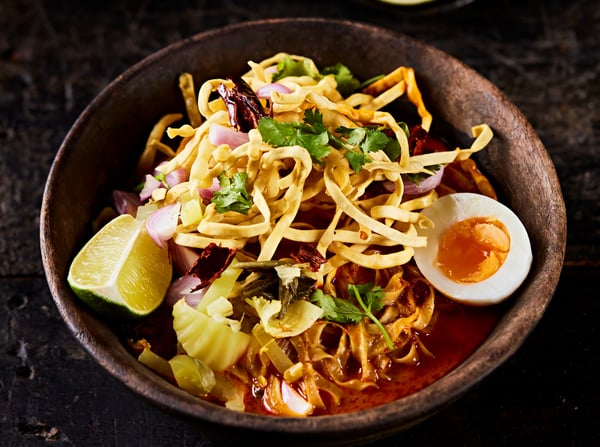 One of Cengiz's favourite dishes, khao soi.
Food is supposed to be an adventure and our aim is to tickle people's tastebuds, giving them a delightful surprise when they eat something for the first time. Khao soi definitely does that, I've had it way too many times in the past few months – it's too good not to!


Burning Rose is located in Balham and is open now for takeaway and delivery. Visit their website at https://www.burningrose.co/. They can also be found on Facebook, Instagram and Twitter @burningrosethai.