August 29, 2018
The 28th August marked the two year anniversary of the final closure of high street stalwart BHS after 88 years of trading. Even though two years has passed, BHS is still a relevant topic for many, as the stores often occupied sizable units in prominent locations and acted as the anchor for many towns and cities. So, two years on, how many of these units have been re-occupied? Who is the retailer who has taken most of the stores? What is happening to these large-format stores? The latest LDC data, analysed by Senior Insight Analyst Ronald Nyakairu tells us everything we need to know about the estate today.
Key findings from the analysis include:
52% if the BHS stores are still vacant, 2 years after the last closure.
Other units have been demolished, split or merged into existing stores to expand floorspace (see figure 1 for a breakdown).
Figure 1: Current status of BHS units across GB. (Source: LDC)
Primark has been the main re-occupier of BHS stores across GB, with 7 of the former BHS stores becoming Primark units. Primark has taken this opportunity to expand its estate by taking some of the larger units in towns, merging units to expand an existing store or using them as temporary accommodation as they refurbish (e.g. Kingston).
B&M Bargains has been the largest re-occupier of ex-BHS stores outside the fashion sector, with a new unit opening last week in part of the former BHS store in Blackpool.
The most common use of the space has been brands merging different fasciae under one roof, e.g. Poundland opening with Pep&Co concessions, Next opening with a Next Home and/or Lipsy and Sports Direct opening with USC and Flannels concessions.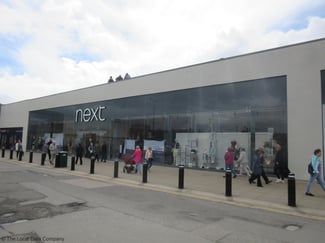 Image 1: Before and after transformation of the BHS store in Coopers Square Shopping Centre in Burton Upon Trent - Split into a Next and H&M store. (Source: LDC).
Landlords have also had to invest in refurbishing and refitting the space to attract retailers. Examples of this are in Weston-Super-Mare where the unit has been split to accommodate a B&M Bargains and Specsavers as well as in Peterborough where a Joules and a Smiggle opened in the reformatted store
Alternative uses for the former BHS units have included the proposal for 130 new homes on the site of the former Ealing store, with So Resi set to launch these properties in 2019.
The majority of former BHS units have been re-occupied by occupiers classified as Comparison Goods Retailers (includes physical goods such as books, homewares, clothes etc), although some units have been split to accommodate smaller Leisure offers such as Gyms (Pure Gym and The Gym) and German discount supermarket chain Lidl.
A concern is the impact these openings may be having on the new occupiers' existing estate, with examples of retailers closing secondary stores in the town as they consolidate into the larger flagship store (Next set to close a store in Gateshead after Intu MetroCentre flagship).
Figure 2: Breakdown of brands to have re-occupied BHS units. (excludes concessions, includes deals agreed). (Source: LDC).
The North East has seen the highest percentage of re-occupancy of BHS stores, with this region providing the most opportunity for many multiple occupiers as many do not already have a presence here.

Image 2: Before and after transformation of the BHS store in Middlesborough. (Source: LDC).
Greater London has the second highest percentage of re-occupied BHS stores which is not surprising as this is where the highest demand lies, not only for retail, but also alternative uses e.g. Office and Residential
Figure 3: Regional breakdown of former BHS units by status. (Source: LDC).
Senior Insight Analyst Ronald Nyakairu commented
"Retail is experiencing its fair share of challenges with dust not yet settling on the House of Fraser administration and its subsequent acquisition by Mike Ashley. Two years on from the closure of the last BHS store, just over half of stores still remain vacant. This is indicative of the challenge landlords will face over the next 12 to 18 months as more department stores close. However, research has shown that with skillful asset management, landlords can find new uses for these properties. Many of the store owners have either reformatted the stores to create smaller units for expanding fashion chains like Joules and Uniqlo, or targeted occupiers that can utilise the extra floorspace to add concessions like coffee shops or sister brands such as Next opening Lipsy and Next Home. Looking forward the challenge will remain as the list of occupiers who are both looking to expand, and who don't already have a presence in the towns set to see closures is not limitless."
For more information on the BHS estate, or questions regarding the data above, please contact the LDC press team at press@localdatacompany.com.