Recently there has been a considerable decrease in the presence of Italian food restaurants across Great Britain. Store owners have attributed closures to increases in costs and the tough economic climate among other reasons. Bella Italia, Wildwood, ASK Italian, and Frankie & Benny's have closed eleven locations in the last year alone. One chain in particular that has struggled is Jamie Oliver's restaurant, Jamie's Italian. The chef's restaurant has decreased its presence by 19% over the past 3 years down from 47 units to 38 units. From April 2016 to April 2018 Jamie's Italian closed 15.4% of stores in Greater London, taking them down from 13 units in to 11, 23% of its stores in the South East (13 to 10 units), and 60% of its stores in the South West (5 to 2 units).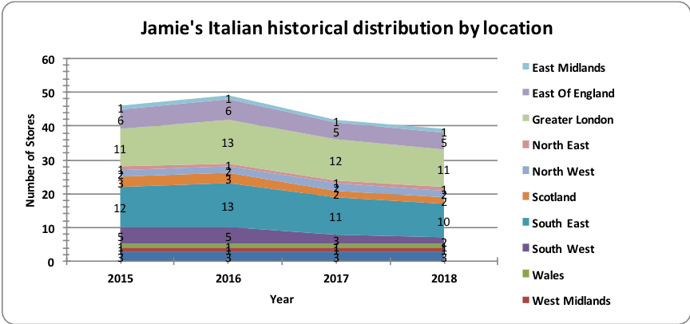 Figure 1: Jamie's Italian Locations 2015-2018 (Source: LDC)
The company has closed 7 of its 31 stores on the high street (a decrease in presence of 22.6%) and closed 7.7% (1 of 13 units) of its stores in shopping centres as well. Of the remaining stores, 61% (24 units) are on the high street, 31% (12 units) are in shopping centres, and 8% (3 units) are elsewhere.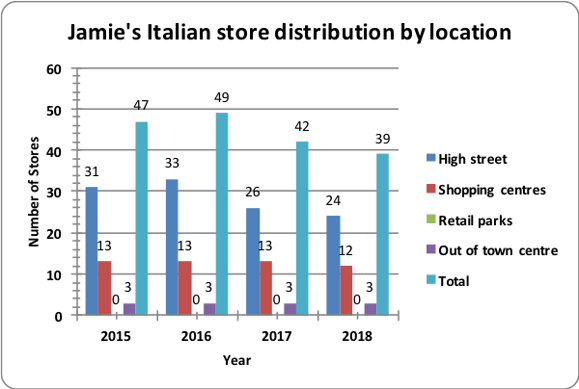 Figure 2: Jamie's Italian Store locations (Source: LDC)
In order for the restaurant to stay afloat, the Jamie Oliver Restaurant Group agreed to a Company Voluntary Arrangement (CVA) with its creditors that will shut down nearly one third of the chains locations throughout the UK. The guardian reported that "in January [2018] the chain said it would close 12 of its 37 UK branches, as part of a rescue deal with its creditors to keep trading". The Jamie Oliver Restaurant Group was in nearly £75 million of debt and needed to close many of its locations that were losing the company money. Company reports showed "that Jamie's Italian had debts of £71.5m, including £30.2m of overdrafts and loans. Landlords, HM Revenue and Customs, suppliers and other creditors were owed £41.3m and staff were out of pocket to the tune of £2.2m" (Source: inews). Jamie's Italian has attributed increased competition, increased living expenses, the cost of closing stores, and overall rising costs as result of Brexit to their struggles.
Image 1: Map of 38 Jamie's Italian Locations (Source: LDC)
Of the regions which have multiple Italian units, 11 are in Greater London, 10 are in the South East, and 5 are in the East of England. These three regions have the highest density of units, but are also where stores are closing. Areas with only one location have stayed open for the most part. Recent closures have been in London, St. Albans, Bath, Bristol, and Portsmouth. One closed in St. Albans while two remain. In both, Bristol and Portsmouth the Jamie's Italian restaurant closed.
In each of the towns where Jamie's Italian restaurants have closed there was a high percentage of Italian restaurants in the area. In St. Albans 10 of the 64 restaurants are Italian which is about 16% and of these 6 were national chains. In Bath, 20 of the 116 restaurants are Italian (17%) with 4 being national chains. In London, 434 of the 2,913 restaurants are Italian (15%) and 57 are competitors. In Bristol 23 of the 131 restaurants are Italian (16%) and in Portsmouth 15 of the 68 restaurants are Italian (22%). In each of the regions in which a Jamie's Italian closed, Italian restaurants were either the market leader or held the second biggest market share in terms of cuisine options. This is likely a reason that Oliver's restaurants were unsuccessful in these areas with the high levels of competition leading to increased pressure on the bottom line.
What Will Happen to the Stores That Have Closed?
There is a high chance that in each of the locations where Jamie's Italian closed another restaurant will move in that does not have a presence in the area.
St. Albans
Pizza restaurant Franco Manca is a company that could move into the St. Albans location that Jamie's Italian has closed. The company has grown 30% YOY opening 10 restaurants in the past twelve months and currently has 39 restaurants open across Great Britain. The pizzeria has a few shops to the west of London, but St. Albans could be where they look next.
Bath
The Vietnamese food chain, Pho, is a company that may be a good fit in the Bath location that Jamie's Italian has vacated. Pho has opened 5 stores in the past year at a growth rate of 25%. Most of their locations are in the Greater London area; however, the company has one restaurant in Bristol so Bath may be a location they move next.
London
The Threadneedle street location which Jamie's Italian recently moved out of may be of interest to Gourmet Burger Kitchen. The restaurant chain currently has 88 shops across Great Britain and has opened 6 YOY with a growth rate of nearly 8%.
Image 2: Jamie's Italian, Threadneedle St. London (Source: LDC)
Furthermore, this location has previously held retail stores as well as banks so do not be surprised if another restaurant does not move into the Threadneedle street location and the unit has a change of use.
Bristol
Honest Burgers may look to move into the Bristol location that Jamie's Italian has recently closed. The restaurant has 24 shops and has recently opened 6 at a growth rate of 33%. They currently have two locations outside of London and as they continue to grow they may look to enter markets like Bristol.
Portsmouth
A restaurant chain that is likely to move into the Portsmouth location that Jamie's Italian has closed is Miller & Carter. The chain has grown +42% over the past year opening 24 new stores across Great Britain. They currently have only two locations on the southern coast of England and at the rate they are expanding Portsmouth seems like a great location for Miller & Carter to open their next restaurant.
Conclusion
Over the past three years Italian food chains across Great Britain have faced difficulties due to increased competition and costs which have led to the closure of many locations. In this period, Jamie's Italian has closed 9 locations down from 47 to 38 units today, decreasing its presence by 19%. In order to survive, the Jamie Oliver Restaurant Group has said through its CVA that the company will close 12 more locations throughout 2018. Will this be what Jamie's Italian needs to turn things around? We will just have to wait and see.