October 4, 2019
A few weeks ago an article in the Sunday Times caught my eye titled 'Hunting for Bargains'. The article discussed how both UK and international property investors were taking advantage of falling property valuations and were waiting on the side lines ready to pounce at the opportune moment, 'hunting for bargains amid the wreckage on the high street'.
Whilst I'm not sure I would describe the high street as a 'wreckage', the reason this caught my eye is that Local Data Company has been involved in supporting investors in market tracking and due diligence activity; assessing current and future health of assets in order to understand which investments will yield the best returns when the property market returns to better health.
We work with our clients to assess the most attractive assets on sale to support identification of the highest-yield investments, providing data and analysis to reduce risk in decision making and support business case development when presenting to investment committees.
Knowing the ground truth is crucial given the unprecedented rate of change in the market, which is why we deploy a team of 50+ field researchers who physically survey over 1,200 retail parks, 680 shopping centres and 1,200 high streets across the country. Our researchers collect the occupancy and vacancy status of all units and this information is fed back into our database and online analytics tools every day, providing our clients with as close to a real-time view of the market as is possible.
We have been collecting this data for 10 years and now have a vast amount of accurate and rich information on how GB assets have performed over time. This allows us to spot trends such as trajectory of health and identify which assets are ripe for investment.
We qualify attractiveness of assets via several metrics including:
Retail and leisure category mix
Proportion of premium, mass and value offer
Percentage of independent and multiple offer
Number of anchor retailers present and recent openings and closures
Historic and future exposure to CVA activity
Rate of occupier churn
Presence of growing brands
To demonstrate the type of insight we deliver for our clients I'm going to provide a quick overview of recent analysis completed by our Insight Team on The Brunel Centre in Swindon.
The Brunel Centre in Swindon is one of the main shopping destinations within the large town centre. Having previously suffered from a high vacancy rate (22.9% of units were vacant in 2017) more recent times have seen the vacancy rate plummet to just 8.4%. This level of vacancy is significantly lower than the GB average for shopping centres which currently sits at 14.2%. However, the quality of the tenant line-up is mixed, with recent closures of Starbucks, Argos, Warehouse and Soletrader being replaced by stores such as a police community shop and film developer alongside a Poundland.
The Brunel Centre, Swindon. (Source: Local Data Company)
When evaluating the strength of the occupiers within the asset, additional risk has been identified as there are still brands which are at threat of impending CVA or administration such as Arcadia Group brands and House of Fraser.
However, 2019 has seen a Grape Tree open in the scheme. Grape Tree is a health food retailer which has enjoyed strong growth of 13% over the past 12 months across Britain. Five of these units opened in the South West alone, suggesting that demand for Grape Tree's offer is strongest in the South West. This is good news for the Brunel Shopping Centre as this is a growing brand which is less likely to fall into trouble in the current challenging market.
The Brunel Centre has overtaken Swindon's high street in regard to health, with the Local Data Company Health Score rising from -12 in H1 2017 to 10 in H1 2019. Only the McArthur Glen Outlet on the outskirts of the town has a better health rating at 22. This centre also has a lower vacancy rate at 5.8% and a higher-quality tenant line up and therefore is the most attractive shopping destination within Swindon.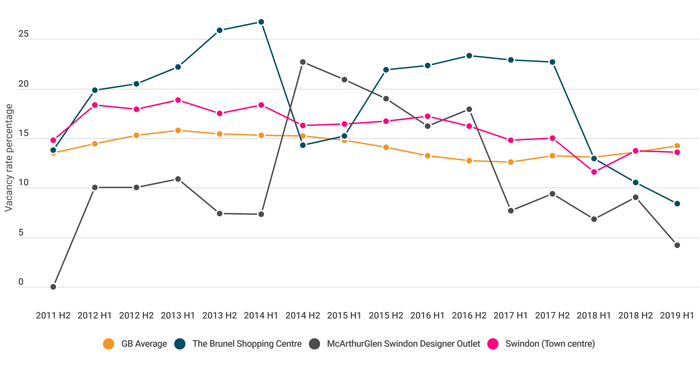 Figure 1: Vacancy rates for key assets in Swindon vs GB Average for shopping centres. (Source: Local Data Company)
Swindon faces fierce competition from both the Westgate Shopping Centre in Oxford and Bristol, which has two in-town shopping centres as well as Cribbs Causeway. However, The Brunel Centre has remained resilient as it includes a small leisure offer and remains focused on mass and value comparison retailing as well as retaining Sainsbury's as its anchor.
This is just skimming the surface of the analysis we complete for our clients and each day, as we collect more data, the historical insights that we provide become more informative and more powerful. For more information on how Local Data Company can support investment in the UK commercial property market, please email me at katieG@localdatacompany.com or call our office on 0203 111 4393.