Fashion, almost by definition, is a fluctuating industry. Trends rise and fall, and the successful brands are those that identify spaces for growth ahead of the competition. At Springwise, we pride ourselves on delivering cutting edge insight to help our clients drive positive, sustainable change. Based on our experience tracking disruption and curating innovations from all over the world, we offer here our expertise on how fashion retail can incorporate innovation to the benefit of both company and customer.
The fashion industry is under threat – and the danger starts from within. It is one of the most environmentally destructive industries in the world, beaten only by the big oil corporations. In just two decades the volume of new clothes made each year has increased by 400%, with 80 billion new items consumed every year. With such a massive global footprint, the need for innovation to enable the industry's survival is clear.
Innovation is not only an environmental advantage; in an increasingly techified world, it was only a matter of time before the public would start looking for modernization in the clothes they wear every day. Not only does responding to such demands increase brand engagement and positive relationships with consumers, but can also reduce manufacturing costs or foster fresh development within fashion retail. Through our global network of Springspotters, we have collected three examples here of pivotal innovation as a taste of the possible future of fashion.
An example of cutting-edge technology that pushes the boundaries of fashion is Royole's Royal Flexible+ Wearables – the world's thinnest wearable display. It is powerful enough for 3GP/MP4 and JPEG/GIF images, allowing for the application of moving images and videos to clothing. At just 3mm thick, it is lightweight and removable, so users can wash clothing easily without fear of damaging the wearable. So far, the display has been tested on t-shirts and top hats at the Moscow 2018 World Cup, but the possibilities for such technology are vast.
Companies could use the displays to feature their own brand, or consumers could customise the content to reflect their personal style. Where before consumers would need to buy several items to display various slogans or images, now just one will suffice.
Photo by Joshua Earle on Unsplash
Takeaway: Consumers are partnering tech into every part of their daily lives, from fitness-tracking wearables to AI home assistants. Implementing practical technology into clothing means that the fashion retail industry will reflect the increasing digitisation of the wider world in its growth.
In the drive to become more sustainable and eco-friendly, brands are thinking of increasingly innovative ways to reduce their damaging impact on the planet. British brand Gumdrop partnered with Danish fashion brand Explicit and marketing agency IAmsterdam to create the soles of their Gumshoe sneakers out of recycled chewing gum. The recycling process breaks down the synthetic rubber used in the gum base into malleable granules.
Around half a pound of gum is needed to make each sneaker, but with 3.3 million pounds of used gum ending up on Dutch streets every year, there is plenty to go around. By recycling waste, Gumdrop is simultaneously improving their public image and reducing manufacturing costs.
Takeaway: Millennial consumers in particular are investing brand loyalty with organisations that reflect their own values. Sustainability is widely appreciated, so fashion brands like Gumdrop that incorporate such values into their business models will benefit from positive brand association.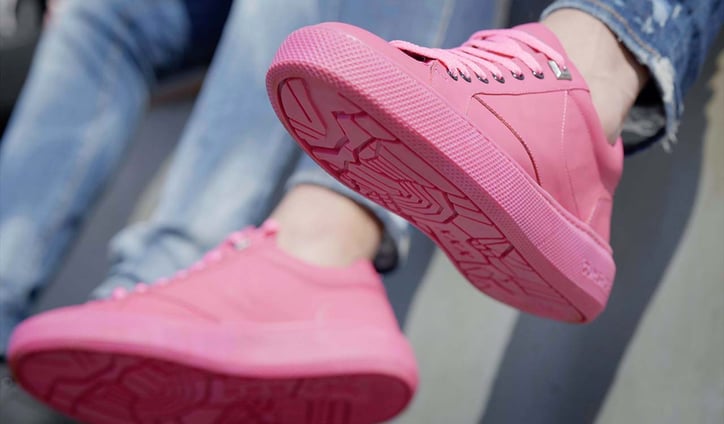 Photo: Gumdrop sneakers
Another way fashion brands are investing in their public image is by implanting creative schemes, demonstrated most aptly by Tommy Hilfiger. Their new range, Tommy Jeans Xplore, features smart-chip technology that rewards customers every time they wear a product. Retailing at the same price as their regular line, Bluetooth smart tags are embedded in the clothing. Users collect points as they wear an item, which can then be redeemed for exclusive experiences or used within the company itself as product discounts.
A loyalty scheme that encourages increased use of a product is a perfect example of cutting-edge innovation that is both creative and business-smart. The scheme keeps Tommy Hilfiger in the customer's mind far longer than the physical retail experience and thereby deepens brand engagement. As consumers can benefit from the scheme by receiving exclusive experiences, it also creates a positive relationship between brand and consumer.
Takeaway: Innovation for innovation's sake doesn't stick. Incorporating technology or new schemes into a brand needs to benefit the consumer to gain their trust and attention in the long-term.
Preparing for an unpredictable future can be daunting, but the beauty of uncertainty is that all avenues are open to you. Reflect your brand best by thinking of fresh ideas that have a genuine impact and benefit for your customers. True innovators make tangible differences to their sector, rather than re-creating previous achievements. Acknowledging what an industry is lacking, such as sustainability in fashion, and then working creatively to supply it means that businesses can stay ahead in their chosen field. An industry with a fluctuating future like fashion is just the right space to benefit from a little creative disruption.
Photo by Ben Weber on Unsplash

About Springwise
Springwise delivers the most cutting edge insight to help businesses of all sizes drive positive and sustainable change. Everyday, powered by our community, we find, curate and analyse the hottest innovations from around the world. Our fully searchable database offers full access to over 9,300 innovations across many industries including retail, tourism, FMCG and transport. This comprehensive resource powers our on-demand mix of bespoke research, innovation scouting, tailored reports and workshops. Springwise is the antidote to trend reports that are out of date the minute they are published. For full access to our database, become a member of our community or contact service@springwise.com for further information.
Springwise has created a bespoke offer for LDC readers which will allow you to benefit from a 30% discount on their Innovator Annual plan. Please use coupon code LDC18 on the Springwise website to take up this offer.