On August 22nd, Hammerson announced that global retailers COS and Monki were to open new stores in Cabot Circus Shopping Centre in Bristol.
Bristol, located in South West England is the UK's eighth most populous city. The city is always looking for sustainable growth. Last year, Bristol invested in transport improvements and committed a budget for energy efficiency and renewable energy by 2020. The opening of new stores in Cabot Circus is an opportunity for the South West to strengthen their presence as one of the UK's leading retail destinations.
According to our data, using LDO Investor Dashboard, Bristol's current retail vacancy rate is at 14.6%. Despite the retail vacancy being above the GB average, it has dramatically improved since its peak of 22.1% in H2 2011.

Although vacancy has been improving over the years, through LDC's physical visits, we can see that there is still a significant number of properties that have been vacant for longer than 3 years (as below). This poses a question for local authorities, investors and landlords if this stock is becoming obsolete and how to deal with it.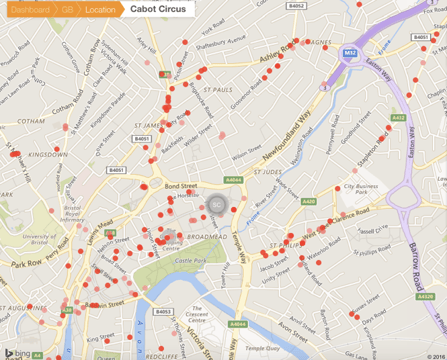 Further LDC analysis demonstrates that the change across the tenant mix in Bristol is very much in line with national trends - a decline in comparison and a growth in leisure.
On a more reassuring note, Cabot Circus Shopping Centre's Health Index is currently 8 out of 10 (a +1 increase since 2015) versus Bristol's town centre which ranks 6 out of 10.
Looking at the Historical Vacancy Rate of Cabot Circus (represented by the blue line in the figure below), there's been a significant drop in vacancy rate from 16.8% to 15.3% which is an improvement of almost 10% since the start of 2016.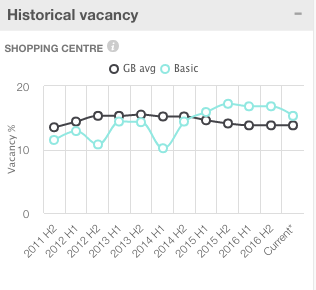 Iain Mitchell, UK Commercial Director at Hammerson commented: "It is a great result for Cabot Circus, as well as for shoppers in the South West that these exciting international retailers have selected the centre [...]. Already a retail, dining and leisure hub for leading global brands it is encouraging to see Cabot Circus continuing to go from strength to strength as occupiers look to expand across the UK into the very best regional destinations."
If you would like to understand about risks and opportunities in the retail environment of your town or particular asset, please get in touch directly with Nelia Vateva: nelia@localdatacompany.com